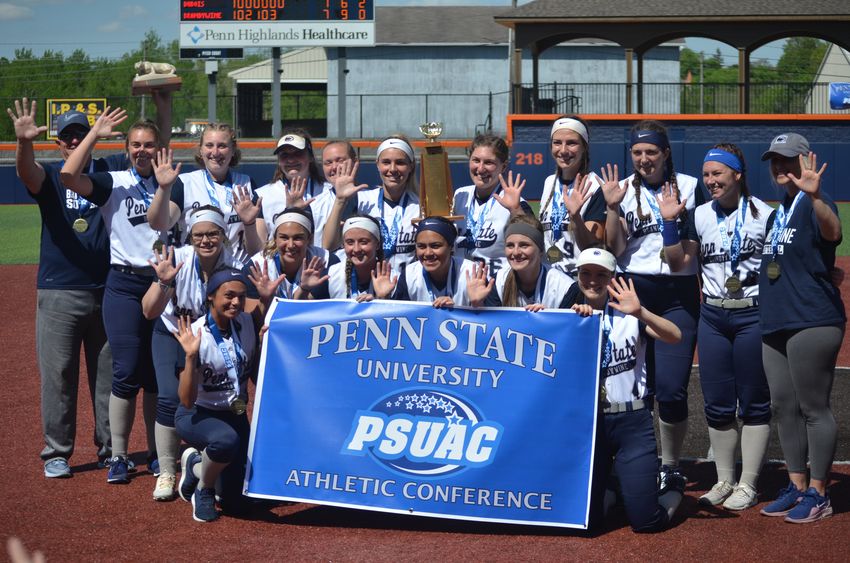 DUBOIS, Pa. – Penn State Brandywine completed another dominant performance in the Penn State University Athletic Conference Softball Tournament by defeating Penn State DuBois 7-1 on Monday afternoon to capture the team's fifth consecutive league championship.
Brandywine, which outscored its three opponents by a combined score of 23-2 during its two-day tournament run, has now won 16-straight conference tournament games dating back to its first title in 2015 under Head Coach Mark Caserta's guidance. The Lions are the first PSUAC softball team to claim five-straight titles since Penn State Hazleton from 1998-2002.
A winner of 23 games for the fifth consecutive spring, Brandywine received another strong outing from Cara Fabiano in the circle. DuBois collected five hits during the first two innings, but managed to score just once and Fabiano shut down the host's offense the rest of the way. Fabiano allowed just two baserunners during the final five frames, one of which was erased on a double play by the Brandywine defense, which did not commit an error during the tournament. She struck out one to improve to 12-7 this spring.
The Lions answered DuBois' first inning run immediately as Arianna Segich led off the bottom of the first with a walk and scored on Alyssa Sullivan's base hit after stealing second and third.
An error extended the third inning and allowed Rachel Cherubini to score the go-ahead run. Morgan Meoli'ssingle scored Sullivan with the Lions' third run one batter later.
Segich scored on a wild pitch in the fourth inning to up the margin to 4-1 before Brandywine put the game out of reach with a three-run sixth inning. Sullivan delivered a sacrifice fly with the bases loaded, scoring Maddie Malfara, while Meoli tacked on a two-run triple with two outs.
Meoli and Cherubini both posted two-hit games for Brandywine, while Segich scored twice and stole three bases, giving her 61 thefts on the season.
Brandywine (23-17) will be the No. 10 seed in the USCAA World Series next week in DuBois. The Lions open the tournament at 10 a.m. Monday against rival Penn State Hazleton, the No. 7 seed.