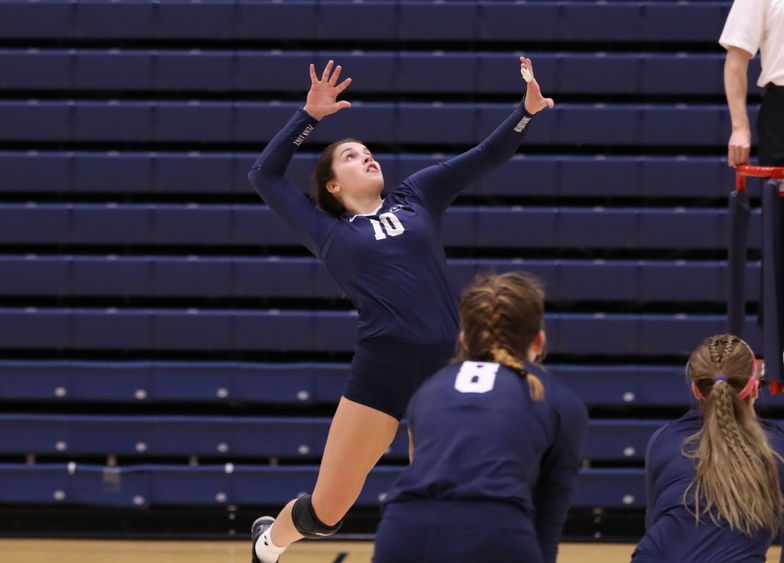 MEDIA, Pa. — Four former Penn State Brandywine volleyball student-athletes who helped the Lions capture their first-ever conference championship in 2015 were named to the Penn State University Athletic Conference Volleyball All-Decade Team.
Miranda Biondi, Nikki Poissant, Kim Russo and Sullivan Stark were four of the 16 PSUAC All-Decade Team honorees.
Biondi was a four-time First Team All-PSUAC setter from 2012-15 who owns the team's career assists (2,169) and aces (327) records. She also recorded 178 kills and 77 blocks during her 104-match career.
As a senior, Biondi became Brandywine's first-ever volleyball All-American, earning second team accolades from the USCAA, while also being named PSUAC Player of the Year. In addition, she earned the campus' first USCAA Student-Athlete of the Year selection and was named John S. Egli Scholar-Athlete of the Year by the PSUAC.
Biondi graduated from the campus in 2016 with a degree in human development and family studies.
Poissant was named PSUAC Player of the Year in back-to-back seasons, helping lead Brandywine to a second undefeated conference season and second league title in 2017.
A two-time All-American and three-time all-conference performer, Poissant produced 925 digs, 912 kills, 341 assists and 255 aces during her 113-match career. As a junior, Poissant recorded a PSUAC bests with 270 kills and 65 aces, while finishing third in the league with 352 digs.
A 2019 graduate of Brandywine, Poissant earned her degree in human development and family studies.
Russo finished her four-year career as the only player in Brandywine history with more than 1,000 career digs, tallying 1,083. As the team's starting libero, Russo competed in 101 matches, also recording 198 aces.
A four-time all-conference selection, Russo produced more than 250 digs during each of her final three seasons at Brandywine, finishing in the top three in digs among PSUAC players each season.
A 2015 USCAA National Academic Team honoree, Russo is a 2016 Brandywine graduate who earned her degree in human development and family studies.
Stark was a two-time all-conference setter during her four-year career that spanned from 2015-18. She topped all PSUAC setters in assists in back-to-back seasons, including a career-best 798 assists as a sophomore.
During her 81-match career, Stark also tallied 316 digs, 166 aces and 81 blocks. She was a member of both of Brandywine's championship teams during the decade.
Stark graduated with her degree in communications, arts and sciences from Brandywine in 2019.