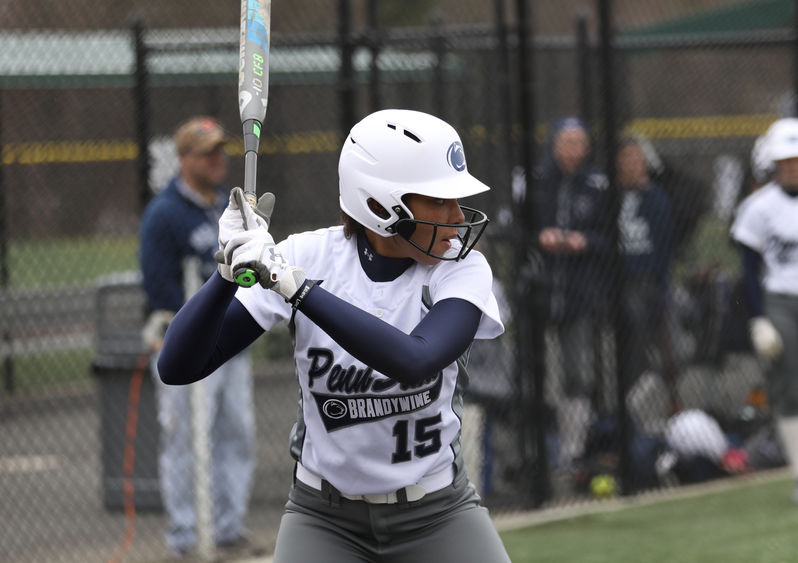 MEDIA, Pa. — Former Penn State Brandywine softball student-athletes Rachel Cherubini, Katie DeStefano, Arianna Segich and Katy Steffen were all selected to the Penn State University Athletic Conference Softball All-Decade Team.
Brandywine, which began varsity softball in 2014, closed the decade with five-straight championships from 2015-19 and has won six consecutive league titles overall entering the 2022 season.
Cherubini, a three-time First Team All-PSUAC outfielder, finished her career second all-time in hits at Brandywine with 131. She also owns the team's longest hitting streak (18 games), while standing second in runs scored (131) and third in RBI (99). Cherubini batted .365 during her 112-game career, earning a pair of USCAA All-American selections. Cherubini was also a three-time USCAA National Academic Team honoree and became Brandywine's fifth CoSIDA Academic All-American, earning first team laurels in 2021.
Cherubini is a 2021 Penn State Brandywine graduate with a degree in psychology.
DeStefano starred in the pitcher's circle and at the plate for Brandywine from 2015-18, winning a PSUAC title each year. The PSUAC Pitcher and Newcomer of the Year as a freshman, DeStefano posted a career record of 41-22, while starting 64 games in the circle. She owns nearly every pitching record at Brandywine, including wins, strikeouts (254), complete games (55) and innings pitched (356.0). As a senior, DeStefano threw 29 complete games and pitched to a 22-7 mark. At the plate, the three-time all-American tallied 100 hits and batted .373 with four home runs and 73 RBI.
DeStefano received her bachelor's degree in communications in 2018.
Segich owns Brandywine's all-time hits (212), runs (192) and stolen base (165) records. The 2017 PSUAC Player of the Year, Segich earned three all-American and three all-conference awards from 2016-19. She tallied more than 50 hits in each season, producing a .490 on-base percentage overall. As a senior, Segich could not be stopped on the base paths, recording a single-season record of 68 stolen bases in 70 attempts. One of the most decorated student-athletes in Brandywine history, Segich won four conference championships on the diamond and four more as a member of the Brandywine women's soccer team.
A 2019 graduate, Segich earned her degree in business from Penn State.
Steffen displayed prolific power at the plate in three seasons from 2015-18, hitting a Brandywine record 19 home runs during her career. The two-time USCAA All-American finished her career with 125 hits and 136 RBI. She produced two seasons with eight home runs and more than 50 RBI. Of Steffen's 125 career hits, more than half (63) went for extra bases. As a senior, she batted .515 with eight home runs and 53 RBI, helping the Lions win the third championship of her career.
Steffen earned a communications degree from Penn State Brandywine in 2018.