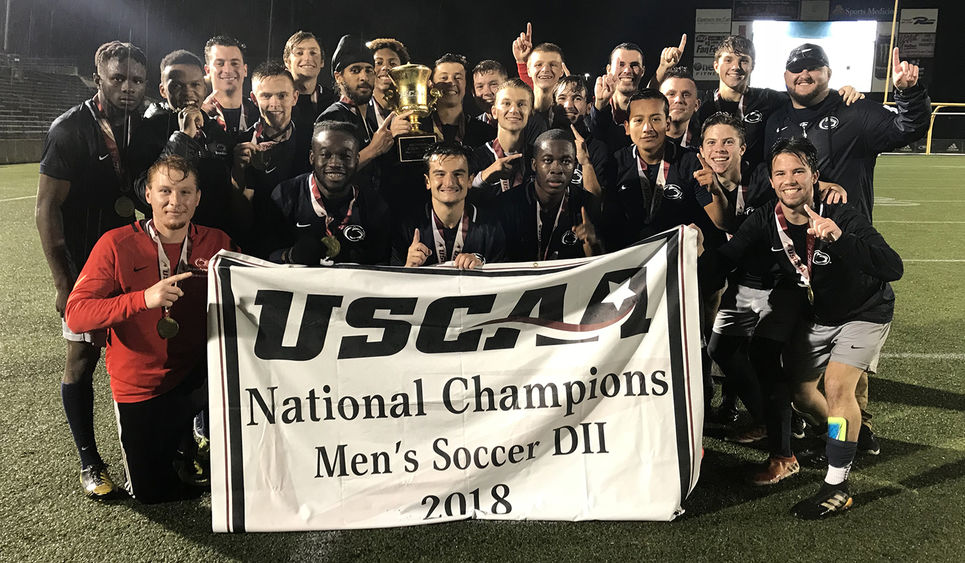 VIRGINIA BEACH, Va. – Penn State Brandywine is officially the No. 1 team in United States Collegiate Athletic Association Division II men's soccer. It took more than 95 minutes to crown a national champion Monday night as Daniel Willie's overtime goal sent Brandywine past Johnson & Wales (North Carolina) 1-0 in the title game as Brandywine captured the school's first-ever national championship.
Rajbir Lohat sent Willie in on goal with a long pass down the middle of the field and Willie beat two defenders to the ball and sent the championship-winning goal into the top right corner of the net, setting off the biggest celebration in Brandywine athletics history.
"It was a team win tonight for sure. I'm so proud of my teammates and coaches and I just need to thank them and everyone else for putting me in that position," said Willie.
Willie received all-tournament honors, as did Brandon Crochunis and Brandon Welden. Willie netted two goals during three games in the tournament, while Crochunis collected the game-winning goal against Berkeley College (New York) on Saturday.
Welden, named the tournament most valuable player, came up with huge save after huge save Monday night to keep the score deadlocked at 0-0. In all, he turned aside 13 Wildcat shots to register his sixth shutout of the year.
Johnson & Wales threatened late in the first half, but Welden was up to the task, stoning three point-blank Wildcat shots over the final nine minutes. He needed to make seven stops during the second half, including a pair on the door step as Johnson & Wales continued to push for the match's first goal.
"We fought all night against a great opponent; we stuck together as a team and fought side-by-side to get a national championship win. There's no way we could have won without everyone fighting for this together," said Welden.
Playing its third game in as many days, Brandywine was limited to four shots on goal, while Johnson & Wales piled up shots all night, recording 17 attempts. But one shot was all Brandywine needed.
Prior to Willie's score, Brandywine had not registered a shot on goal since the match's 14th minute.
The victory completed the most successful season in Brandywine history as the team won 18 matches, a program record, and claimed its third-straight conference championship under the direction of head coach Jesse Zafiratos. Brandywine won its final 16 games of the season, culminating in its first national championship victory.
"Words can't express how proud I am of this team. We defended so hard for almost 100 minutes and finally got our opportunity. Danny put the team on his back and delivered for us like he's done all year," said Zafiratos, who owns a 49-10-3 record in three seasons at Brandywine.
"This feeling is unreal; I'm so happy that our student-athletes were able to experience something as amazing as this. Give credit to Johnson & Wales as they are an amazing team and gave us all we could handle," concluded Zafiratos.
Brandywine becomes the third team from the Penn State University Athletic Conference to win a USCAA national championship. The other two PSUAC teams to win are Penn State Beaver women's basketball (2014-15) and Penn State DuBois baseball (2018). Brandywine is the first team to accomplish the feat in men's soccer.