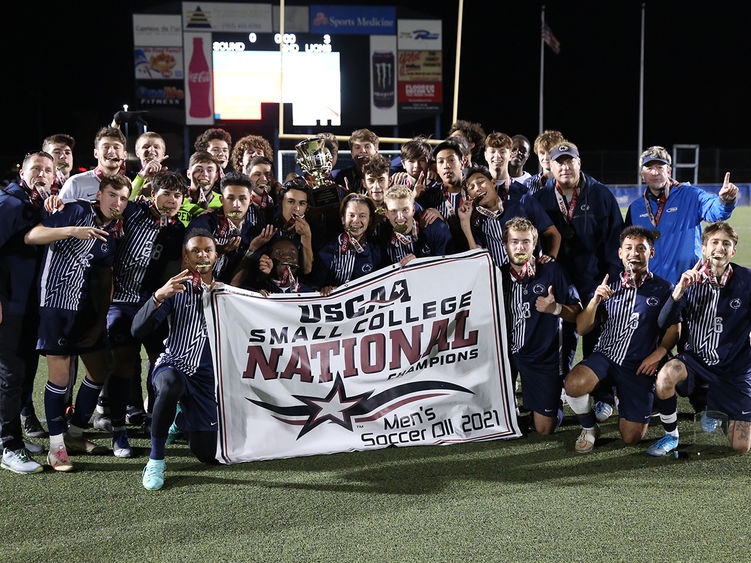 For the second time in four years, Penn State Brandywine is on top of United States Collegiate Athletic Association Division II Men's Soccer as the third-seeded Lions captured the national championship with a 3-0 victory over No. 1 Five Towns College Monday night in Virginia Beach.
Brandywine, which won its program record 19th match of the season under the direction of Head Coach Tom Greenawalt, has now claimed two of the last three national titles after earning the campus' first-ever championship in any sport during the 2018 season.
After needing 95 minutes to settle its 2018 national championship on a golden goal in overtime, Brandywine wasted no time in getting on the scoreboard Monday night. Axel Ayllon-Ortiz found Christian Zavala on a free kick and Zavala deposited the game's opening goal just 2:45 into the match.
Zavala was one of six Lions named to the USCAA All-Tournament team. Joining him were Joey Cairy, Josh Land, John Simpson, Alex Sydor and Ethan Pace.
Cairy was one of five seniors to play on both of Brandywine's national championship-winning teams. Brandywine joined DuBois (baseball) and Beaver (women's basketball) as the only commonwealth campuses to win multiple USCAA national titles in one sport.
Unbeaten during its final 14 matches (13-0-1) this fall, Brandywine received two second-half goals from Pace, the tournament's most valuable player.
Pace first took a long lead pass from Land and raced past the defense and beat Sound goalkeeper Franklin Fuentes low to his right. He again broke free from the defense and found himself alone to deposit another goal and firmly secure the national title for Brandywine during the 80th minute.
The Lions' top-ranked defense produced their 15th shutout of the season. Brandywine limited Five Towns, which had scored 11 goals in two pool play games earlier in the week, to just two shots on goal. Simpson turned aside both shots to tally his ninth victory of the fall and second consecutive shutout during the tournament.
After controlling the pace of play for most of the night, Brandywine held a 14-3 edge in shot attempts, including a 10-1 margin during the opening half.