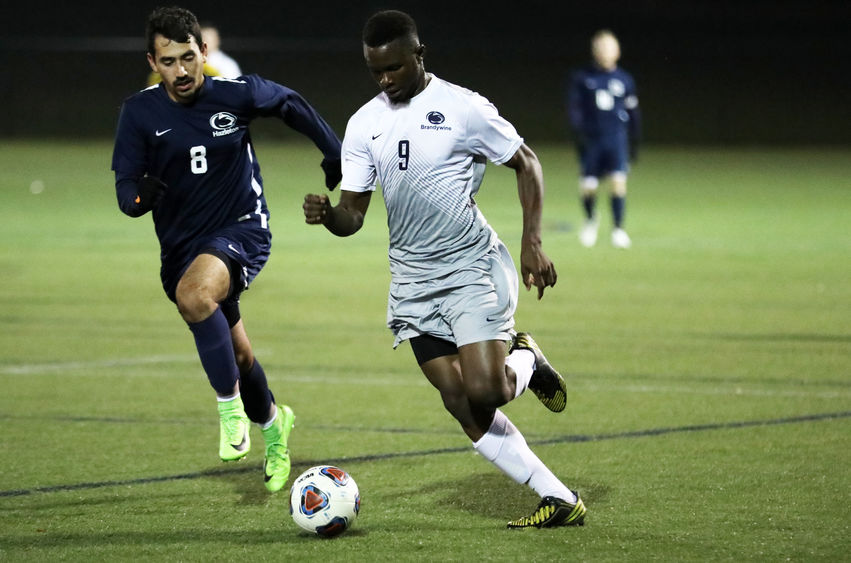 A total of seven former Penn State Brandywine men's soccer players received recognition on the Penn State University Athletic Conference All-Decade Team. Earning accolades were Mohamed Camara, James Cellucci, Brandon Crochunis, Brad Jule, Bill Walleekendeh, Brandon Welden and Daniel Willie.

Brandywine men's soccer was dominant during the decade, recording a record of 95-10-2 against PSUAC competition, while winning six conference championships and the 2018 USCAA National Championship. The Lions ended the decade by going undefeated in 53-consecutive PSUAC matches (52-0-1).

Camara was a two-year member of the team from 2017-18, earning a pair of First Team All-PSUAC awards. A member of Brandywine's 2018 national title team, Camara finished third in the PSUAC in scoring during his sophomore season with 16 goals. A second team all-American, Camara totaled 28 goals and 11 assists for 67 total points during his 37-match career.

He graduated from Penn State with a degree in management in 2021.

Cellucci was the leader of the Brandywine defense for four seasons and a three-time captain from 2015-18. A four-time all-conference standout, Cellucci received three all-American honors, including first team laurels as a senior when he also claimed PSUAC Defender of the Year accolades. Cellucci recorded four goals and six assists as a senior and completed his 77-game career by winning the national championship during his final game, despite playing on a severly sprained ankle. Cellucci was also a standout in the classroom, receiving the John S. Egli Scholar-Athlete of the Year award from the PSUAC in 2018-19.

A 2019 graduate, Cellucci received his degree in human development and family studies.

Crochunis, a First Team All-PSUAC performer and USCAA All-American as a senior, appeared in 78 matches during his four-year career. He upped his point total in each season from 2015-18, capped off by a 14-goal, 10-assist senior season. Overall, he produced 29 goals and 21 assists. The biggest goal of his career came against Berkeley in the 2018 USCAA Tournament as he tallied the lone goal of a 1-0 victory, helping to send Brandywine to the national title match.

Crochunis completed his bachelor's degree in communications in 2019.

Jule was a four-year starting midfielder from 2012-16 and returned to Brandywine following graduation as an assistant coach for the 2017 and 2018 seasons. Jule produced an 88-point career, tallying 31 goals and 26 assists. He was a second team all-American in 2016 and received three First Team All-PSUAC awards. Jule played a part in five of Brandywine's six conference championships during the decade, winning three as a player and two more as a coach.

A human development and family studies major, Jule earned his degree from Penn State in 2014.

Walleekendeh is the most prolific scorer in Brandywine history, recording 108 goals, 27 assists and 243 total points. He averaged more than three points per game during his 71-game career from 2013-16. Brandywine's first-ever First Team All-American in men's soccer following the 2016 season, Walleekendeh was a two-time PSUAC Player of the Year. A three-time all-American overall, Walleekendeh produced a USCAA-leading 44 goals and 90 total points as a senior, one of the top individual seasons in PSUAC history.

Walleekendeh graduated in three-and-a-half years from Penn State, earning his degree in psychology.

Welden starred in the final game of his two-year career, stopping all 13 shots in Brandywine's 1-0 victory over Johnson & Wales in the USCAA National Championship game en route to earning tournament MVP. Also a First Team All-PSUAC selection during the 2018 season, Welden produced a 12-2-2 record, 0.77 goals-against average and seven shutouts as a sophomore. Overall, his collegiate record stood at 17-3-2, while stopping 121 shots.

A 2021 graduate of Penn State, Welden earned a bachelor's degree in agribusiness management and is currently pursuing a master's degree in the same field at University Park.

Along with Weldon, Willie's heroics in the national championship game will forever be remembered at Brandywine. Willie scored the match's lone goal in overtime to hand Brandywine its first-ever national title. That goal was the final tally of his 24-score sophomore season in which he was named USCAA First Team All-American and First Team All-PSUAC. He totaled 28 goals and seven assists overall during his two-year career.