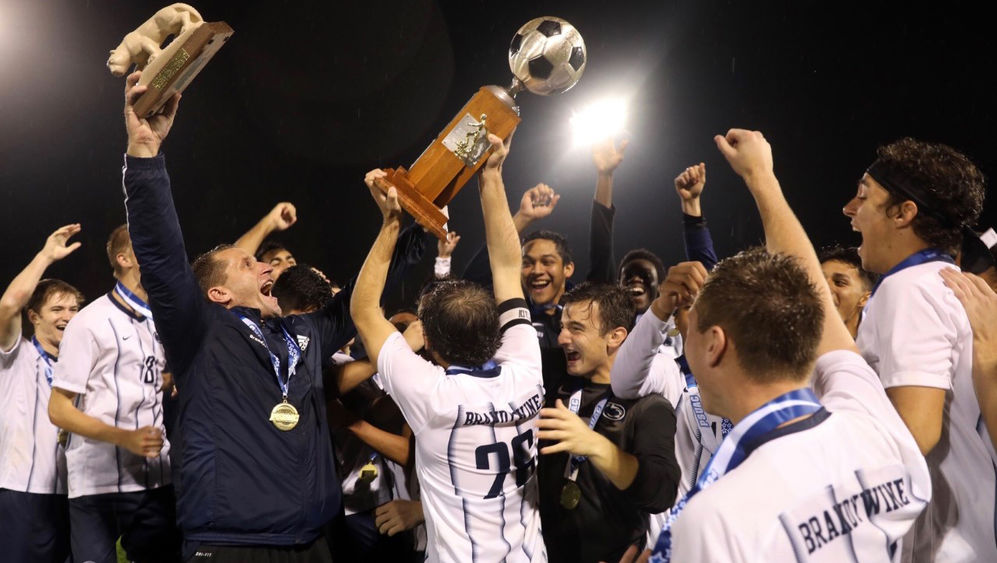 No. 1 Penn State Brandywine needed to score twice during the final 12 minutes of regulation to overcome a one-goal deficit, securing its fourth-straight Penn State University Athletic Conference championship by defeating No. 2 Penn State Beaver 3-2 on Wednesday night.
Following a scoreless first 60 minutes, the teams combined for five goals in a span of less than 20 minutes. Tyler Skaer got the scoring started as he collected Axel Ayllon-Ortiz's corner kick after a scramble in front and found the back of the net.
Beaver struck for two goals in less than three minutes to take the lead, marking the first time Brandywine has trailed in a PSUAC match since last year's title game. It was also the first time in 11 games against conference foes that the Lions yielded more than one goal.
Beaver executed a 3-on-1 to tie the match and then used a penalty kick to pull in front 2-1 just 2:13 later.
However, Evan Majercak found a perfect time for his first collegiate goal during the 79th minute, tying the score at 2-2.
It took Brandywine less than two minutes to jump back in front when Joey Cairy found Alex Lopez with a crossing pass and Lopez potted what would turn out to be the championship-winning goal at the 80:23 mark.
The Lions, aided by Juan Guerrero's stop during the 83rd minute, held Beaver to one shot the rest of the way, running out the clock on its sixth championship during the last seven years.
Guerrero made six saves to earn his 12th victory of the season. Overall, the Lions out-shot Beaver 16-9 in defeating their rivals for the second time this season.
Brandywine will now head to Virginia Beach, Virginia, where the Lions will attempt to defend their 2018 national title at the United States Collegiate Athletic Association Championship. The Lions, the No. 4 seed in the tournament, will open the championship at 2:45 p.m. Saturday, Nov. 9 against Berkeley, New York, a team they beat to reach the title game last season.