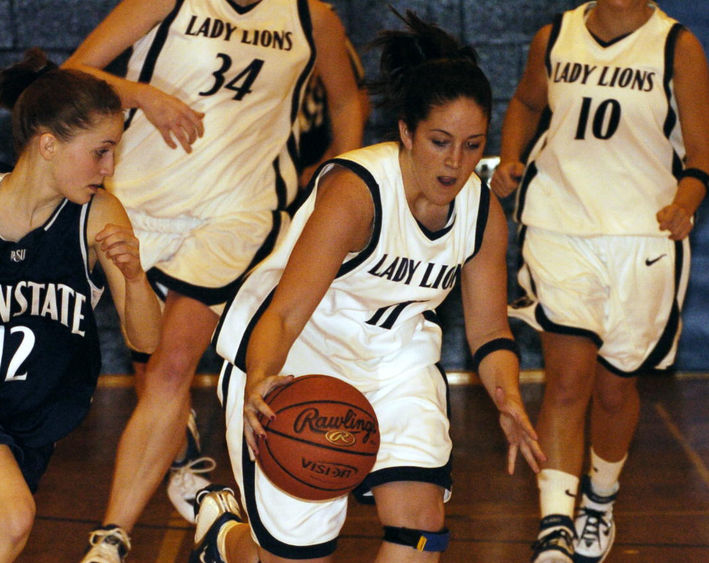 MEDIA, Pa. — Penn State Brandywine's inaugural Athletics Hall of Fame class will feature six members as the campus's first-ever hall of famers were announced recently.
The 2019-20 class of inductees includes three former staff members - athletic directors Dan Doran and Doris 'Tiz' Martin-Griffith and men's basketball coach Bill Wiley - as well as three student-athletes - Dana Johnson-Altobelli (women's basketball), Michael Menichini (men's basketball) and Julie A. Munch (women's basketball/soccer). The induction ceremony will take place on Saturday, Jan. 25, 2020, following Brandywine's men's basketball game against Penn State Shenango.
Dan Doran joined the faculty on campus, then known as Penn State Delaware County, in 1970 as a kinesiology professor and spent the next 40 years as a member of the athletic department. The campus' director of athletics from 1974-88, Doran also served as head coach of the women's basketball, volleyball, men's soccer, swimming and tennis teams, winning Commonwealth Campus Athletic Conference (CCAC) championships in the latter three sports. Doran oversaw the addition of varsity men's soccer in 1973 and baseball 10 years later, among other additions to Delco's athletic offerings. He also chaired the Delco Faculty Senate and served as intramural coordinator.
Doran retired from the University in 2010. Following the 2011-12 academic year, Doran was named to the Robert J. Scannel Roll of Honor by the Penn State University Athletic Conference (PSUAC), an award bestowed to individuals who have served the University's athletic programs with distinction.
Dana Johnson-Altobelli rewrote the women's basketball record books at Penn State Delaware County from 2003-07. The first four-year women's basketball player at Delaware County, Johnson-Altobelli needed just 48 games to become the first student-athlete in program history to reach 1,000 points and finished her career with 1,519 points, a record that still stands. A three-time First Team All-PSUAC standout, Johnson-Altobelli posted seven 30-point games during her four seasons and the only 40-point game in the team's history, a 42-point performance against Penn State Mont Alto on Jan. 24, 2004.
Johnson-Altobelli helped to usher a turnaround for the women's basketball program as the team improved its win total during each of her four seasons on the roster. The turnaround culminated in the Lions' first-ever 20-win season and its first conference title in nearly a decade during the 2006-07 campaign, Johnson-Altobelli's senior year.
Doris 'Tiz' Martin-Griffith began her tenure at Penn State Delaware County (Delco) as a kinesiology professor in 1981. She added roles as head field hockey and tennis coach before being formally named director of athletics in August, 1989. During her time as athletic director from 1989-2004, Martin-Griffith oversaw the expansion of Penn State Delco Athletics to include the Commons Gym, a fitness center and the Ethel Sergeant Clark Smith Tennis Complex. Following the completion of Delco's first on-campus gym, Martin-Griffith added to the women's varsity sports offerings to include basketball and volleyball beginning in 1989.
A three-time CCAC Tennis Coach of the Year, Martin-Griffith led the Lions to back-to-back league titles in 1990 and 1991. Under Martin-Griffith's guidance from 1988-96, nearly 20 Delco tennis student-athletes claimed individual CCAC championships. In addition, Martin-Griffith successfully nominated five student-athletes for the John S. Egli Award, the top academic award given out by the conference to its member student-athletes.
Also a member of the Temple University Athletics Hall of Fame and Delaware County Chapter of the Pennsylvania Sports Hall of Fame following her standout field hockey and lacrosse careers, Martin-Griffith retired from Penn State Delco in 2004. She was named to the Robert J. Scannel Roll of Honor in 2006.
Michael Menichini starred at Penn State Delaware County (Delco) in 1995-96. While serving as captain of the men's basketball team, Menichini averaged 20.5 points and 7.0 rebounds per game, earning First Team All-CCAC honors. On Feb. 10, 1996, Menichini recorded what is believed to be the only triple-double in program history, a 13-point, 15-rebound, 10-assist performance during a 103-74 victory over Penn State Worthington Scranton (now Penn State Scranton). Following the season, Menichini received the Samuel Cozens Award as one of the top basketball players from small colleges in the region and was selected to compete in the Philadelphia Area Small College Basketball Association All-Star Game.
Upon graduation from the University in 1997 with a degree in communications, Menichini served as an assistant women's basketball coach during the 1997-98 season and as a men's basketball assistant under his former head coach, Bill Wiley, in 1998-99.
Menichini will be posthumously inducted into the hall of fame following his tragic death in 1999 at the age of 24. His legacy has continued to live on at Penn State Brandywine and throughout Delaware County during the last two decades through the Michael Menichini Scholarship Fund, a fund instituted to provide scholarships to basketball players at seven local schools.
Julie A. Munch was a two-sport student-athlete at Penn State Delaware County (Delco) from 1991-93, competing on the women's basketball and men's soccer teams. A member of the 1992-93 CCAC championship-winning women's basketball team, Munch made her mark on the soccer field at Delco. The only female member of the men's soccer team, Munch earned a starting role as a freshman and quickly became known to her teammates and opponents as one of the team's top players. A midfielder, Munch was a main contributors to the team, which reached the CCAC semifinals in 1991.
After transitioning to University Park for her final two years at Penn State, Munch competed at the NCAA Division I level for the Nittany Lions' women's soccer team. A member of Penn State's first-ever varsity team in 1994, Munch tallied two goals and one assist in 24 matches during her two-year Division I career. Munch earned a bachelor of science degree in hotel, restaurant and institutional management from Penn State.
Bill Wiley was the longest-tenured head coach in campus history as he headed the Lions' men's basketball team for 15 seasons from 1986-2001. During that time, Wiley won a team-record 196 games and reached the postseason in six-straight years. The Lions had qualified for the postseason just three times in 18 years prior to hiring Wiley. Beginning with the 1988-89 team that captured the first of his three regular-season conference titles, Wiley guided Delco to five consecutive seasons with at least 17 victories.
A three-time CCAC Coach of the Year, Wiley's 1990-91 squad became Delco's first to reach the CCAC Championship, finishing as the runner-up. Two seasons later, Wiley's Lions had a historic regular season, winning a program-best 24-straight games and finishing the regular-season undefeated. The 1992-93 team remains the only men's basketball program at any Penn State campus to post a perfect regular-season record.
Wiley currently serves as an assistant men's basketball coach at Cabrini University where he will begin his 12th season this winter.
The six inductees will be introduced at halftime of the men's basketball game vs. Penn State Shenango on Jan. 25. The inaugural class' formal induction ceremony will follow in the Student Union Building later that evening.