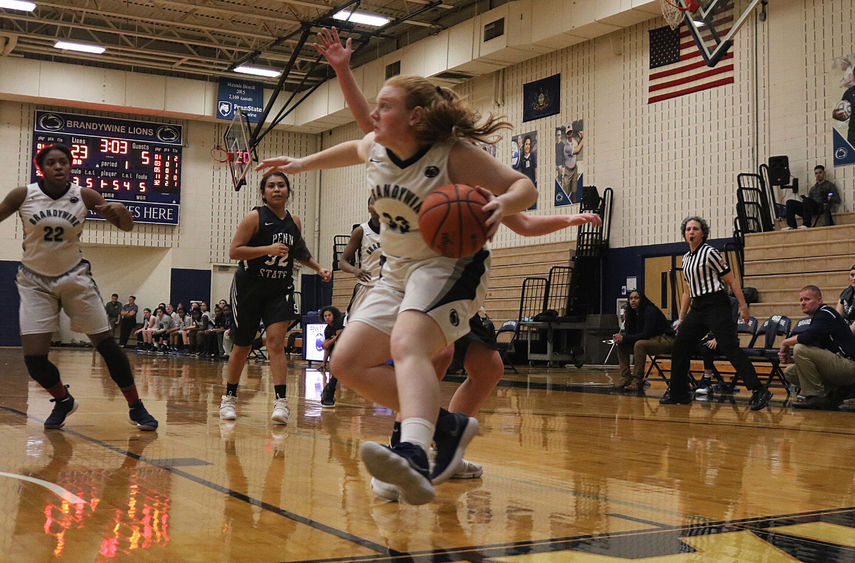 MEDIA, Pa. – Penn State Brandywine women's basketball went 3-0 during a crucial stretch of PSUAC games, while the Brandywine men's basketball team turned in a 2-1 mark last week, which included a pair of double-overtime thrillers, against its conference competition.
The women's basketball team maintained control of first place in the PSUAC by winning all three games in lopsided fashion.
On Monday at Wilkes-Barre, the Lions were tied with the hosts at the half, but outscored Wilkes Barre 39-25 over the final 20 minutes to earn the victory. Sophomore Madison D'Ambrosio led the Lions with 14 points and 14 rebounds.
Four days later, Brandywine played its first home game in six weeks against rival Penn State Beaver and walked away with a 94-72 triumph. Brandywine controlled the game from the start, jumping out to a 9-0 lead before finishing the first quarter with a 31-9 edge. Beaver's deficit was never less than 20 points during the second half.
Twenty-four hours later, the Lions posted their sixth-straight win by thumping Penn State Greater Allegheny 82-59. Freshman Crystal Miller poured in a career-best 22 points on 10-of-15 shooting.
Brandywine is now 8-0 in the PSUAC and holds a one-game lead over Penn State Schuylkill and Penn State Lehigh Valley. The Lions play host to Schuylkill and Lehigh Valley in early February. Brandywine bested Lehigh Valley on the road earlier this season by a 68-53 score.
Another three-game week awaits Brandywine as the Lions play their final two nonconference games of the season against NCAA Division III opponents before making a Friday trip to Penn State Fayette. Brandywine travels to Trinity University (D.C.) on Monday, Jan. 22 and to the University of Valley Forge on Thursday, Jan. 25.
Men's basketball had quite an exciting week as the Lions, who had not played a double-overtime game since 2007, went to double overtime twice in a span of six days.
Brandywine overcame an 11-point second half deficit to defeat Penn State Wilkes-Barre 109-100 in double overtime on Monday. The Lions scored all nine of the game's points during the second extra session to claim the victory. Terrence Brown (33 points), James Fisher (24 points) and Isiah Cook (23 points) combined to score 80 of the team's points.
Six days later, Brandywine found itself in double overtime once again, this time on its home floor against Penn State Greater Allegheny. The Lions came up on the short end Saturday, falling 115-107. Cook, who scored a career-high 26 points, buried a three-pointer with 2.4 seconds left in overtime, tying the score at 94-94 to extend the game five more minutes.
Sandwiched between Brandywine's double overtime contests, the Lions grinded out a 70-57 victory over Penn State Beaver on Friday. Brandywine scored the final 12 points of the game to pull away after seeing its 14-point lead nearly evaporate.
Brandywine continues to sit at the top of the PSUAC standings with a record of 7-2. The Lions are tied in the loss column with Greater Allegheny, Wilkes-Barre and York. Brandywine owns a 2-1 record against those teams and will face York for a second time on Tuesday, Feb. 6.
Brandywine entertains Williamson on Tuesday, Jan. 23 before heading to western Pennsylvania for the second time in three weeks for a Friday matchup with Penn State Fayette and a Saturday matinee against Penn State New Kensington.
Complete box scores, recaps and updates for Penn State Brandywine athletics are posted at psubrandywineathletics.com.