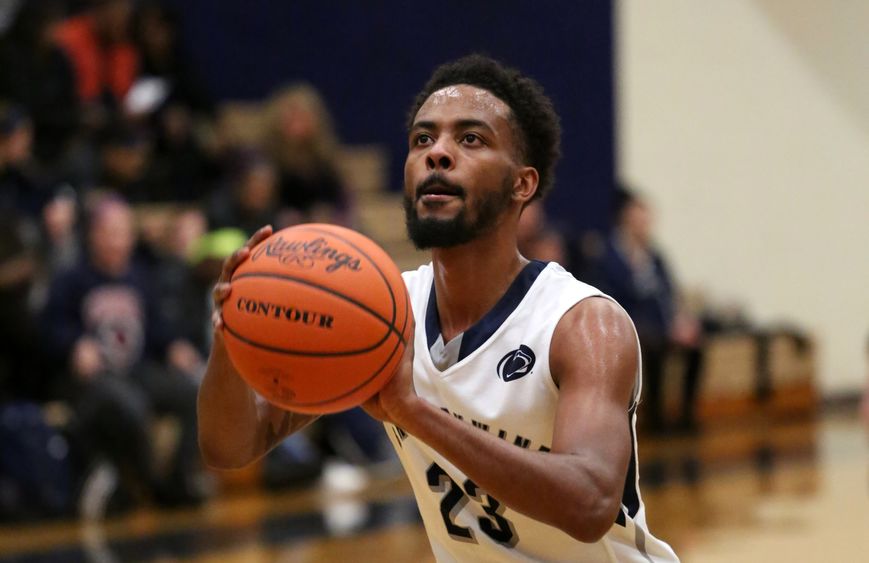 MEDIA, Pa. — Penn State Brandywine completed an amazing feat on Friday night as the Lions' basketball teams swept a home doubleheader from Penn State Scranton, finishing off Brandywine's undefeated entire semester against its Penn State University Athletic Conference competition.
Brandywine's five team sports combined to win all 43 games against the Penn State Commonwealth Campuses since the beginning of September. During the fall, volleyball (18-0), men's soccer (11-0) and women's soccer (7-0) all ran the table en route to winning PSUAC championships. Currently, men's basketball is off to a 4-0 start in conference play, while women's basketball owns a 3-0 PSUAC mark.
Each of Brandywine's teams have won in dominating fashion. During the fall, men's soccer saw just two of 11 games decided by fewer than four goals, while the women's soccer team won five of its seven games by at least four goals, including a 5-0 PSUAC Championship romp over Penn State Schuylkill. In 18 matches against PSUAC foes, Brandywine volleyball won 16 contests in straight sets and dropped only two sets throughout the season before capturing a 3-0 victory over Penn State Fayette in the league finals.
The early-season basketball results have also been lopsided in Brandywine's favor. The average margin of victory for women's basketball through three league games stands at over 20 points per game following victories over Penn State York (57-36) and Penn State Scranton (72-46) last week.
Junior Brandi James produced double-doubles in both triumphs last week and now owns four in her last five games. The Lions have won four-straight and six of their last seven overall since starting the season 0-2 and now stand at 6-3 with one game remaining before the holidays, a Dec. 20 trip to Eastern University.
Men's basketball continued its amazing turnaround with two wins last week. The Lions bested Penn State York 85-66 and topped Penn State Scranton 84-57, upping their record to 7-2. Brandywine, which has won seven-straight games since facing NCAA Division I Penn in November, has already eclipsed last year's win total just nine games into the season.
Brandywine has won its four PSUAC games by at least nine points and is the top scoring team in the conference, averaging nearly 88 points per game. The Lions, who own their longest winning streak since the 2005-06 season, are led by seniors Terrence Brown (15.5 ppg, 7.0 rpg) and James Fisher (14.6 ppg).
Against York last week, Fisher became the sixth player in Brandywine men's basketball history to reach the 1,000-point mark for his career. Fisher wasted little time in getting to 1,000, hitting three-straight three-pointers to open the game. He also banked in a half-court shot as time expired during the first half to lead Brandywine to the 85-66 victory.
Brandywine returns to its home court on Wednesday, Dec. 20, for a 7 p.m. home game versus Alvernia prior to beginning a two-week layoff for the holidays.
Brandywine is the lone undefeated team remaining in both PSUAC men's and women's basketball entering the semester break.
Complete box scores, recaps and updates for Penn State Brandywine athletics are posted at psubrandywineathletics.com.