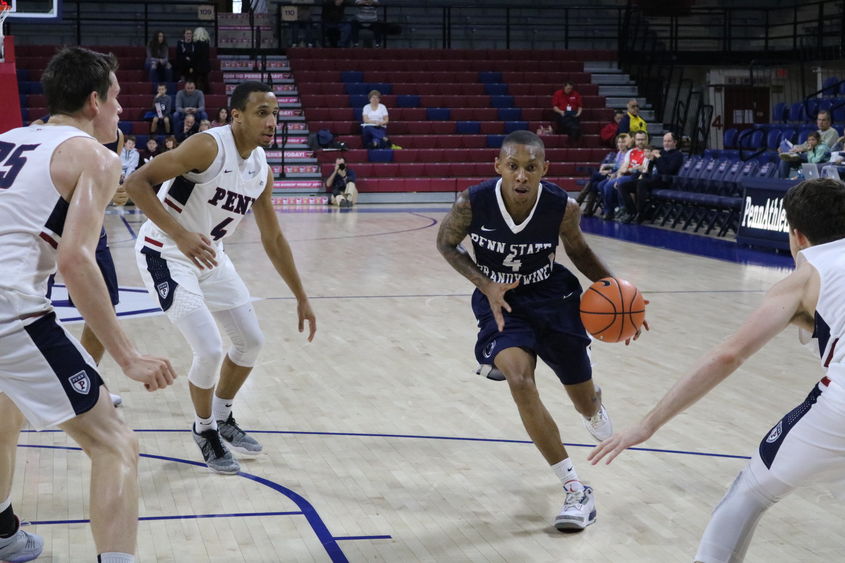 MEDIA, Pa. – Penn State Brandywine men's basketball continued its hot start to the season with two victories last week, while the Brandywine women's basketball team was also triumphant during a pair of games, including a conference-opening road victory at Penn State Lehigh Valley.
On Thursday, the teams hosted a nonconference doubleheader against Davis College (New York). Brandywine's women got the night started with a 69-49 victory as the Lions steadily broke away from the Falcons during the second half, outscoring the visitors 41-29 during the final 20 minutes. Brandywine's defense limited Davis to 26 percent shooting and forced 27 turnovers, while freshman Crystal Miller produced a 10-point, 13-rebound double-double, the first of her career, and junior Nicolette Napoleon added 14 rebounds and eight assists. The victory helped Brandywine bounce back from a 77-66 setback against Penn State Berks on Monday.
Brandywine's men lit up the scoreboard against Davis during the doubleheader nightcap, setting a modern day program record for points in a 117-66 rout. All 14 student-athletes on the roster recorded at least two points, one made field goal and one rebound.
The team's 117-point performance was its highest scoring total ever against a four-year opponent and its highest point total overall since suffering a 146-127 setback to Delaware Tech on Dec. 10, 1970. The 1970-71 season was Brandywine's third as a varsity program and at the time, athletics was allowed only two year eligibility. Against four-year opponents, Brandywine had reached 115 points on two occasions, most recently during a 115-66 victory over Penn College on Feb. 28, 2008.
The 51-point margin of victory was also Brandywine's most lopsided victory ever against a four-year foe and its largest overall since a 62-point win over Penn State Wilkes Barre on Jan. 26, 2006 during both teams' final season of two-year eligibility for student-athletes.
Brandywine's men's team continued its hot start to the season Saturday by topping Penn State Lehigh Valley 91-82. The victory extended the Lions' winning streak to five games, their longest in five seasons. Brandywine has not won as many as six-straight games since closing the 2005-06 season with victories during its final 10 games.
At 5-2 (2-0 PSUAC), Brandywine is off to its best start in four year and is already one victory shy of matching last season's win total.
The Brandywine women's team also claimed victory at Lehigh Valley by a 68-53 margin. Sophomore Nikki Velez poured in a career-high 27 points and junior Brandi James added 20 points and 12 rebounds for her second double-double of the year.
The game was a rematch of last season's PSUAC semifinals, won by Brandywine, which went on to win its fourth league crown under twelfth-year Head Coach Larry Johnson. Prior to Saturday's game, Lehigh Valley had won four of its previous five games, all by at least 37 points.
Brandywine now sits a 4-3 overall on the season with three more games prior to the holiday break.
As an athletic department, Brandywine will be looking to reach a milestone as doubleheader sweeps this week by both basketball teams would give Brandywine an undefeated fall semester against Penn State University Athletic competition. Currently, Brandywine is 39-0 against PSUAC teams since September (Volleyball 18-0; Men's soccer 11-0; Women's soccer 7-0; Men's basketball 2-0; Women's basketball 1-0).
Both basketball teams host two PSUAC games this week beginning with a Tuesday doubleheader against Penn State York.
Midnight Madness takes over Brandywine on Friday when the teams host Penn State Scranton. To celebrate the final day of fall semester classes, Brandywine will be hosting Worthington Scranton at 10 p.m. (women) and midnight (men) with lots of activities planned for before, during and after the games.
Complete box scores, recaps and updates for Penn State Brandywine athletics are posted at psubrandywineathletics.com.