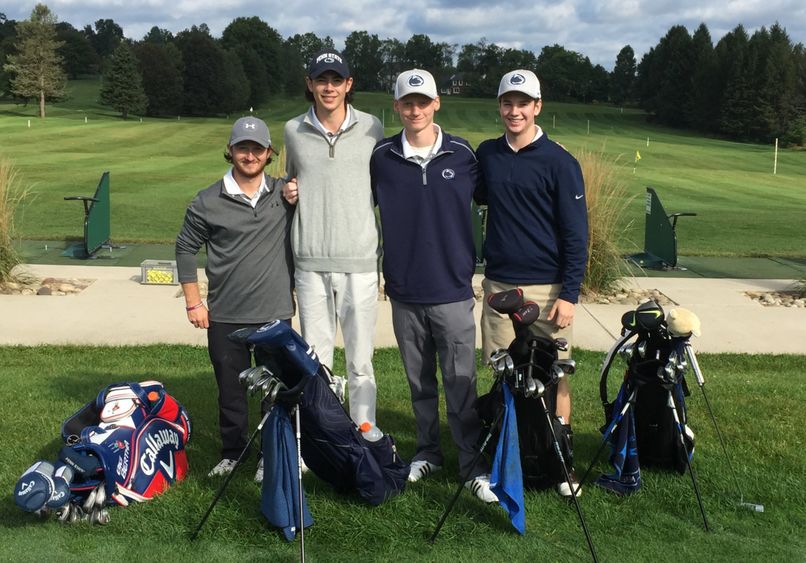 MEDIA, Pa. – The Penn State Brandywine men's golf team closed out its first varsity season since 2013 with a 17th-place national finish last week, highlighting the week in Brandywine athletics.
The Lions, who were reinstated this year following a four-year hiatus, also placed seventh at the PSUAC Championship on Monday and Tuesday on Penn State's Blue Course in State College. Brandywine was led by freshman Brad Dawson, who posted a two-day total of 165 (82-83) to claim 55th place.
Brandywine's three PSUAC team sports continued their unbeaten runs last week. Both the men's and women's soccer teams have claimed the No. 1 seed in their respective PSUAC Tournaments, while the volleyball squad moved closer to securing the top seed with four league wins.
The women's soccer team rolled over Penn State Beaver 7-0 on Saturday. Highlighting the victory was Brianna Banks' three goals and two assists. With her first goal of the match, Banks became the first Brandywine women's soccer player to reach 100 career points. She now owns 106 in just 25 career games.
Brandywine has already clinched a spot in the PSUAC Tournament championship game and will look to complete a perfect PSUAC slate for the second-straight year with a victory over Penn State Schuylkill on Monday. The Lions are just one of 23 women's soccer teams at all levels of collegiate soccer that have not suffered a loss this season. Brandywine is undefeated in its last 20 regular-season matches (19-0-1) overall.
The Brandywine men's soccer team will be the No. 1 seed in the PSUAC Tournament for the fifth consecutive year. Following a victory via Penn State Wilkes Barre forfeit midweek, Brandywine clinched the regular-season title with a decisive 6-1 triumph over previously-unbeaten Penn State Beaver on Saturday.
Brandywine has not lost to a conference opponent since Sept. 19, 2015, a string of 20 consecutive matches (19-0-1). The Lions have one conference match remaining on the schedule, a Wednesday trip to Penn State Worthington Scranton.
Only 13, four-year college volleyball teams have won more consecutive games than Penn State Brandywine, which enters the week with a 14-match winning streak. The Lions won five matches last week, four against PSUAC teams, with all of those victories coming via a straight-set sweep.
Brandywine has three PSUAC matches remaining and can clinch the outright regular-season title with two victories this week. The Lions host Penn State Schuylkill for Senior Night on Wednesday before visiting second-place Penn State DuBois on Sunday.
The regular season champion earns hosting rights for the quarterfinal and semifinal rounds of the PSUAC Tournament (Oct. 27-28). The championship match will be held on Oct. 31, in the Recreation Building on the University Park campus of Penn State. Brandywine has claimed one PSUAC title in its history as the 2015 squad went undefeated en route to a trip to the USCAA National Championship.
Complete box scores, recaps and updates for Penn State Brandywine athletics are posted at psubrandywineathletics.com.