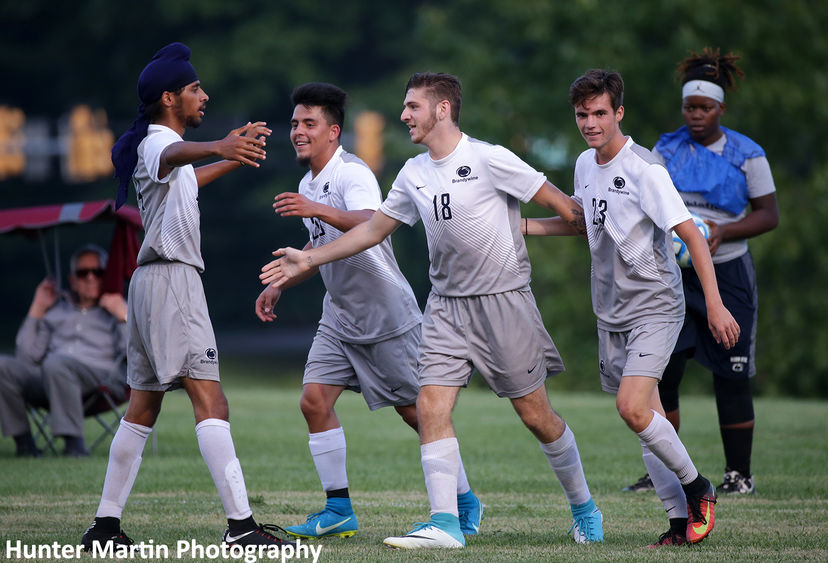 MEDIA, Pa. – The Penn State Brandywine 2017-18 athletic year is in full swing as six of Brandywine's fall teams have been in action over the last two weeks against nonconference competition.
Brandywine's three team sports (men's soccer, women's soccer, volleyball) are a combined 9-2-1 through the first 10 days of the season, while the Lions' men's cross country team has posted a pair of top-five showings and the men's golf squad made its return as a varsity team for the first time since 2013.
Brandywine volleyball is 5-1 against NCAA Division III teams and is the lone PSUAC team to have reached five victories this season. Four of the Lions' five wins have come in straight sets.
On Sunday, Brandywine extended its winning streak to three matches by sweeping a tri-match against St. Elizabeth and Culinary. Junior Sullivan Stark recorded the 1,000th assist of her career against Culinary, while senior Nikki Poissant and sophomore Margot Gargus combined for 35 kills during the two matches. Poissant, the reigning conference player of the year, leads the PSUAC with 66 kills and Gargus tops the league with 61 digs and 27 aces.
The volleyball team has nine days off before visiting Penn State Mont Alto in its PSUAC opener on Sept. 19.
Brandywine men's soccer has played three-straight games that have ended in 2-1 scores to begin the season, winning its last two. Four of Brandywine's five goals have come off the feet of freshmen, while rookie Rajbir Lohat leads the PSUAC with four assists in three matches.
The Lions knocked off Division III Gwynedd Mercy during their home opener on Tuesday as goalkeeper Brandon Welden stopped seven shots and Chris Riebman and Marcos Rojas each netted a goal.
This week, Brandywine plays a pair of Division III opponents when the Lions host Delaware Valley on Wednesday and travel to Bryn Athyn on Saturday.
Brandywine's women's soccer team owns a 2-0-1 record this fall and is now unbeaten during its last 14 regular-season matches (13-0-1) dating back to last season.
The Lions avenged their lone regular-season loss of 2016 by topping Keystone 3-2 in their home opener last Tuesday. Brandywine followed that triumph with a second victory over a Division III team on Saturday, blanking Cairn 4-0. Sophomore Brianna Banks netted a pair of goals against Cairn and has now scored in all three matches this season. The 2016 PSUAC Player of the Year, Banks has scored at least once in 18-of-20 career matches.
Brandywine hosts Division II Lincoln on Tuesday before beginning its conference slate on Saturday at Penn State Beaver.
The men's cross country team finished second at the Cheyney Invitational on Saturday, one week after placing fifth during the nine-team Bryn Mawr Invitational. Five of the Lions' harriers placed in the top 11 at Cheyney, led by freshman David Fielding's fifth-place showing.
On the women's side, freshmen A'Nasia Love ran to an 11th-place finish at Cheyney, while sophomore Brooke Theveny set a personal best 5K time at the same meet.
The cross country teams are in action again this Saturday at the Penn State Abington Invitational.
Brandywine men's golf made its return to varsity status this year and competed at Penn State's Blue Course during its first round of the year on Thursday.
The Lions, who finished eighth as a team, were led by freshman Brad Dawson. Dawson, who was aided by an eagle on the 18th hole, finished in a tie for 13th in the 49-competitor field by carding an 83.
The men's golf team will compete in Penn State Schuylkill's invitational on Wednesday at Mountain Valley Golf Club.
Complete box scores, recaps and updates for Penn State Brandywine athletics are posted at psubrandywineathletics.com.