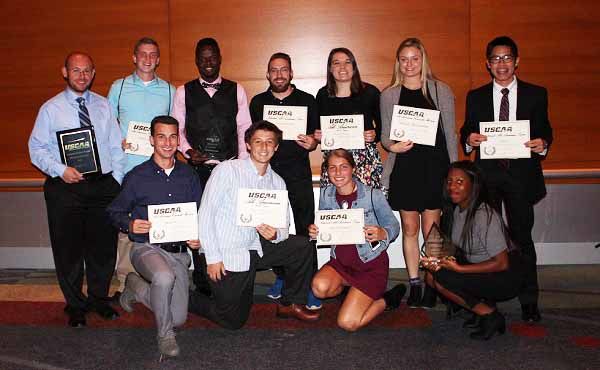 MEDIA, Pa. — A total of 11 Penn State Brandywine student-athletes were recently honored as all-Americans and National Academic Team selections by the United States Collegiate Athletic Association during its fall championship banquet.
Senior Bill Walleekendeh was named First Team All-American, one of four men's soccer players honored as all-Americans.
Sophomore defender James Cellucci and senior midfielder Brad Jule were selected to the second team, while junior midfielder Mike Usher both claimed honorable mention accolades.
Brandywine's first-ever men's soccer student-athlete to be recognized as a first team all-American, Walleekendeh shattered the school record for points and goals in a season this fall. In 18 games, Walleekendeh recorded 44 goals and 94 total points, 17 more points than his next closest competitor. The two-time PSUAC Player of the Year and four-time all-conference pick scored at least five goals in a game five times this fall, including back-to-back six goal performances in September, setting a school single-game record for goals.
Walleekendeh scored in 10 of the team's 11 games against PSUAC teams, the last of which was the lone goal during Brandywine's 1-0 triumph in the conference championship game. He scored at least once in 12-straight games from Sept. 14-Oct. 22 with nine multi-goal games during that span and 11 overall.
During 71 matches in his career, Walleekendeh set Brandywine records with 108 career goals and 243 career points.
Cellucci, who earned the second all-American honor of his career after being selected honorable mention as a freshman, started 18 matches on Brandywine's back line. He aided the Brandywine defense that posted five shutouts and allowed just 12 goals in 11 games against conference opponents. Cellucci also chipped in offensively with four goals and one assist for nine points.
Jule ranked second on the team and 14th nationally with 39 total points this fall. He recorded 14 goals and 11 assists, one of nine players in the USCAA to reach double figures in both goals and assists. He tallied at least one point in 14-of-18 games and registered a hat trick with three goals in a 4-1 victory over Delaware Valley on Sept. 27.
Jule completed his four-year career at Brandywine with 88 points on 31 goals and 26 assists.
During his first season at Brandywine, Usher paced the team with 13 assists, tied for the conference lead and third-highest total in the USCAA. Usher recorded at least one helper in seven-straight games, including a four-assist effort against Penn State Wilkes Barre.
Usher also recorded seven goals, ranking fourth on the team, to finish the year with 27 total points in 18 matches.
Brandywine finished its season with a record of 15-3-1 and won its third PSUAC championship in the last four seasons.
Three Brandywine freshmen claimed all-American awards in women's soccer, while Head Coach Sharif Saber was named National Coach of the Year by the association.
Brianna Banks landed First Team All-American accolades, while Emily Bush earned second team honors and Brooke Muhlbaier was an honorable mention selection.
Banks, the Penn State University Athletic Conference Player and Newcomer of the Year, also claimed first team all-conference laurels as she was the leading scorer in the PSUAC and fourth-leading scorer nationally with 69 total points. Banks scored Brandywine's first-ever goal at the USCAA Tournament on Friday, giving her 30 for the season, along with nine assists. Her 30 goals are the fourth-highest total in the USCAA.
To begin her career, Banks scored in 13-straight matches and netted at least one goal in 14-of-16 games overall this season. She produced four games with at least three goals, including a five-goal showing against Penn State Scranton and a six-goal performance versus Penn State Greater Allegheny in back-to-back games during September.
Bush, also a first team all-conference honoree, quickly became one of the top goalkeepers in the USCAA, finishing her freshman season with a record of 13-2. Her 13 victories were tied for second among all USCAA netminders.
In 16 matches, Bush compiled eight shutouts, a 0.97 goals-against average and .808 save percentage, ranking her among the top eight goalkeepers in the nation in each category. From Sept. 14-21, Bush produced three-straight shutouts against PSUAC opponents and established a new program record with a scoreless streak of 349:57 in goal. In 11 matches against PSUAC foes, Bush surrendered just four goals.
Muhlbaier finished the season with 30 points, the third-highest total on the team, on 10 goals and 10 assists. She recorded her 10th helper of the season on Saturday during the USCAA Tournament, making her one of just nine players nationally to reach double figures in both goals and assists.
One of four Lions to appear in all 16 games, Muhlbaier set a single-game program record with four assists during an Oct. 4 victory over Penn State Schuylkill. From Sept. 29-Nov. 2, Muhlbaier registered at least two points in all eight of the team's games, including the game-winning goal in Brandywine's PSUAC Championship victory over Schuylkill on Nov. 2.
Saber, in his second season with the Lions, became Brandywine's first-ever national coach of the year in any sport. In just its second season as a varsity program, Brandywine posted a 14-3 record under Saber's guidance. The Lions cruised to the PSUAC championship with an 11-0 record against league foes, outscoring the competition 61-4.
During its season opener, Brandywine defeated Immaculata for its first-ever win over a NCAA Division III program. From Sept. 14-Nov. 2, Brandywine won 13 consecutive games, capping off the streak with a 1-0 victory over Schuylkill to clinch the team's first conference championship. Brandywine featured eight all-conference standouts, a league high.
In two seasons at the helm, Saber owns a 21-5-2 record, including a 17-1-2 mark against PSUAC teams.
Junior outside hitter Nikki Poissant was named Second Team All-American by the United States Collegiate Athletic Association at its end-of-year awards banquet last week.
Poissant, the 2016 Penn State University Athletic Conference Player of the Year and a three-time all-conference performer, is the second volleyball student-athlete from Brandywine to earn USCAA All-American, joining Miranda Biondi, who was also a second team selection last season.
In 26 matches this fall, Poissant ranked 21st nationally, averaging 3.03 kills per set, while leading the PSUAC in total kills with 270. She also finished seventh in the nation with 65 service aces, while her 352 digs were the 33rd-highest total in the USCAA.
Poissant reached double figures in both kills and digs in a match 11 times this fall. She set career highs with 26 digs against Penn State Beaver on Oct. 1 and 18 kills versus Penn State Mont Alto in September.
During the last three seasons, Poissant has appeared in all 82 of Brandywine's matches, compiling 708 digs, 627 kills and 193 aces.
Brandywine finished the 2016 season with a record of 18-8 and reached the PSUAC Tournament semifinals.
hree Brandywine student-athletes were recently recognized for their academic prowess as the trio earned National Academic Team accolades from the United States Collegiate Athletic Association.
Sophomores Arianna Segich, Josh Burton and John Li all earned the award, which honors USCAA student-athletes who have compiled a grade-point average of at least 3.50 and reached sophomore athletic and academic standing.
Segich, a communications major, helped the Brandywine women's soccer team claim the Penn State University Athletic Conference championship and post a 14-3 overall record. She earned Second Team All-PSUAC honors after recording seven goals and five assists as the team's fourth-leading scorer. Last spring, Segich was a first team all-conference performer for the Brandywine softball team, which won its second consecutive league title.
Burton also won a PSUAC title this fall as the Lions' men's soccer team captured its third conference crown during the last four years. An information, sciences and technology major, Burton appeared in 18 games for Brandywine, tallying two goals and one assist for five points. He has totaled four goals and two assists during his two seasons with the team.
Li, who is majoring in biology, qualified for the USCAA National Championship for the second consecutive year this fall. He placed fifth at the conference championship meet, earning first team all-league honors for the second time. Li, who owns four of the top five 8K times in school history, set the program record at the Cairn Highlander Invitational in September.