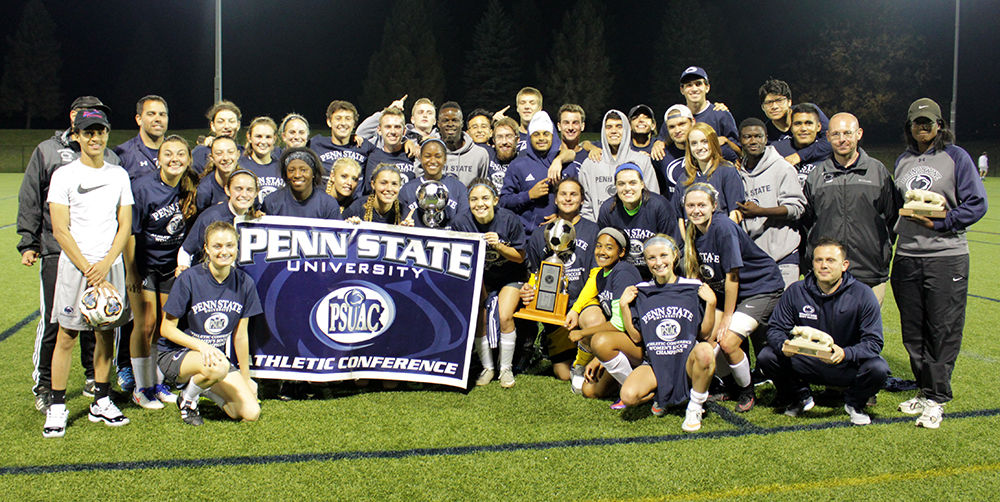 STATE COLLEGE, Pa. — Penn State Brandywine completed a pair of perfect seasons as the Lions' men's and women's soccer teams both claimed championships on Wednesday night in State College. The men knocked off Hazleton 1-0, while the women won by an identical score against Schuylkill. Both teams will now head to nationals in Virginia Beach, Virginia, next week.
For the third time in program history, the Brandywine men are on top of Penn State University Athletic Conference (PSUAC) soccer. Each of Brandywine's three titles have come since 2013. Seniors Bill Walleekendeh, Brad Jule and Jeison Fajardo all claimed the third championship of their careers.
Brandywine (14-2), under the direction of first-year head coach Jesse Zafiratos, ran through the PSUAC regular season unbeaten at 9-0 and, two days after knocking off Penn State New Kensington in the semifinals, clinched the one-goal victory, their second by a 1-0 score in a championship game during the last three years.
Walleekendeh, who was named PSUAC Player of the Year on Wednesday, netted the match's lone goal during the 34th minute. His nation-leading 42nd score of the season was a low drive just inside the post after he received a pass from Josh Burton and beat a pair of Hazleton defenders.
Just over three minutes later, Hazleton appeared primed to tie the score with a penalty kick opportunity for its leading scorer, Kyle Venditti; however, Brandywine goalkeeper Joe Opdenaker was up to the task, blocking Venditti's PK to keep Hazleton scoreless.
Opdenaker stopped a drive from Moussa Diouf just before the half, his third save of the game, and would not be tested the rest of the way as Brandywine's defense locked down Hazleton. The shutout was the second team all-conference honoree's fifth of the season and second-straight during Brandywine's postseason run.
Brandywine collected five shots on goal, with four off the foot of Walleekendeh and one from Jule.
The Lions will now head to the United States Collegiate Athletic Association Tournament next week in Virginia Beach. Brandywine, which will be seeded sixth in the 12-team field, faces No. 3 Bryant & Stratton on Thursday, Nov. 10 and No. 10 Maine-Machias on Saturday, Nov. 12.
Women's soccer capped off an unbeaten year against PSUAC opponents as the top-seeded Lions edged No. 2 Penn State Schuylkill 1-0 in the league's championship game for the program's first conference crown.
Brandywine, in its second season as a varsity program, is now 14-1 overall, including a 12-0 mark against league foes as the Lions head to the United States Collegiate Athletic Association national tournament next week. Brandywine is the conference's lone representative at the tournament after earning the PSUAC's automatic bid.
One year after falling in the PSUAC title match, head coach Sharif Saber's team was never seriously threatened by the offense from Schuylkill, a team the Lions blanked three times this fall. Brandywine outshot Schuylkill 8-1 and possessed the majority of the match's scoring opportunities.
Following a scoreless first half, it took Brandywine just over four minutes of the final stanza to take the lead.
Brooke Muhlbaier, honored as a first team all-conference performer on Wednesday, sent a long shot over the head of Schuylkill goalkeeper Breanna Sattizahn as her 10th goal of the year put Brandywine in front. Muhlbaier scored for the sixth consecutive game, a streak which includes a two-goal performance at Schuylkill on Oct. 20, her second of two four-point outings against Schuylkill this fall.
In goal, Brandywine netminder Emily Bush needed to make just one save, a stop during the 62nd minute. A final Schuylkill scoring opportunity came with under seven minutes remaining, but Laura Bisco's shot from inside the box was blocked and cleared away.
Bush, who was named first team all-PSUAC, recorded her USCAA-leading eighth shutout of the season, while also earning her 14th victory.
Brandywine recorded eight of the match's nine shots on goal and attempted eight corner kicks, compared to just two for Schuylkill. Muhlbaier tallied a pair of shots on goal, while Rachel Weir, also a first team all-conference selection, registered five.
Brandywine will depart for the USCAA Tournament next week where it will be in Pool B of the 12-team tournament. The ninth-seeded Lions open up national play on Friday, Nov. 11 against No. 4 Bryant & Stratton (New York) and follow Saturday with a matchup versus No. 5 Cleary University (Michigan).