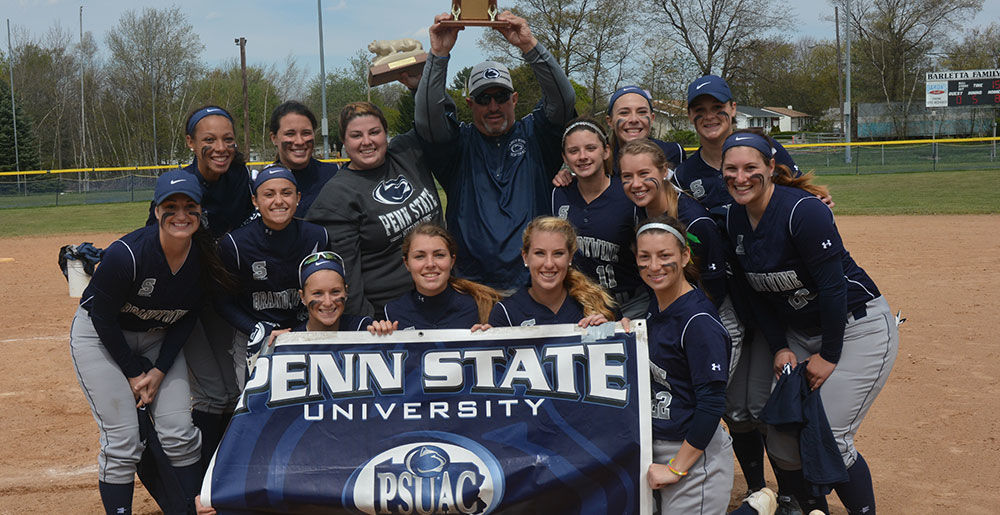 HAZLETON, Pa. -- For the second consecutive year, Penn State Brandywine was crowned Penn State University Athletic Conference softball champion after blanking Penn State Beaver 8-0 on Monday afternoon in the conference tournament title game.

With the win, Brandywine, in just its third season as a varsity team, earned the league's automatic bid to the USCAA Tournament in Akron, Ohio.

Olivia Encarnacion (Glenolden, Pa./Interboro), the PSUAC Pitcher of the Year, fired a complete game shutout, her fourth of the season. For the second time in three days, Encarnacion allowed just two hits as she earned her 10th win of the season and second of the tournament.

Katie DeStefano (Kennett Square, Pa./Kennett), Arianna Segich (Ocean City, N.J./Ocean City) and Ashlee Stritzinger (Wilmington, Del./Concord) all recorded two knocks, combining for six of Brandywine's nine hits overall. Segich, who along with Stritzinger, went 6-for-9 at the plate during the tournament, scored twice, while Julia Allman (Broomall, Pa./Marple Newtown) drove in three runs.

Segich led off the first inning with a walk and scored on Allman's base hit to put Brandywine on the board. Three batters later, Steph Harvey (Berlin, N.J./Eastern Regional) drove a pitch into the right-center field gap for a double, plating a run, and Stritzinger capped the three-run first with an RBI groundout.

Allman added a run-scoring groundout in the second and Robyn Gannon (Lansdowne, Pa./Archbishop Prendergast) followed with a bunt single that scored Segich.

After Stritzinger crossed home on an error to start the third, DeStefano delivered an RBI single and Allman ended the scoring with a sacrifice fly.

Brandywine (22-16) will now head to Akron, Ohio and begin play at the USCAA Softball World Series on Monday, May 16. The 10th-seeded Lions will face No. 7 Penn College in an opening-round game at 10 a.m.