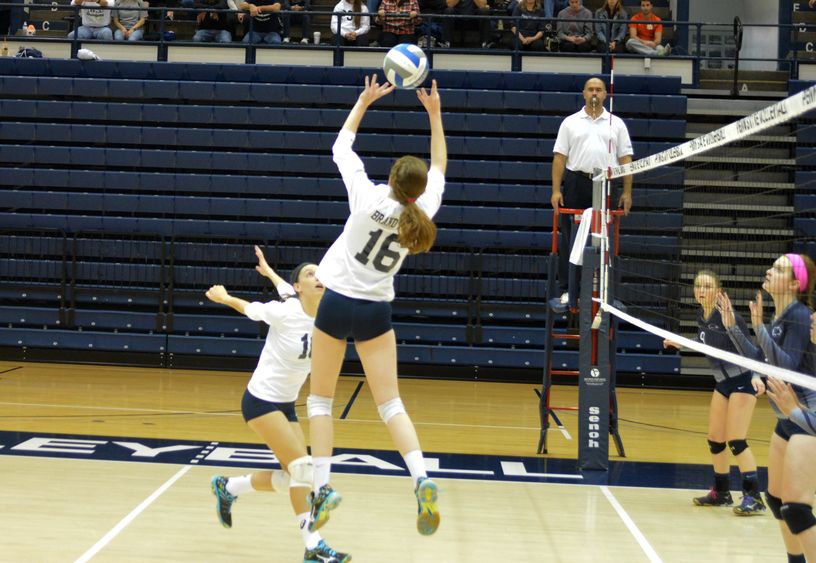 MEDIA, Pa. – Penn State Brandywine senior setter Miranda Biondi added two more awards to her collection as she was named United States Collegiate Athletic Association Volleyball Student-Athlete of the Year and earned second team all-American accolades during the association's end-of-year awards banquet on Wednesday evening.
Biondi is Brandywine's first-ever student-athlete to be lauded as the national student-athlete of the year in any sport by the USCAA and its first volleyball all-American.
The USCAA Student-Athlete of the Year Award, bestowed upon one student-athlete from each of the 15 sports it sponsors every year, emphasizes academics and community involvement in addition to athletic prowess. The award winner is selected by a committee comprised of USCAA national office members, board members, and member athletic directors.
As a human development and family studies major, Biondi owns a 3.58 grade-point average. In 2014, Biondi became the first female student-athlete from Brandywine to earn academic all-district first team honors from Capital One/CoSIDA. She is a three-time PSUAC All-Academic Team honoree and, along with three of her teammates (Kirsten Jerla; Molly Nichols; Kim Russo), earned USCAA National Academic Team laurels on Wednesday night.
On the court, Biondi was named PSUAC Player of the Year and gained first team all-conference accolades for the fourth consecutive season.
Biondi leads active collegiate volleyball players at all levels of the USCAA, NCAA and NAIA in career aces with 322. During her first three seasons at Brandywine, Biondi finished among the top six nationally in aces, including leading the USCAA with 103 as a junior, and currently stands fourth with 71 this fall.
Also Brandywine's all-time leader in assists, Biondi became the first Lion to reach 2,000 for a career on Oct. 18 and owns 2,101 during 100 career matches. This fall, she leads the PSUAC and ranks seventh in the USCAA, averaging 7.82 assists per set. Biondi helped lead Brandywine to its first-ever conference championship by tallying 36 assists and 15 digs during the Lions' title-clinching 3-1 victory over Penn State Fayette on Oct. 25.