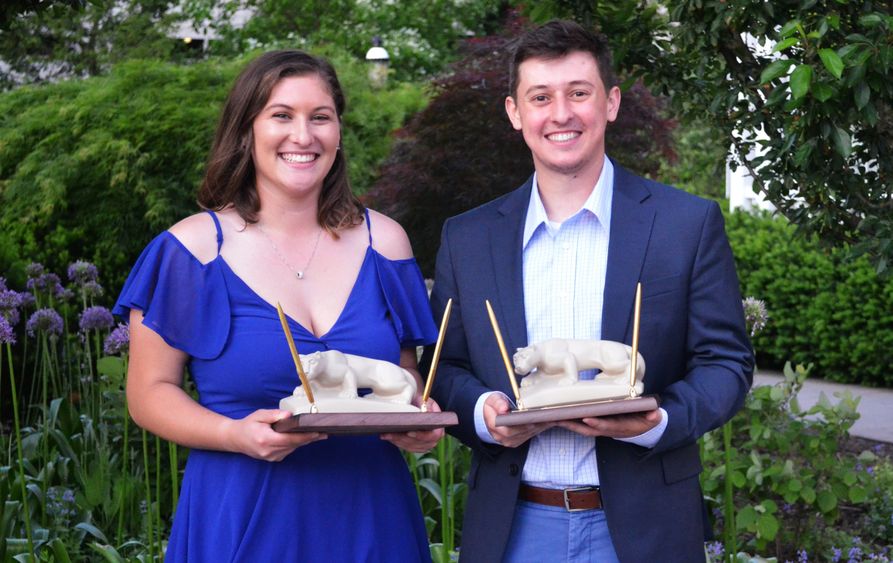 UNIVERSITY PARK, Pa. -- Penn State Brandywine seniors James Cellucci and Maddie Malfara received the John S. Egli Scholar-Athlete awards from the Penn State University Athletic Conference as the league's top male and female student-athletes during the 2018-19 academic year on May 19.

The award -- named in honor of John S. Egli, a former Penn State student-athlete, professor and coach responsible for bringing varsity athletic programs to the commonwealth campuses -- has annually been bestowed upon the top male and female student-athletes in the PSUAC since 1982. To be considered for the award, a student-athlete must have had a distinguished athletic career, own a minimum grade point average of 3.0, be active in additional campus activities and exemplify high morals, leadership and outstanding character.

Cellucci and Malfara are the 13th and 14th student-athletes from Brandywine to be named Egli Award winners, the highest total of any of the 14 PSUAC campuses. Brandywine is the first campus to claim two honorees in the same year since 2013.

Cellucci, a two-sport athlete at Brandywine (men's soccer, men's tennis), helped the Lions' men's soccer team win its first-ever national championship in November after being named the PSUAC Defender of the Year. A team captain during his final three seasons, Cellucci earned USCAA All-American honors three times and was a four-time All-PSUAC standout. His 76-game career featured nine goals and 10 assists from his defensive position, while helping the Lions claim three-straight PSUAC titles.

Cellucci also played three years of tennis, producing a 20-8 record against a complete NCAA Division III schedule.

In addition to his on-field exploits, Cellucci has been active on campus. At Brandywine's annual recruit dinner, Cellucci spoke on behalf of Brandywine's active student-athletes each of the last three years. His speeches included the positives from his time as a two-sport student athlete, being in the first group of students to live on campus at Brandywine and winning a national championship during his final college match as a senior.
In the community, Cellucci served as a volunteer coach with local soccer clubs and aided in soccer camp operations in in hometown.

Cellucci completed his studies at Brandywine with a 3.41 grade-point average as a human development and family studies major. He has earned Dean's List recognition four times and is also a four-time PSUAC All-Academic Team recipient. Cellucci graduted from Penn State earlier this month and plans to work in the human resources field.

Malfara was a member of four PSUAC championships squads as a four-year starter on the Brandywine softball team. She played in 146 games during her career, finishing with 110 career hits, fourth on the all-time hit list at Brandywine, while earning all-conference honorable mention as a catcher this spring. She is one of just seven players in team history with at least 100 career hits.

On campus, Malfara held jobs as a student worker in the athletic department, secretary of the Lion Ambassadors and as a researcher in the campus science labs. Through her research, Malfara presented findings at the Middle Atlantic Conference for the American Chemistry Society, the only undergraduate to do so, in 2017 and earned numerous awards. She took first place in the STEM category at the campus' annual Exhibition of Undergraduate Research, Enterprise and Creative Accomplishment and received the Eric A. and Josephine S. Walker Award, along with the D'Iorio Family Research Award at Brandywine's annual academic recognition ceremony last year.
During her time at Brandywine, Malfara and her teammates have served food at homeless shelters, have made late-night deliveries of Creamery ice cream and cookies to local 911 call centers and hospitals. The Brandywine softball team also worked with Team Impact to "adopt" teammate Ziah Oyler. Malfara and her teammates continue to support Ziah in her extracurricular endeavors.

Malfara has also been honored for academics while at Brandywine, earning three USCAA National Academic Team selections and PSUAC All-Academic Team laurels four times. In 2018, she became Brandywine's third CoSIDA Academic All-American, earning second team recognition. Malfara is also a three-time National Fast-Pitch Coaches Association All-American Scholar Athlete.

Earlier this May, Malfara graduated with honors as she owned a 3.84 GPA, receiving her degree in biology. Malfara plans to attend medical school in the future to pursue a career as a doctor.