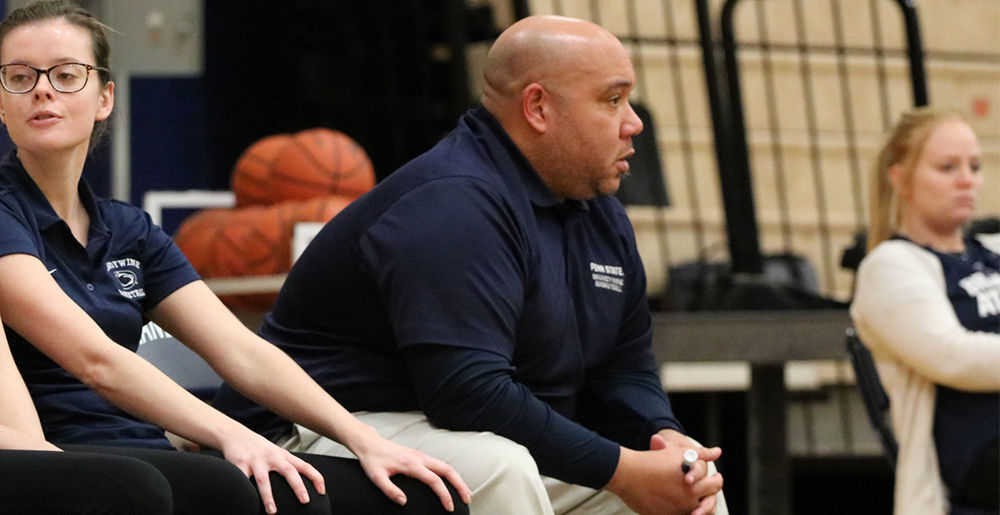 During his nearly two decades at Penn State Brandywine, head women's basketball coach Larry Johnson has built the Lions into an annual contender in the Penn State University Athletic Conference.
Johnson enters his 18th season on Brandywine's bench in 2020-21, three as an assistant coach and the most recent 15 as the Lions' head man. Under his guidance, Brandywine has won four PSUAC championships and reached the PSUAC Tournament semifinal round in 15-straight years, but there wasn't always a winning expectation on campus. Brandywine women's basketball had only two winning records during the 10 seasons prior to its current run.
A lifelong resident of Delaware County, Johnson was coaching boys basketball and football at a local high school when he received a call from Joe DiAntonio, who had been recently hired as head coach of the women's basketball team at what was then known as Penn State Delaware County, in August 2003. DiAntonio was looking for an assistant coach and wanted to know if Johnson had any interest.
"I was hesitant to make a move at first. I think I took about two weeks to give him an answer," Johnson remembered.
In the end, Johnson accepted and spent the next three years trying to build a winning program with DiAntonio.
The duo endured a tough first season in 2003-04 as Brandywine won just once in 20 games with a roster of eight players, only two of whom had played basketball in high school.
"That first year was rough. We were lucky to have Dana Johnson because she had to do almost all of the scoring and everything else," said Johnson. Dana Johnson (no relation to Larry) would go on to become the first 1,000-point scorer at Brandywine and a member of Brandywine's inaugural hall of fame class.
Despite the trying first season, Johnson never regretted his decision to make the move to Brandywine.
"We made it fun. Joe and I used to jump in and play with the team during practice. We had to in order to play five-on-five," he added.
In fact, Johnson picked up an important piece of coaching advice during that year, one that he stills uses today.
"I wasn't comfortable around the women," said Johnson, who had no prior experience coaching women's sports. Coaching with the guys in basketball and football, I was an in-your-face kind of coach. When I started at Brandywine, I wouldn't say much at practice, maybe a little instruction here and there. Dana asked me one day at practice why I didn't say much. I explained I was still trying to find my niche with the team and that was when she said 'you can yell at us; we're not going to break'. That's when I started getting more into it, more intense."
Someone who can attest to the fact that Johnson has become more intense through the years is Brandywine Athletic Director Bobbi Caprice, who played for Johnson from 2009-13.
"Coach Johnson knows how to bring out the best in all of his players. He understands their limits and how to push them to be successful. With Coach Johnson, it's not about how loud he is, it's the message or lesson he's trying to teach. You learn that pretty quickly as a player," said Caprice.
The fortunes for Brandywine women's basketball improved following that first 1-19 campaign as the Lions posted a .500 record in 2004-05 and went 12-1 in the league, reaching the conference tournament semifinals, during the following season.
DiAntonio stepped aside after the 2005-06 season to take over the full-time athletic director role, allowing Johnson to become the team's head coach. Johnson's first season as head coach is also one of his most memorable as he guided the Lions to their first-ever 20-win season and the team's first conference championship in nearly a decade.
"Winning the championship at the Bryce Jordan Center with that group of girls, the seniors who were 1-19 and the juniors who really started the rebuild, was something special. The year before we had a really good team, but lost to Harrisburg in the semifinals. The players decided to write 'unfinished business' on their warmups and I told them if they wrote that, we better win the championship," noted Johnson.
That season marked the beginning of the most successful run in Brandywine history. Brandywine has claimed three more championships during Johnson's tenure and has won at least 18 games 10 times, including each of the last eight years.
It hasn't always been easy for Johnson, who is busy raising two kids, daughter, Makalya, and son, LJ, with his wife, Jessica, and working full-time as a supervisor at the local juvenile detention center.
Beginning in 2015, Johnson spent four years working the night shift at the detention center, often leaving him sleep-deprived during basketball season. There were many times he would come straight from a shift at the detention center to Brandywine, get on a bus and ride with the team for a weekend in western Pennsylvania.
"Those Friday morning trips to Pittsburgh were hard. I would work all night then get on a bus and drive five or six hours. Sometimes I wouldn't sleep for about 48-straight hours," said Johnson.
In addition to his full-time job and coaching at Brandywine, Johnson continues to coach high school football, a position he has held since 1999, which often leads to long days during the fall when his two coaching gigs overlap. He has also helped as an assistant coach with Makayla's AAU basketball team for the last four years and served on the board at the Media Youth Center, a place he spent a lot of time during his childhood.
Johnson's father ran the Media Youth Center for about 15 years during his childhood and it was there that he got his first basketball coaching job, leading a summer league team as a high school senior.
Despite all of his success at Brandywine, Johnson has never contemplated moving up in the coaching ranks.
"This was my first real coaching job. To me, basketball is basketball. I'm not one of those people who needs to have a label: Division I or Division II," explained Johnson. I get treated well and I have fun with it."
Johnson also remains humble about all of his team's achievements throughout the past two decades.
"It's all the players. We've been lucky to have so many great players and great women come through here. Recruiting is hard, especially in this area, but we've been lucky the right players have come at the right times," said Johnson.
However, Caprice, one of 10 1,000-point scorers to play for Johnson, disagrees.
"I feel very strongly that his team's success is truly from his leadership and coaching. He doesn't always have the most talented team, but he knows how to put players in a position to succeed because he's a great coach," she said.
Johnson won his 250th game as head coach last December and is now more than halfway to college basketball's magical 500-victory mark. A winner of 263 games, Johnson's program has come a long way from that one-win season that marked the beginning of his journey at Brandywine.
Don't congratulate him though; it was all about the players.