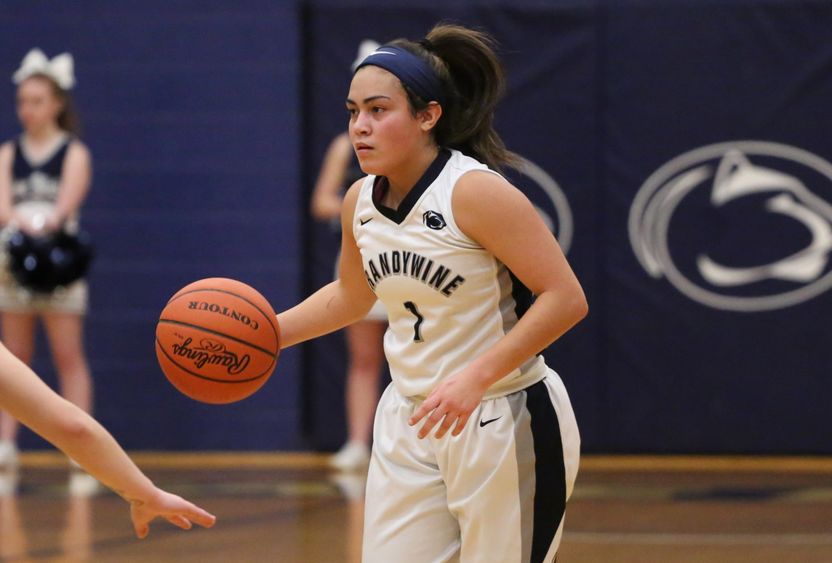 MEDIA, Pa. — Senior Nikki Velez etched her name at the top of Penn State Brandywine's all-time women's basketball scoring list as she poured in 29 points to break the program's all-time scoring record during the Lions' 88-66 victory at Penn State Fayette Friday night.
Playing in her 98th career game, Velez entered Friday needing 19 points to break Dana Johnson-Altobelli's career mark of 1,519 points. Velez wasted no time in surpassing the record, scoring her 19th point of the game with a fast-break layup at the 3:40 mark of the second quarter.
A three-time First Team All-PSUAC guard and member of Brandywine Athletics' inaugural class of hall of famers set to be inducted Jan. 25, Johnson-Altobelli's career record had stood at 1,519 for nearly 13 seasons. She completed her four-year career on March 10, 2007, with six points during Brandywine's PSUAC Championship victory over Penn State Schuylkill.
Velez, who is also a three-time First Team All-PSUAC standout, has averaged nearly 16 points per game during her career and is also a member of Brandywine softball's 100-hit club as an all-conference performer on the diamond. She now owns 1,530 points.
She quickly moved past her career average, pouring in nine first quarter points, behind a trio of three-pointers. Velez exploded for 15 points during the second period, canning three more triples, including one that brought her within one point of Johnson-Altobelli's record with 3:52 to go. Less than 15 seconds later, Velez collected a steal and banked in a layup to take over first place on Brandywine's all-time scoring list.
After finishing the first half with 24 points, Velez added her seventh three-pointer of the night and another layup during the first 1:03 of the third stanza to finish the evening with 29 points. In 32 minutes overall, she shot 11-of-17 from the field and 7-of-9 from beyond the arc, while adding five rebounds, four assists and three steals.