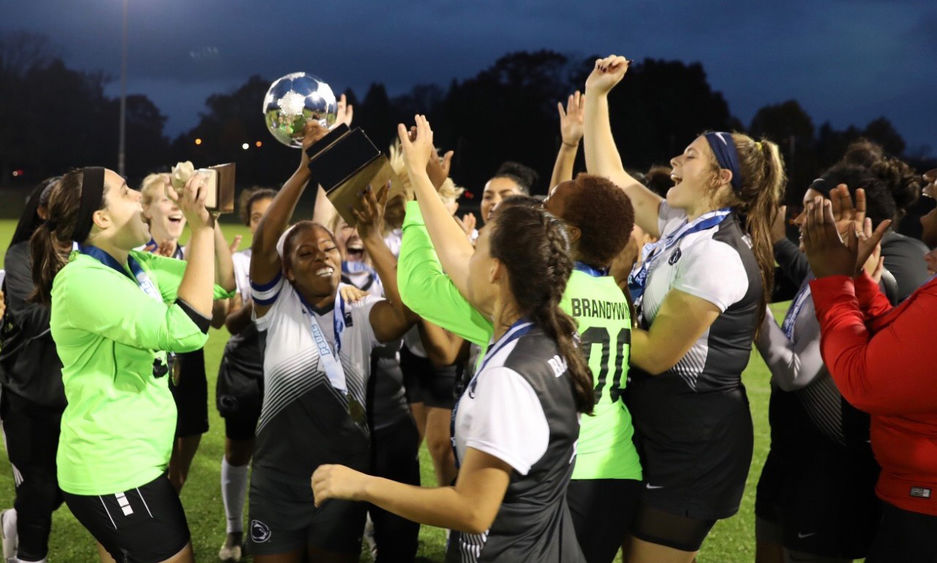 MEDIA, Pa. — Penn State Brandywine senior Brianna Banks' third goal of the game came just over one minute into overtime as the top-seeded Lions bested Penn State Hazleton 3-2 during the Penn State University Athletic Conference Women's Soccer Championship Wednesday evening on the West Campus turf field in University Park.
Banks, a four-time PSUAC Player of the Year, broke free from the Hazleton defense, which featured at least seven players defending the box for a majority of the night, and fired a shot into the lower right corner of the net 1:27 into the extra session to set off a celebration on the Brandywine sideline.
The Lions, who won for the 10th time in their last 11 matches, will make a return trip to Virginia Beach, Virginia, for the United States Collegiate Athletic Association National Championship for the fourth consecutive year. Play at the tournament begins Friday, Nov. 8.
Banks provided all of the scoring for the Lions, delivering her ninth hat trick of the season in just 17 matches.
Brandywine controlled possession for a large portion of the opening half, peppering Hazleton goalkeeper Roxxy Dacosta with 10 shots, but managed to put just one past her. Banks' bad angle shot from the far left side deflected off Dacosta's hands and into the back of the net, giving Brandywine a 1-0 edge at the 32:44 mark.
Hazleton found the equalizer during the 64th minute as Madison Polumbo scored on a penalty kick to tie the match at 1-1. Emma Wyllie gave Hazleton the lead briefly with under 10 minutes to play as the No. 3 seed grabbed a 2-1 lead.
However, following a hand ball assessed to Hazleton in the box, Banks quickly evened the score with a penalty kick of her own with under seven minutes remaining in regulation.
Banks delivered the game-winning goal 87 seconds into overtime on Brandywine's 39th shot of the night. The tally marked her second-career overtime goal with both coming this season in 3-2 victories over Hazleton. Banks now has a USCAA-leading 40 markers on the year.
Brandywine goalkeeper Emily Bush made one stop in net to claim the 41st victory of her career. Dacosta kept Hazleton in the match by making 24 saves.
The Lions will be the No. 5 seed in the USCAA Tournament and open with a national championship rematch from 2018 against UC-Clermont, 2:30 p.m. on Nov. 8.