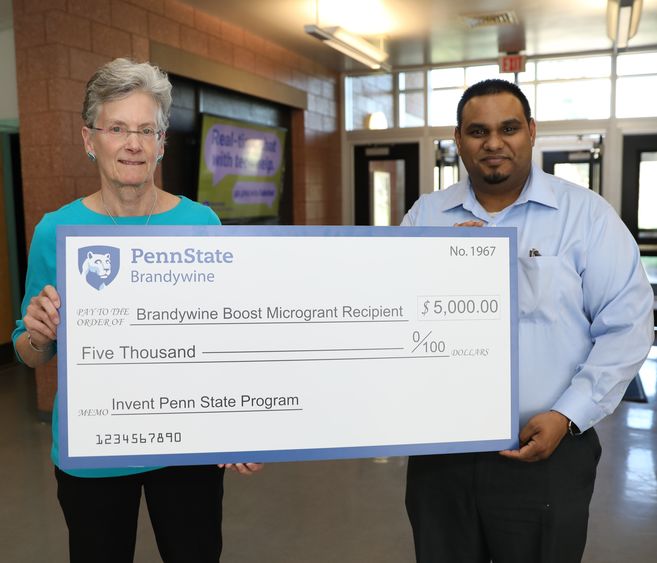 MEDIA, Pa. — Hot sauce producer Frankly-Deep recently gained support from Penn State Brandywine, as the local small business was named a Brandywine Boost grant recipient.
Frankly-Deep got its start in 2014 when business partners Pradeep Kulkarni and Frank Schweitzer met as college students at the Brandywine campus. Kulkarni and Schweitzer quickly became friends and discovered they shared a passion for cooking. Along the way, they started making batches of their own hot sauce in their home kitchens.
"We just recently completed FDA certification of our six flagship sauces with Artisan Exchange, the West Chester-based certified kitchen that we use," said Schweitzer, who is currently still enrolled at Brandywine and majoring in business. Schweitzer learned about the Brandywine Boost program through Associate Professor of Business Julie Stanton, who encouraged him to apply.
Brandywine Boost, an initiative born out of a $50,000 Invent Penn State seed grant, offers advisory support to small- and medium-sized business owners and entrepreneurs in the Delaware County region. This support includes one-on-one direct analysis and advising, interaction with Brandywine students and group workshops, and, in some cases, a microgrant of up to $5,000 for the small business.
"I would definitely say that applying to Brandywine Boost was the best business decision we've made so far," Schweitzer said.
As a Brandywine Boost grant recipient, Frankly-Deep received support from students and faculty at the Brandywine campus.
"Five separate classes took on different aspects of our business, from marketing to IT support," said Schweitzer. "The students did a fantastic job in each of their respective projects."
"The students in the IST 440 class crafted a software solution for us around some problems we were having," said Kulkarni, a Penn State graduate who earned his bachelor of arts degree in letters, arts and sciences at Brandywine in 2016.
Other student groups provided Frankly-Deep with an analysis of local business competitors, which included press releases and website reviews.
According to Schweitzer, working with Brandywine Boost has already resulted in positive changes for Frankly-Deep.
"The benefits of Brandywine Boost have been immediate," he said. "We have been given tools to restructure our business in a more profitable manner, and the most valuable part of this experience has been the support of the Penn State community as a whole."
"The whole process from start to finish was awe-inspiring," said Kulkarni. "It made me proud to be a Nittany Lion. The whole Brandywine Boost community pulled out all the stops when it came to helping us get to where we need to be."