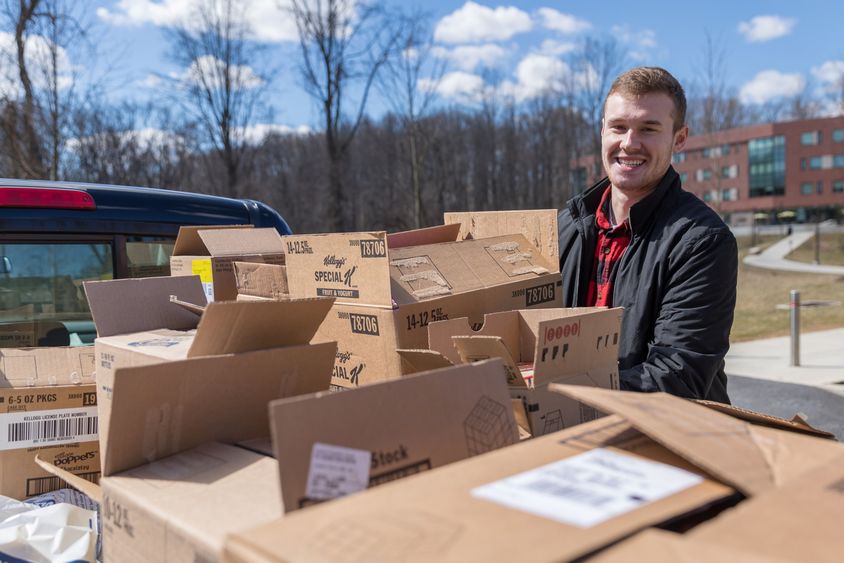 MEDIA, Pa. — From "honeycombs" made with bright yellow boxes of Bisquick pancake mix and Lipton tea to a "castle" created with boxes of crackers and cereal, Penn State Brandywine students were up to the challenge to design and build structures along a sustainability theme in this year's Un-Canny Competition.
Similar to last year's Canstruction Competition, students were asked to design and build a structure illustrating a sustainability theme, except instead of using cans, they switched to food packaged in cardboard and plastic.
"We honored the suggestion of our community partner, the Media Food Bank, to not use canned food but instead the items they most need that rarely get donated, like peanut butter, ketchup, mustard, pasta and cereal," said Laura Guertin, professor of Earth science. "They also needed cake mixes and icing."
The competition was made possible through funding from Brandywine's PepsiCo sustainability grant and food donations from Kellogg's, McCormick, Smucker's, Starbucks, French's and Frank's RedHot. The Penn State Housing and Food Services purchasing office and Neil LaGreca, manager of housing and food services at Brandywine, coordinated food donations from campus vendors.
Seven teams entered the competition, and the Un-Canny entries were judged in several different categories. Each student on the winning teams received an award created by engineering students. The awards were made of recycled materials and also double as a key holder, a nightlight, a cellphone charger and more.
The award-winning teams were:
Structural Ingenuity: Castle on the Hill
Jurors Favorite: Let Them Bee
Best Use of Labels: Money on My Mind
Library Literacy: MarComm City
Sustainability: Spills That Kill
People's Choice: Money on My Mind
Students Victor Ficarra, Joe Coyle, Max Savidge, Jackie Domsohn, Ben Lyons and Tyler Emrich worked as a team to build Castle on the Hill using 257 boxes of spaghetti, peanut butter jars, water bottles and more. The structure was a symbol of how difficult it can be for societies — represented by the castle on the hill — to access water.
"There are difficulties accessing fresh water all around the world, and closer to home, like in Flint, Michigan," said Domsohn.
The Let Them Bee structure, designed by Women in Engineering teammates Melanie Nowak, Olivia Budow, Emily Poprik, Keyana Cooper, Aliya Boyd and Rhianna Lonas, depicted the important roles bees play in the environment.
"Climate change has negatively affected bees and their ability to pollinate crops," said Nowak.
Keynote speaker Peter Boger, assistant director of outreach and engagement at Penn State's Sustainability Institute, spoke at the awards ceremony via Zoom. He discussed sustainability and how Penn State serves the local community, the state, the country and the world. After the structures were disassembled, the food was donated to the Media Food Bank.