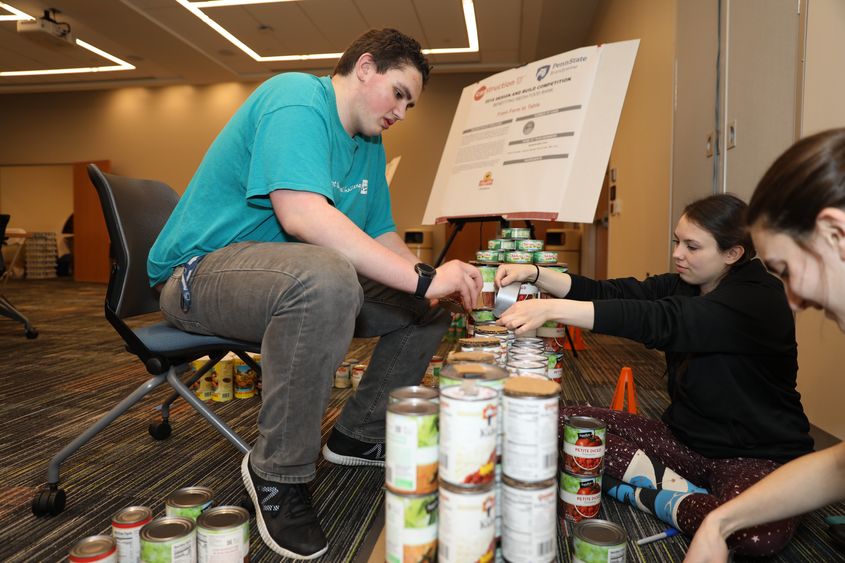 MEDIA, Pa. — Throughout the week of April 16-20, Penn State Brandywine hosted a CanstructionU competition to help raise awareness and support for hunger in the local community.
Canstruction is an international competition that encourages design industry professionals, college students and youth to design and build structures made entirely from full cans of food. At the event's conclusion, the cans are donated to local food banks, giving competitors a chance to combat chronic hunger in their communities.
The competition was made possible through funding from Brandywine's PepsiCo sustainability grant and sponsorship by Giant Food Store, ShopRite and other local food stores.
"Back in 2011, our campus took a team of students to the Canstruction Citywide competition in Philadelphia," said Laura Guertin, professor of Earth sciences and one of the Canstruction event coordinators at Brandywine. "It was one of the most amazing teaching experiences we'd ever had — amazing enough that the team captain from 2011, Zanya Stephenson, returned to campus to judge the Brandywine students' structures."
Eight teams entered the competition, and the Canstruction entries were judged in several different categories. This year's winners were:
Award for Structural Integrity, "Hershey's Kiss"
Award for Best Meal, "From Farm to Table"
Award for Best Use of Labels, "We Are"
Juror's Favorite, "Hershey's Kiss"
Honorable Mention by Campus Advisory Board, "Canning Green"
Sustainovation Honor, "From Farm to Table"
People's Choice Award, "Blue Missions"
The winning teams received a certificate and a medal designed and printed on a 3-D printer by Brandywine engineering students. The medals were printed using a sustainable filament made of recycled coffee grounds.
Students Shannon Barrett, Tammy Katz and Gabe Schaefer, who completed the "From Farm to Table" structure, started planning their project in January.
"We competed to raise awareness about how real the issue of food insecurity is in the greater Philadelphia area. It affects many families," said Schaefer.
Once the structures are deconstructed, more than 2,000 cans of food will be given to the Media Food Bank.
"We will be the first higher ed institute to partner with Media Food Bank," said Guertin. "They serve 200 families a week, and now that school is wrapping up, many kids are home and losing access to school breakfasts or lunches."
Guertin hopes that the Canstruction competition will encourage an ongoing spirit of awareness on campus and incite further efforts to combat food insecurity in Delaware County.
"If people have to worry about hunger, they can't move on with other parts of their lives," she said. "Getting involved is an important part of everyone's access to basic needs, like food."