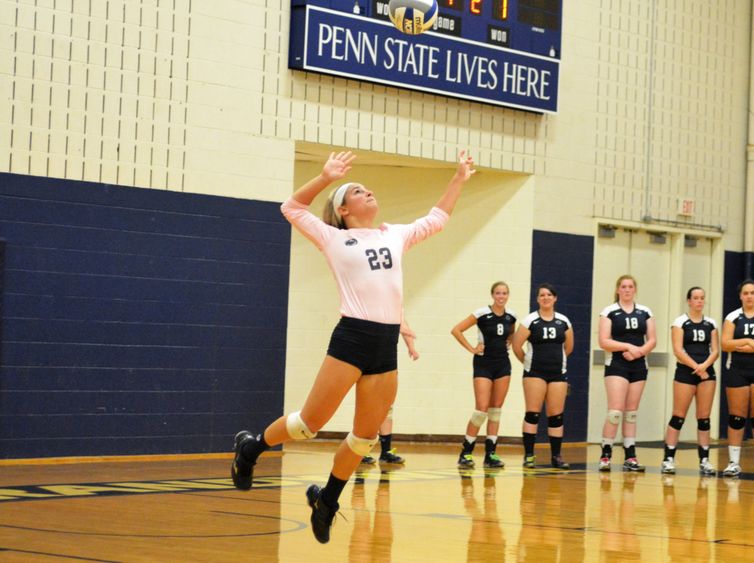 MEDIA, Pa. — A total of five Penn State Brandywine student-athletes received honors Oct. 13 from the Penn State University Athletic Conference as players of the week in their respective sports, including volleyball senior Miranda Biondi and men's soccer junior Bill Walleekendeh, who were also selected as national players of the week by the United States Collegiate Athletic Association.

Sophomore Pat O'Neill joined Walleekendeh as PSUAC men's soccer honorees, earning the goalkeeper of the week award, while senior Kim Russo gave Brandywine a sweep of the volleyball awards. Sophomore net minder Alyssa Abbonizio claimed her second PSUAC goalkeeper of the week honor in women's soccer.

Walleekendeh added to his PSUAC scoring streak with six goals and three assists, and O'Neill did not allow a goal during a pair of blowout victories over Penn State Mont Alto and Penn State Schuylkill. Walleekendeh has netted at least one goal in 16 straight regular season PSUAC matches dating back to the 2013 season. O'Neill owns a scoreless streak of nearly 244 minutes in conference games, having not surrendered a goal since Sept. 19.

Biondi, named PSUAC setter of the week for the fourth time and USCAA setter of the week for the second time, recorded 70 assists during a trio of Brandywine victories last week. Russo added 35 digs along with six aces.

Both Biondi and Russo are likely to reach career milestones this weekend during Brandywine's Dig Pink quad matches. Russo is 34 digs shy of reaching 1,000 for her career, while Biondi needs 77 assists for 2,000. Both are Brandywine's all-time leaders in their respective categories.
Additionally, Biondi owns 311 aces during her career, including a USCAA-leading 103 during her junior season. Biondi's 311 aces are more than any other active college volleyball player at any level of the USCAA, NCAA or NAIA.

Abbonizio was the winning goalie during a pair of PSUAC victories last week for the Lions' women's soccer squad. She has amassed 38 saves in eight games, while leading the conference in victories with six during Brandywine's first season of varsity competition.

Complete box scores, recaps and updates for Penn State Brandywine athletics are posted at psubrandywineathletics.com.