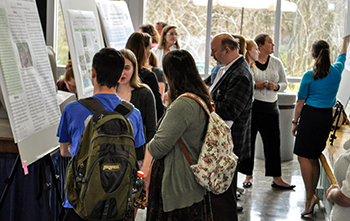 EURECA (Exhibition of Undergraduate Research Enterprise and Creative Accomplishment) is held each year in the spring. The annual event allows undergraduate students across numerous academic disciplines to present their research and creative endeavors to the campus community and outside guests after several months of hard work and dedication.
Penn State Brandywine is dedicated to giving its students the opportunity to conduct research alongside scholars, which takes undergraduates beyond traditional learning methods. By working on research projects students sharpen their critical thinking skills, become better team players and develop into more effective problem-solvers.
Faculty are asked to identify outstanding student work, and students that are involved in internships, capstone projects, and honors courses are encouraged to play a part in this program.
For more information on EURECA contact Kurt Kistler at [email protected].
Application for Undergraduate Research Funding