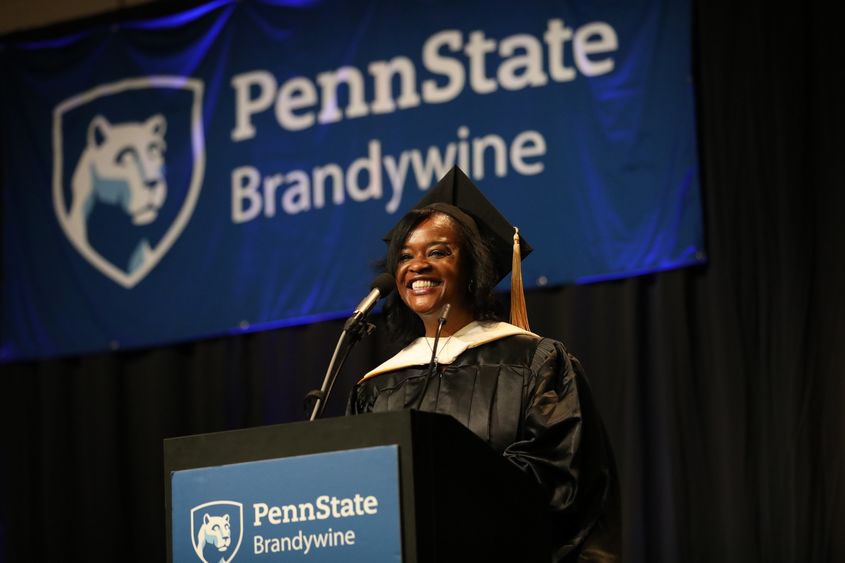 MEDIA, Pa. — Speaking at Penn State Brandywine's spring commencement ceremony on May 4, an accomplished human resources leader shared her journey from "farm girl" to corporate executive and the lessons she learned along the way.
Karen McClendon, a first-generation college graduate who is now regional vice president of human resources for Comcast Cable, was raised on a farm in Virginia where the family grew its own food supply. She was devastated when a high school counselor told her she was "not college material" and should pursue other options.  With the strong support of her parents, she ignored that suggestion and earned bachelor's and master's degrees in business administration.
Sharing the story of her sister with a disability, McClendon encouraged graduates to have compassion for and acceptance of people who are different from them.
"A difference is not a barrier," McClendon said. "It can actually be a strength that brings us together."
She noted how important it is to surround yourself with people who will be a positive influence in your life and who will serve as a mentor, providing support and feedback
"Be with people who are supportive of your goals and what you want to pursue," McClendon said. "Remember, I grew up on a farm. When I started my career I didn't know anyone in corporate America, and by all accounts I was a mess. I could not have succeeded without the support of a mentor. Ask for help understanding what you need to do well to move forward on the path you've chosen."
She added: "In return, be the positive individual that others want to be surrounded by. Many would like to be sitting where you are today, and you have the power to influence so many others in a positive way."
After the commencement address, Chancellor Kristin Woolever and Director of Academic Affairs Cynthia Lightfoot conferred the degrees.
"As you begin your journey today, consider your long-term goals," Woolever told the graduates. "Know where you want to go. Be intentional about the actions you take to get you there. And be willing to adapt to changes along the way while staying true to your personal values and ideals."
As students received their diplomas, Brandywine continued its long tradition of allowing each student a few moments to share thoughts about their college experience and acknowledge those who helped them along the way. Most thanked parents, spouses, children and classmates for their support and encouragement, while others expressed their appreciation to faculty and staff members.
Penn State Brandywine, with 1,400 students, is a residential campus offering 12 baccalaureate degrees and the first two years of nearly all of Penn State's 275 majors.