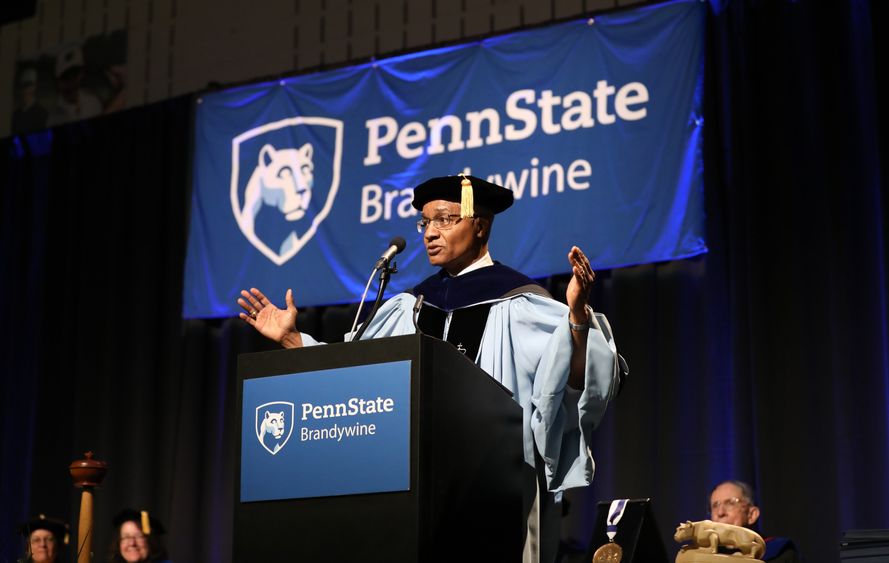 MEDIA, Pa. — A Delaware County judge encouraged graduates at Penn State Brandywine's spring commencement ceremony to be specific about future goals and write them down, sharing that when he decided that becoming a judge was a career goal, he wrote "your honor" on his computer screen so he would be reminded of that objective every day.
Common Pleas Court Judge Nathaniel Nichols, the commencement speaker, was elected to the bench in 2011 after practicing and teaching law for nearly 40 years, including serving as an associate professor at Widener University School of Law.
Nichols encouraged the graduates to have a plan and a mentor, both of which, he said, are critical to success.
"Make a plan, commit it to writing and have specific steps," he said. "Set a goal and you are much more likely to achieve it."
Nichols said he has benefited from a mentor who, although he never completed a college degree, "is the smartest person I know."
"He challenges me with tough questions and asks me what I'm going to do next," Nichols said. "What's important about the mentor is that is he truthful to you."
Penn State Brandywine awarded 110 diplomas at the May 5 ceremony. Chancellor Kristin Woolever welcomed the graduates, families and friends who gathered in the Commons/Athletic Center on campus.
"Graduates, you have worked hard, and today we are delighted to recognize you for your accomplishments," Woolever said. "We have been inspired by your work ethic, sacrifice and determination."
The chancellor noted some of the achievements of the graduates: 20 were honored for academic excellence at a ceremony in April, 15 were student-athletes, three were THON dancers, five were Lion Ambassadors, and seven traveled internationally for study abroad or service trips to France, Cuba, London, Greece, Ireland, Malta and Sicily.
Woolever noted that Allison Archambo, who graduated with a psychology degree, has a special connection with the history of the campus. She is the granddaughter of the late John Vairo, who served as the first campus director when Penn State Delaware County opened in 1967 and led the campus for 19 years. Brandywine, as the campus has been known since 2007, celebrated its 50th anniversary last fall.
"You each have accomplishments and achievements earned during your time at Brandywine," Woolever said as she encouraged the graduates to focus on their long-term goals.
"Know where you want to go and be intentional about the actions you take to get you there," she said. "Be willing to adapt to changes along the way while staying true to your personal values and ideals."
After the commencement address, Woolever and Director of Academic Affairs Cynthia Lightfoot conferred the degrees.
As students received their diplomas, Brandywine continued its long tradition of allowing each student a few moments to share thoughts about their college experience and acknowledge those who helped them along the way. Most thanked parents, spouses and children for their support and encouragement, while others expressed their appreciation to faculty and staff members. Many talked about the challenges they overcame on the path to earning their degree.
Penn State Brandywine, with 1,400 students, offers 12 baccalaureate degrees and the first two years of more than 150 other Penn State degrees.