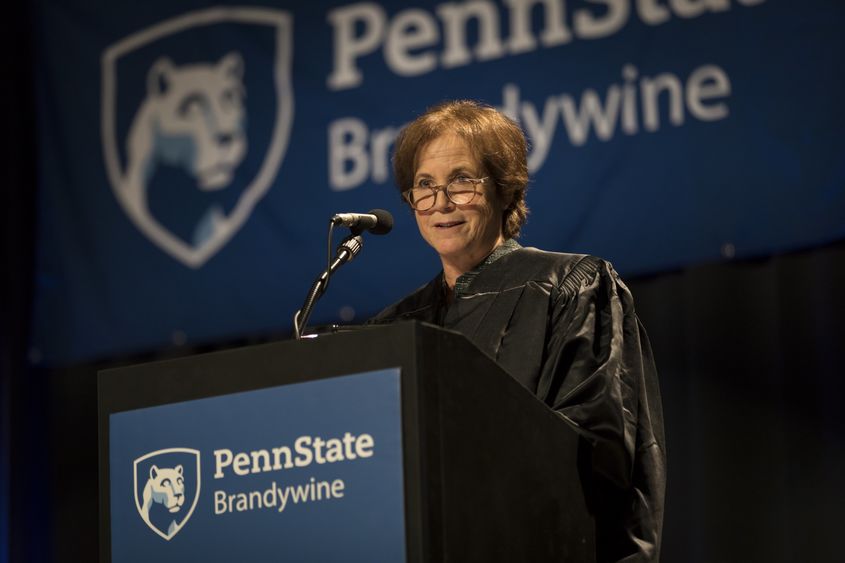 MEDIA, Pa. — Penn State Brandywine awarded 58 diplomas at its fall commencement ceremony on Friday, Dec. 15. Chancellor Kristin Woolever welcomed the graduates, families and friends who gathered in the Commons/Athletic Center on campus.
"Graduates, you have intelligence, enthusiasm, and a fresh vision to give to the world," Woolever said. "I am confident that you will succeed. Find something you are passionate about and work hard, but remember to enjoy life's journey along the way."
Andrea Gilbert, president of Bryn Mawr Hospital, delivered the commencement address. In her leadership role, she oversees the hospital's day-to-day operations, strategic planning, clinical program development, physician recruitment, fundraising and finances.
Gilbert shared some of the lessons she's learned during her 30-year career in health care and hospital administration.
"Pay attention to life and the rhythm of things along the way," she said. "Engage in your next steps in a really genuine way, not just to put them on your resume. Learn from your mistakes, even small missteps or nuances, and definitely learn from the mistakes of others, since none of us will live long enough to make them all ourselves. If you pay attention along the way, you may find that you take a different path, and maybe an even better path, than the one you initially intended."
Gilbert also emphasized the importance of serving others and demonstrating understanding.
"Do something for someone else," she said. "Besides being good for your community, helping others is good for your heart. It's empowering to make a difference in someone else's life, and it can be empowering for you when you need it most."
"Strive for understanding," she added. "You will all end up working with other people in some fashion. I've found that advancing an idea is often most successful once I've listened for understanding — that is, when I've tried to put myself in someone else's shoes to better appreciate what's important to them."
After the commencement address, Woolever and Director of Academic Affairs Cynthia Lightfoot conferred the degrees.
As students received their diplomas, Brandywine continued its long tradition of allowing each student a few moments to share thoughts about their college experience and acknowledge those who helped them along the way. Most thanked parents, spouses and children for their support and encouragement, while others expressed their appreciation to faculty and staff members. Many talked about the challenges they overcame on the path to earning their degree.
Penn State Brandywine celebrated its 50th anniversary this year. The campus started under a roller-skating rink in Chester in 1967 as Penn State Delaware County. It moved to its current location in Middletown Township in 1970 and the name was later changed to Brandywine. The 1,400-student campus offers 12 baccalaureate degrees and the first two years of more than 150 other Penn State degrees.