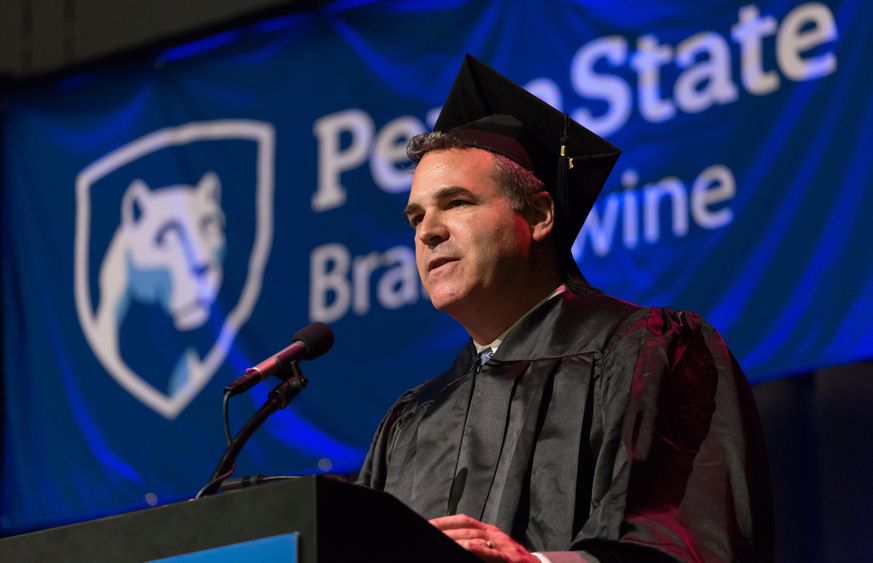 MEDIA, Pa. — Penn State Brandywine awarded 107 diplomas at its spring commencement ceremony on May 6. Chancellor Kristin Woolever welcomed the graduates, families and friends who gathered in the Commons/Athletic Center on campus.
"Graduates, you have worked hard, and today we are delighted to recognize you for your accomplishments," Woolever said. "We have been inspired by your work ethic, sacrifice and determination."
Matt Cabrey, executive director of Select Greater Philadelphia, delivered the commencement address. Cabrey leads the team effort to market the 11-county region of northern Delaware, southern New Jersey and southeastern Pennsylvania to a national and international audience as a top-tier place to establish and grow a business. As part of the Chamber of Commerce for Greater Philadelphia, Select Greater Philadelphia collaborates with business and civic leaders, state and county economic development teams, and other partners to attract new businesses that create new jobs.
A Penn State alumnus himself, Cabrey spoke to the graduates from personal experience. After beginning his college career at the Brandywine campus, he completed a bachelor of arts degree in journalism at University Park.
"Being a Penn Stater will open new doors for you," he said. "It will allow you to, at times, stand out from others, and it will help position you for continued personal and professional growth. I can say this with confidence because I have lived it. I too am a proud Penn Stater and I am extremely proud to have walked the same hallways and pathways each of you have here on our beautiful Penn State Brandywine campus."
At the age of 17, Cabrey wasn't sure what he wanted to do after high school. After the death of his father, his family's financial situation was difficult — but he said that Brandywine was the "right place at that right time."
"Many of you have overcome countless hurdles, too," he said. "You have worked hard — navigated part-time or even full-time jobs, excelled in your sports commitments and managed family obligations. Through it all, you delivered on your educational goals and obligations. You set your vision, worked toward it and achieved it."
In closing, Cabrey encouraged the graduates to follow three pieces of advice: find your passion, value and strengthen your relationships and make time for others.
After the commencement address, Woolever and Director of Academic Affairs Cynthia Lightfoot conferred the degrees.
As students received their diplomas, Brandywine continued its long tradition of allowing each student a few moments to share thoughts about their college experience and acknowledge those who helped them along the way. Most thanked parents, spouses and children for their support and encouragement, while others expressed their appreciation to faculty and staff members.