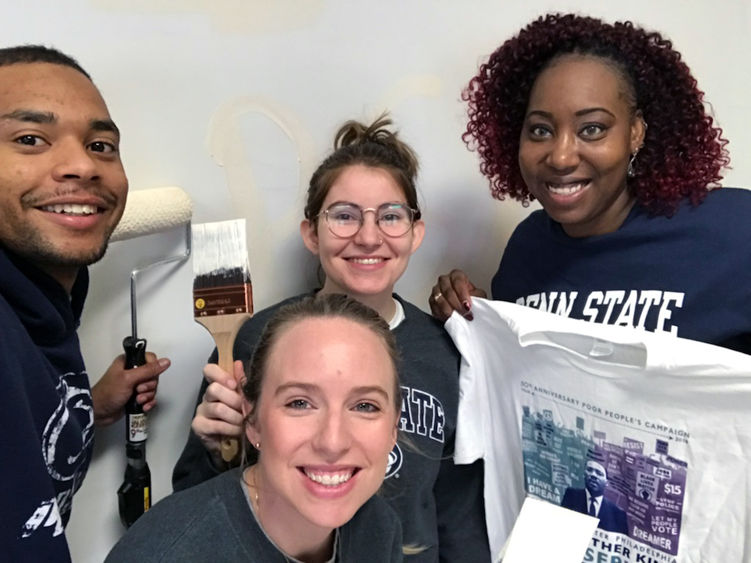 PHILADELPHIA — For the second year in a row, the team at Penn State Admissions – Philadelphia participated in the nation's largest Martin Luther King Jr. Day event, the Greater Philadelphia Martin Luther King Day of Service.
An important day for the Philadelphia community, this annual event has been happening for 23 years as a way to promote year-round volunteer service and civic engagement. On this day across the city, volunteers have the opportunity to choose from hundreds of local projects focused on restoring, beautifying and uplifting local neighborhoods, with the intent of opening up avenues for future engagement.
In an effort to continue fostering close relationships within area communities, and as a way to give back to the students served by Penn State Admissions – Philadelphia, the team chose to collaborate with a local high school for its service day project. Getting an early start, the team made its way to northwest Philadelphia to meet at the recently re-opened Vaux Big Picture High School. While the school currently only has a ninth-grade class, plans are in the works to expand the student body significantly each year as part of the Philadelphia Housing Authority's Choice Neighborhood Transformation Plan for the Sharswood neighborhood.
On this day of service, the Penn State team joined more than 75 volunteers for a day of cleaning and restoration. Working side by side with Vaux teachers, students, parents and alumni, the team prepped and gave fresh coats of paint to several rooms on the fourth floor of the school's multi-story, 75-year-old building. This specific project helped to speed up the process of restoration, so that in the next few years, Vaux Big Picture High School can support the hundreds of students who are anticipated to eventually attend.
The entire project was coordinated in conjunction with the Philadelphia Housing Authority, an organization that Penn State Admissions – Philadelphia works with regularly for local community-oriented events.
About Penn State Admissions – Philadelphia
Penn State Admissions – Philadelphia serves as a local admissions office to provide Philadelphia students and school counselor's with resources to navigate Penn State's multi-campus system, providing options and resources. Some of the activities of Penn State Admissions - Philadelphia include: admissions counseling; financial aid workshops; FAFSA completion workshops; and hosting free bus trips to visit Penn State campuses.