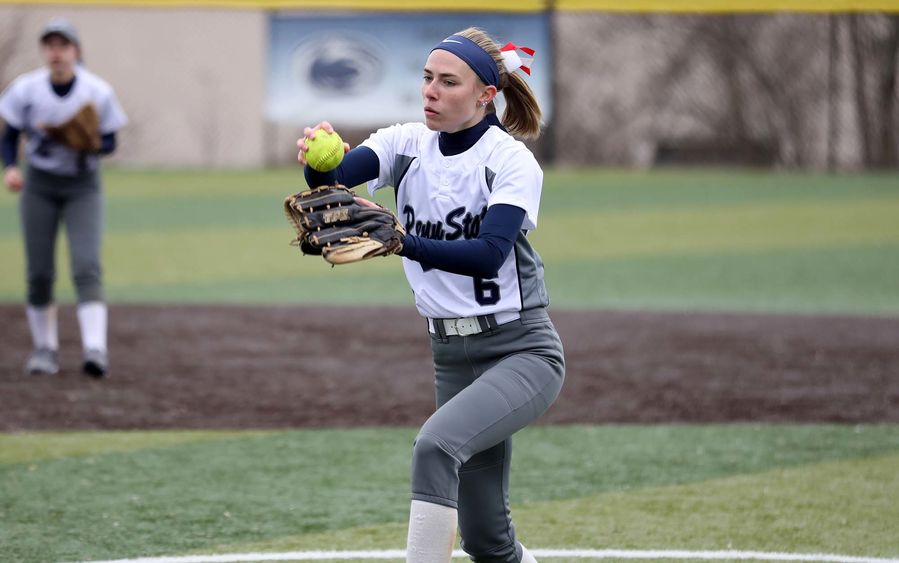 MEDIA, Pa. — A number of Penn State Brandywine student-athletes reached personal and team milestones, highlighting the last week of action in Brandywine athletics.
Seniors Katie DeStefano and Katy Steffen reached their milestones during the same game, helping Brandywine to a 13-9 victory at Penn State Hazleton on Sunday, April 8.
DeStefano's first-inning strikeout put her at 200 during her career, making DeStefano the first softball player from Brandywine to reach 200 career strikeouts. She fanned two batters overall during the game, earning her third victory in three days against Hazleton.
Steffen went over the 100 career RBI mark in dramatic fashion, sending a grand slam over the center-field fence during the seventh inning to push her career RBI total to 103. Steffen became the second player in team history to hit the century mark for runs batted in.
Overall last week, Brandywine claimed three-of-four games against Hazleton to earn a key Penn State University Athletic Conference series victory. Brandywine, which has knocked Hazleton out of the PSUAC tournament in three-straight seasons, sits at 4-2 in the conference and 9-6-1 overall.
Freshman Haley Grossi aided the offense with six extra-base hits in 13 at-bats, including her first two home runs of the season, while DeStefano won three games to up her win total to nine this spring, matching a career high.
Brandywine baseball won four-of-five league matchups last week and now sits at 6-1 in PSUAC play with eight conference games remaining.
Senior Matt Masi launched three home runs during the five games, giving him eight home runs total in 22 games this season. Masi's eight long balls are a new single-season team record, passing Tom Osenbach's previous benchmark of seven home runs set in 2014.
Overall last week, Masi drove in 10 runs and went 6-for-14 at the plate, while classmate Chris Skahill posted six hits in 13 at-bats and knocked in seven runs.
Brandywine begins another busy week with seven games on the schedule. The Lions visit Eastern University on Tuesday, April 10, and have road trips to Penn State Wilkes-Barre (Wednesday, April 11), Penn State York (Saturday, April 14) and Penn State Schuylkill (Sunday, April 15). The Lions' lone home game of the week is Thursday, April 12, against Penn State York.
Brandywine softball will play eight games, the first four of which will come on their home field. The Lions host Eastern on Tuesday, April 10, and start a four-game series against Penn State York on Thursday, April 12, before completing the series at York two days later. The Lions close out the week with a trip to Schuylkill Haven for two make-up games at Penn State Schuylkill.
Men's and women's tennis, track and field, and golf also will be in action this week.
Men's tennis plays at home three-straight days with a matchup Wednesday, April 11, versus Neumann University sandwiched between two games against Williamson College of the Trades. The men's and women's teams both travel to FDU-Florham on Sunday, April 15.
Track and field will compete at Widener University's Chester Quarry Classic on Saturday, April 14, while the golf team plays in the two-day Raven Invitational hosted by Rosemont College.
Complete box scores, recaps and updates for Penn State Brandywine athletics are posted at psubrandywineathletics.com.