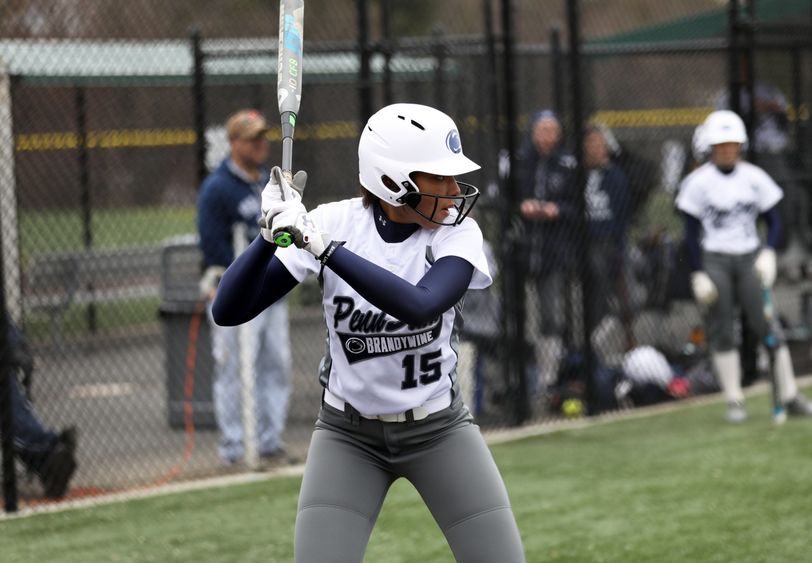 MEDIA, Pa. — The spring season continued for Penn State Brandywine's baseball and softball teams last week as the Lions played through cold, rainy weather, while that same weather forced cancellations to tennis, which saw its spring debuts pushed back one week.
Heavy winds, rain and sleet could not stop the Lions' softball team from playing their home opener as Brandywine split two games on Monday with Maine-Presque Isle, winning the opener 8-0 before falling 14-10 during the nightcap.
Senior Katie DeStefano fired a four-hit shutout in game one, striking out two, while freshman Rachel Cherubini collected two hits and knocked in three runs.
Brandywine trailed 14-4 entering the fifth inning of game two, but struck for six runs and managed to bring the tying run to the plate before a lineout to third base ended the rally. Sophomore Nikki Velez went 3-for-3 at the plate.
The weather was much more pleasant on Friday during Brandywine's home sweep of the College of St. Joseph (Vt.), which evened the team's record at 4-4. Senior Katy Steffen smacked a pair of home runs, one during each game, to lead the offense, while DeStefano fired a two-hit shutout in game two, giving her 12 shutouts during her career. Brandywine claimed the opener 10-2 and won game two by an 8-0 score.
Conference play begins Thursday for Brandywine softball as the three-time defending champion Lions host Penn State Schuylkill for the first half of a four-game series. Brandywine travels to Schuylkill Saturday. The Lions own a 52-2 record against conference foes during the last three seasons.
Brandywine baseball, which saw its two mid-week games postponed and its Sunday doubleheader moved from its home field to Cabrini because of poor field conditions, dropped both games to the Cavaliers, falling by counts of 11-5 and 10-2.
Senior Matt Masi hit two more home runs, giving him a conference-leading four this season in 14 games, to lead Brandywine's offensive effort.
Brandywine outhit Cabrini 9-8 in the opener, but was hurt by nine walks issued by its pitching staff. The Lions were limited to four hits during game two after falling behind 8-0 in the first inning.
Brandywine, now 4-10 this spring against NCAA Division III competition, faces Penn State Schuylkill for two games on Thursday, the beginning of a three-game series to start PSUAC play. The teams close out the three-game set Saturday at Schuylkill, while Brandywine travels to Gwynedd Mercy for a makeup of one of last week's postponed games on Sunday.
Men's and women's tennis had matches postponed due to cold weather last week, forcing the spring debut of both teams to be pushed back by seven days. Both teams will play host to Lancaster Bible College on Monday, while the men's team hosts Williamson on Wednesday and Rutgers-Camden on Friday and the women's squad welcomes Cairn on Wednesday.
Brandywine outdoor track and field will also make its spring debut this week at the Golden Ram Invitational hosted by West Chester University. Entering its second season as a varsity sport at Brandywine, the men's track and field team will look to improve on its sixth-place finish at last year's USCAA Championships this spring.
Complete box scores, recaps and updates for Penn State Brandywine athletics are posted at psubrandywineathletics.com.