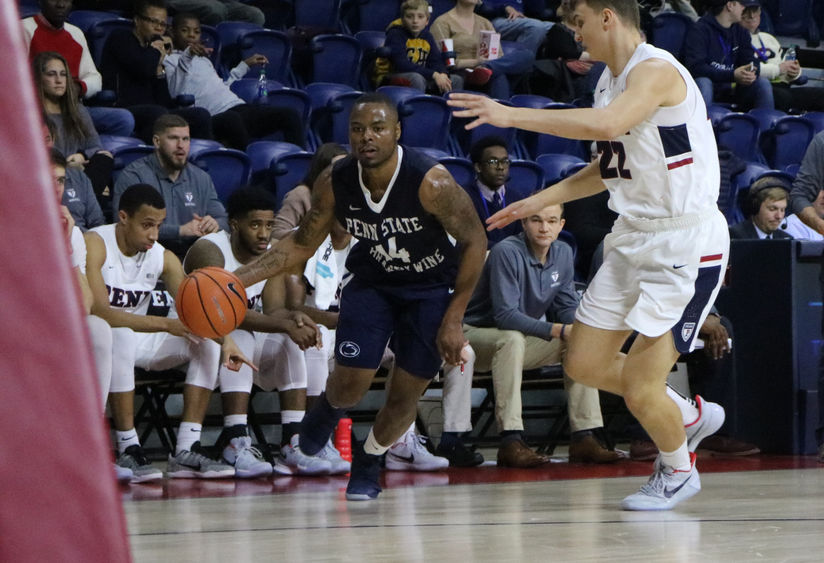 MEDIA, Pa. — With classes back in session for the spring semester, Penn State Brandywine's men's and women's basketball teams are now in the thick of Penn State University Athletic Conference play as both squads faced a pair of conference road games last week.
Brandywine first made the cross-state trek to Penn State DuBois on Friday evening, Jan. 12, for the first of three road games in four days for each team.
The women's team got the trip off to a strong start by topping DuBois 55-43. The team's two leading scorers, junior Brandi James and sophomore Nikki Velez, both poured in 16 points in the victory. Brandywine's defense was stout all night as they held an opponent below 50 points for the fourth time in their last six games.
Less than 24 hours later, Brandywine had trekked three hours southeast to Penn State Mont Alto, where Brandywine would come out sluggish in the first half, leading by just two (30-28) at the half before pulling away for a 67-55 victory. James produced her fifth double-double of the season with 20 points and 11 rebounds, and Brandywine used its size inside to grab 25 offensive rebounds in the victory.
Brandywine's defending PSUAC champions are now 5-0 in the PSUAC, holding a one-game lead over both Penn State Beaver and Penn State Schuylkill.
Brandywine will meet Beaver during its final of three conference games this week. The team is on the road Monday, Jan. 15, at Penn State Wilkes-Barre before returning home for back-to-back games against Penn State Greater Allegheny and Penn State Beaver this weekend.
Men's basketball opened up a 17-point lead with 12 minutes remaining in regulation at DuBois, but could not hold on to the commanding edge as DuBois used a late 12-0 surge to overcome Brandywine and send them to their first league loss by a score of 88-82. Senior Terrence Brown led the way for Brandywine with 27 points, while classmate James Fisher added 22 points.
Brandywine bounced back on Saturday afternoon by outscoring Mont Alto 47-30 during the second half en route to an 88-72 triumph. Brown powered the victory by pouring in a career-high 36 points, the highest total by a Brandywine Lion since Fisher scored 38 at NCAA Division III Lycoming in 2014.
Entering a three-game week, Brandywine is tied with Penn State York at the top of the PSUAC standings with identical 5-1 records; however, Brandywine owns the tiebreaker by virtue of an 85-66 victory over York in December. Every victory is going to be crucial coming down the stretch as five teams sit near the top of the league ledger with only one conference loss.
Brandywine will face two of the one-loss teams this week as they visit Penn State Wilkes-Barre on Monday, Jan. 15, and host Penn State Greater Allegheny on Saturday, Jan. 20. Branydwine also entertains Penn State Beaver on Friday, Jan. 19.
Friday's loss by the men's basketball team at Penn State DuBois also was significant in that it was the first defeat suffered by any of Brandywine's teams to a PSUAC squad during the 2017-18 academic year. Brandywine, which won three fall PSUAC championships, ended the first semester 43-0 versus the Penn State University Commonwealth Campuses and now sits at 46-1 against its classmates entering this week.
Complete box scores, recaps and updates for Penn State Brandywine athletics are posted at psubrandywineathletics.com.