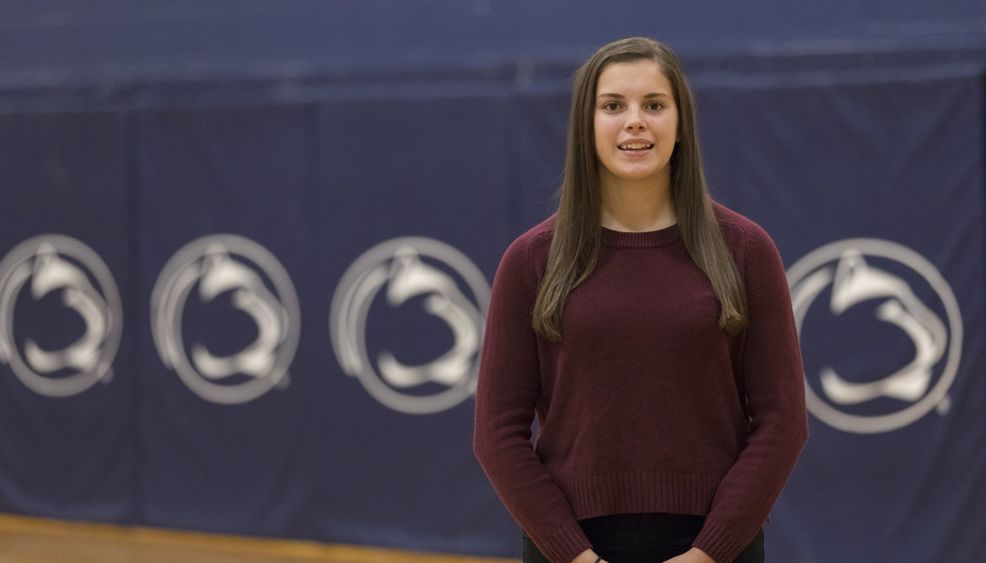 MEDIA, Pa. — Nikki Poissant's college experience has combined two family traditions: Penn State and athletics. The volleyball standout and second-generation Brandywine student was honored recently during the team's senior night.
Poissant's four years on Brandywine's volleyball team have earned her multiple awards, including Penn State University Athletic Conference (PSUAC) player of the year for 2016 and three player-of-the-week honors in 2017. She's also been recognized twice as PSUAC All-Academic team and first team All-PSUAC, and she was a key player on Brandywine's conference championship team during her sophomore year.
Speaking on behalf of the team at the Oct. 18 senior night, co-captain Sullivan Stark thanked Poissant for her leadership and contributions to the team.
"You've helped build our volleyball program and got us to where we are today," Stark said. "Thank you for being an amazing teammate, captain, role model, and most importantly, an amazing friend."
In addition to strong relationships with her teammates, Poissant's involvement with campus athletics has brought her skills and experiences that go beyond the volleyball court.
"Being on the team has definitely helped me learn time management skills and helped me to be a better communicator with my professors," she said. "As a team leader, I've learned to listen to my teammates, keep an open mind, be patient and lead by example."
Poissant began playing volleyball in middle school. She also played for her local Catholic Youth Organization (CYO) team, which was coached by her parents, Mike and Cecelia, both former volleyball players. Poissant continued at Cardinal O'Hara High School, where her brother, Michael, currently plays soccer.
Outside of Brandywine, Poissant coaches a local youth volleyball club and assists her father in coaching a CYO team.
Poissant is one of 10 family members who have graduated from or are currently enrolled at Penn State.
Her father, Mike, is a 1984 graduate. He attended the Brandywine and University Park campuses, as did his brother Paul, sister Anne and Anne's husband, Ray Prokop.
Paul is now director of employer relations for graduate programs in the Smeal College of Business. His wife, Kathy, graduated from Penn State with a master's degree in architecture and is now an architect with the Office of Physical Plant. Their children, Amy and John, are currently students at University Park.
Adrienne Kane, another of Mike Poissant's siblings, has two daughters who graduated from Penn State: Jeannine and Marielle.
Although family connections weren't the primary reason Poissant chose Brandywine, she believes she made the right choice.
"My family gave me great examples of why I should consider Penn State, but I still looked at other colleges," she said. "When I first visited Brandywine, I fell in love with the campus. I liked the small class size, it was close to home, and the volleyball team made me feel welcome. I'm grateful for the time I've had here."
Poissant plans to graduate in 2018 with a degree in human development and family studies.