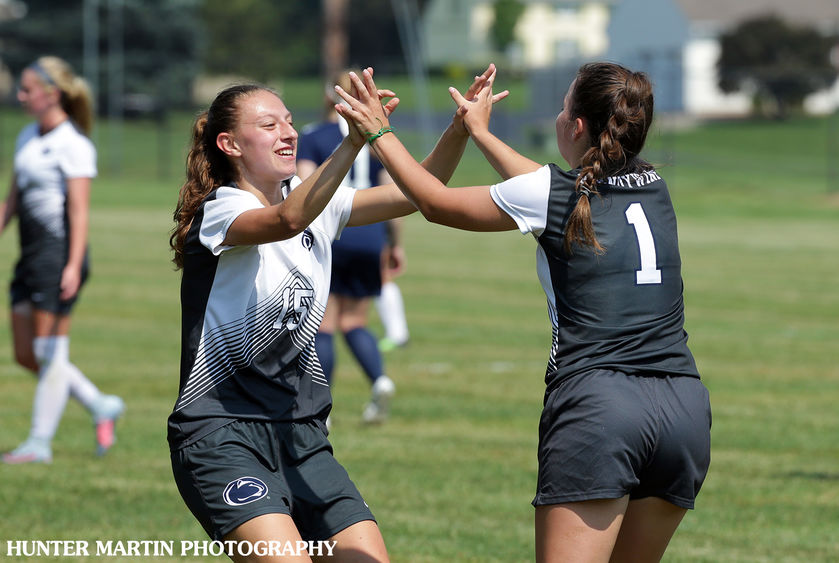 MEDIA, Pa. — The week in Penn State Brandywine athletics was highlighted by the women's soccer team's lopsided triumph over NCAA Division II Lincoln (Pa.) on Sept. 12, giving Brandywine its second win against a Division II school in campus history.
Brandywine led wire-to-wire in a dominant 5-1 victory over Lincoln. The women's soccer team, in just its third season of varsity competition, has become a power in the Penn State University Athletic Conference, and is unbeaten during its last 16 regular-season matches (15-0-1) overall. Sophomores Brianna Banks and Rachel Weir and freshmen Christina Kane and Noelle Conforti all scored for the Lions, with four of those scores coming in the second half.
The victory over a Division II school was the second for Brandywine in the campus' history. The Lions' women's tennis team defeated Cheyney 8-1 on April 15, 2016.
On Sept. 16, Brandywine continued its winning ways, earning a 6-1 victory at Penn State Beaver. The Lions, who outshot Beaver 37-8, have now won 14-straight matches against PSUAC competition and hold a 21-1-2 record against league foes since becoming a varsity sport in 2015. During its 14-game winning streak, Brandywine has posted eight wins by five or more goals, including Saturday's triumph at Beaver.
The Lions travel to Penn State Hazleton on Wednesday, Sept. 20, during their lone match this week.
The Brandywine men's soccer team dropped a heartbreaker to Delaware Valley on Sept. 13, falling 1-0 during the final minutes. Despite playing a man up for the final 12 minutes and outshooting Delaware Valley 17-10, the Lions surrendered the match's lone goal during the 88th minute, suffering their second loss of the season.
However, Brandywine rebounded nicely under the lights at Bryn Athyn on Saturday night, Sept. 16, winning 3-1. The Lions opened up a 3-0 lead behind a pair of goals from sophomore Mohamed Camara and Brandon Crochunis' second tally of the year and cruised to victory.
Brandywine, now 3-2 this fall, faces a tough stretch with three games this week and four in the next eight days. The Lions visit Rosemont on Tuesday, Sept. 19, before hosting Johnson & Wales (Charlotte) on Thursday, Sept. 21, and Penn State New Kensington in the PSUAC opener on Saturday, Sept. 23. Members of the 1989 undefeated conference championship team will be among those alumni on hand Saturday during the campus' 50th anniversary celebration.
Five Brandywine cross-country runners competed at the Penn State Abington Invitational on Saturday morning, Sept. 16. Freshman A'Nasia Love topped the women with a sixth-place finish in the women's 5K, while classmate David Fielding paced the Brandywine men by placing eighth during the men's 8K.
Brandywine will see its PSUAC competition for the first time this fall on Saturday, Sept. 23, at the Penn State Mont Alto Invitational.
The Lions' golf team continued its first varsity season since 2013 on Wednesday, Sept. 13, at the Penn State Schuylkill Invitational. Brandywine edged the hosts by two strokes to finish fourth in the team standings.
Leading the way individually was Brad Dawson, who shot a round of 82. Both Dawson and classmate Connor Sadoff, who finished 13th by carding an 84, registered back-to-back birdies at the turn.
The Brandywine golf team is idle until Monday, Sept. 25, when the team travels to State College for the second time this year to compete in the PSUAC Invitational on Penn State's White Course.
The Brandywine volleyball and women's tennis squads were both idle last week. The women's tennis team opens up play Saturday, Sept. 23, at Bryn Mawr, while the volleyball team has a three-match week. The Lions visit Penn State Mont Alto on Tuesday, Sept. 19, and Penn State Berks on Thursday, Sept. 21, before returning home for the first time in 15 days on Saturday, Sept. 23, against Penn State Lehigh Valley.
Complete box scores, recaps and updates for Penn State Brandywine athletics are posted at psubrandywineathletics.com.