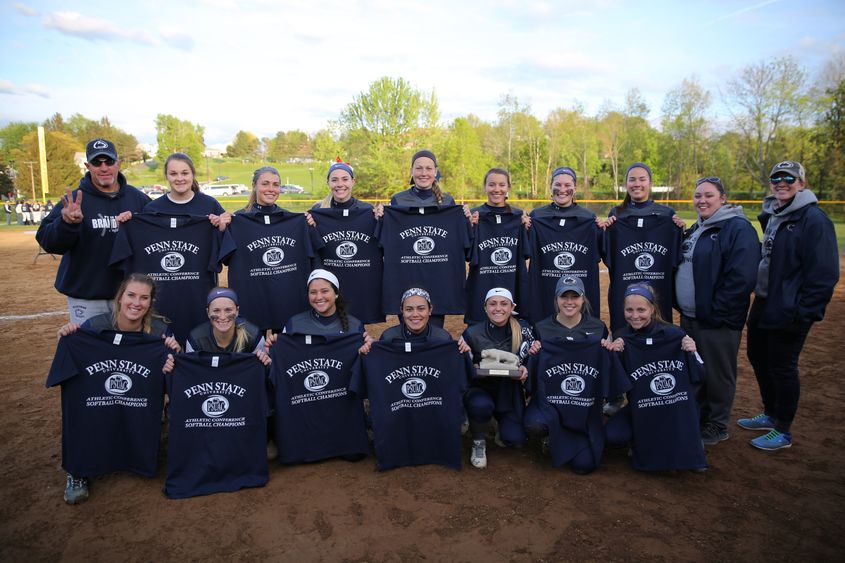 SCRANTON, Pa. — Senior Julia Allman delivered a two-out, two-run single during the bottom of the sixth inning to lift Penn State Brandywine to its third consecutive Penn State University Athletic Conference softball championship, as the top-seeded Lions bested No. 2 Penn State Hazleton 3-1 on May 8.
With the victory, Brandywine earned the league's automatic bid to the United State Collegiate Athletic Association tournament, set for May 15-18 in in Akron, Ohio. The Lions will be the tournament's No. 5 seed and face No. 4 SUNY Canton at 2 p.m. on Monday, May 15, at Firestone Stadium.
Allman broke a 1-1 tie with her single through the middle of the infield, scoring Maddie Malfara and Nikki Velez. Malfara led off the sixth inning with a base hit and Velez followed with a walk. Stephanie Harvey moved the runners into scoring position with a sacrifice bunt.
Brandywine had taken a 1-0 lead in the first inning when Arianna Segich walked to lead off and scored on a Hazleton error. Hazleton evened the score in the third on Samantha Varela's two-out, RBI single.
Maura Moser went all seven innings in the circle, earning her eighth win of the season. Moser, who struck out four, worked around a bases-loaded jam during the final inning by snagging Breann Fetterman's line drive for the final out as the team became Brandywine's first-ever to win three-straight conference titles.
Julie Foeldes posted a pair of hits for Brandywine, while Jerrika Chorba collected three hits to lead Hazleton.
Brandywine advanced to the PSUAC title game by defeating Penn State Fayette 9-2 earlier Monday afternoon.
The Lions registered 12 hits, including three from Alexa Anderson and two each by Allman, Velez and Katie DeStefano.
After Segich led off with a triple, and Allman singled her in to start the scoring in the first inning. Anderson doubled the lead by driving in DeStefano with a two-base hit in the third and one frame later, Velez raced around the bases for an inside-the-park, two-run home run, upping the count to 4-0.
Fayette got two runs back in the fifth, but Anderson and Megan Crisafulli each drove in runs during the bottom of the frame, pushing the lead back to four. Allman, DeStefano and Anderson all added a RBI one inning later to account for the final three runs.
Grace DeRosa was the winner in the circle after limiting Fayette to two runs, while striking out three in seven innings, giving her eight wins this spring.
With its pair of victories on Monday, the Lions improved to 21-13 overall, posting their third consecutive 20-win season. Now 52-2 the last three seasons against PSUAC teams, Brandywine will look to improve on its fourth-place showing at last season's USCAA World Series beginning Monday.