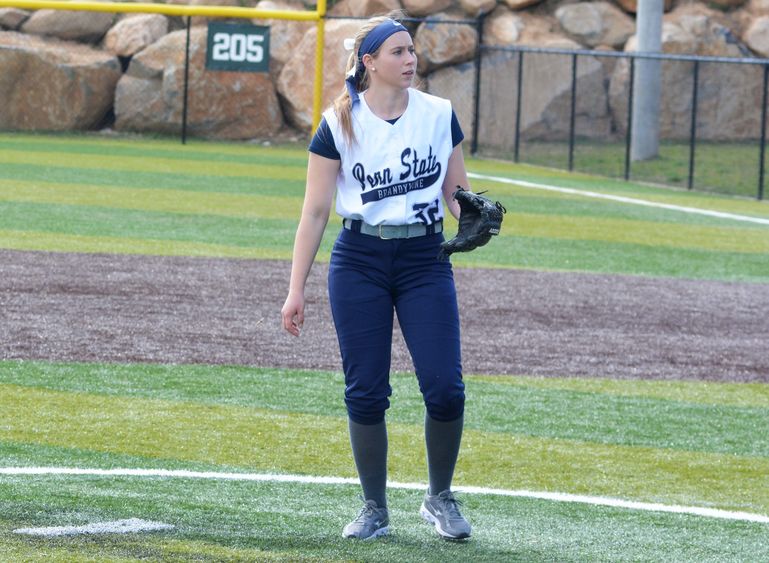 MEDIA, Pa. — The Penn State Brandywine week in athletics was highlighted by a pair of no-hitters and the first perfect game in program history by the softball team last week as the Lions' spring teams took advantage of the spring weather in the Delaware Valley.
Sophomore Grace DeRosa fired a no-hitter against Penn State Wilkes-Barre on Friday and, two days later, tossed the first perfect game in program history against the same Wilkes-Barre team. DeRosa, who has now thrown three no-hitters in a span of 17 days, matched a career high with nine strikeouts and did not allow a ball to leave the infield during her perfect game.
Following DeRosa's perfect game on Sunday, junior Katie DeStefano threw a no-hitter, giving the Lions three no-hitters in four games against Penn State Wilkes-Barre. Three Brandywine pitchers have combined to throw five no-hitters during the last 17 days after the team entered the season with just two no-hitters in its three-year history.
The softball team, now one of two unbeaten teams in the Penn State University Athletic Conference (PSUAC), faces Penn State Hazleton for four games beginning Thursday in a showdown of first-place teams. The Lions also host Penn State Schuylkill on Tuesday.
Brandywine baseball won three of its four conference games last week to push its PSUAC record to 5-2. The Lions have six league games in a span of seven days beginning with a Tuesday home game against Penn State Schuylkill.
The Lions went on the road to rout Penn State York 9-2 on Wednesday. After dropping the opener of a three-game, weekend series with Penn State Wilkes-Barre on Friday, the Lions rebounded to take the series with a Sunday doubleheader sweep.
The men's tennis team earned its first win of the spring by defeating Rosemont 5-4 on Wednesday. The Lions won two-of-three doubles matches and earned the victory by splitting six singles bouts. Brandywine travels to Cabrini on Monday for its lone match of the week.
The first-year track and field teams continued their inaugural seasons at Rowan University's Oscar Moore Invitational on Saturday. Freshman Raheem Naughty posted the Lions top performance at the meet, which did not feature team scoring, by placing fifth in the 200-meter dash.
Track and field season continues Saturday at Widener University's Chester Quarry Classic.
Complete box scores, recaps and updates for Penn State Brandywine athletics are posted at psubrandywineathletics.com.