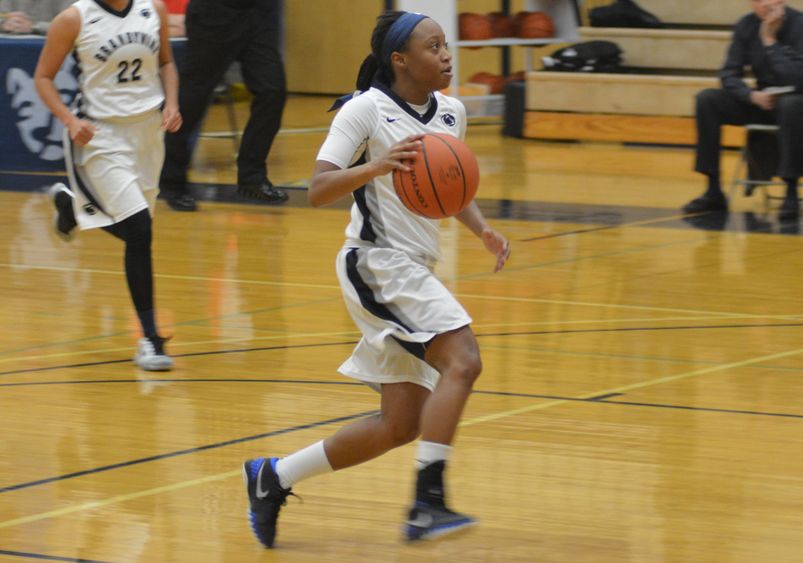 MEDIA, Pa. — The Penn State Brandywine women's basketball team saw its 11-game winning streak come to an end, while the Brandywine men dropped a trio of heartbreaking games on the hardwood last week.
The 11 consecutive victories for the Brandywine women was the second-longest streak in program history, behind only a 12-game string in 2011.
Brandywine held a 15-point lead over the University of Valley Forge during the first half, but the Patriots steadily chipped away and used a buzzer-beating 3-pointer to top the Lions 64-61. The Lions had trailed 61-58 with less than 10 second to play before freshman Nikki Velez was fouled while shooting a triple and connected on all three free throws to tie the score.
Velez continued her torrid scoring pace with 22 points during both games last week. She connected on three shots from beyond the arc in the Lions' 79-70 victory over Penn State Fayette on Friday night.
However, the triumph over Fayette was highlighted by sophomore Brandi James' record-setting evening on the boards. James hauled in 20 rebounds in 29 minutes, setting a new program record. The previous benchmark was 18 boards by Brandi Flowers in 2012.
With the victory over Fayette, Brandywine moved one step closer to securing a home game during the upcoming PSUAC tournament. A victory over Penn State Mont Alto on Tuesday would clinch a top-four seed for the Lions. The top two seeds in the tournament earn a bye through to the semifinal round, while the No. 3 and No. 4 seeds will host a home quarterfinal game.
Brandywine's men suffered three losses by a combined 11 points last week. Following a 75-69 setback to Valley Forge, Brandywine dropped home contests against Penn State Fayette (86-83) and Penn State New Kensington (95-93).
Against Fayette and New Kensington, Brandywine had the ball with a chance to win or tie during the final seconds but could not sink the clutch shot. The Lions managed to overcome double-figure deficits in each game, taking a two-point edge after falling in a 17-point hole against Fayette and tying the score late against New Kensington following another 17-point deficit, but could not hold on.
Brandywine has five games remaining in its regular season and will likely need to win at least four to reach the PSUAC tournament. The Lions face Mont Alto on Tuesday before traveling to Penn State Schuylkill and Penn State Hazleton this weekend.
Complete box scores, recaps and updates for Penn State Brandywine athletics are posted at psubrandywineathletics.com.