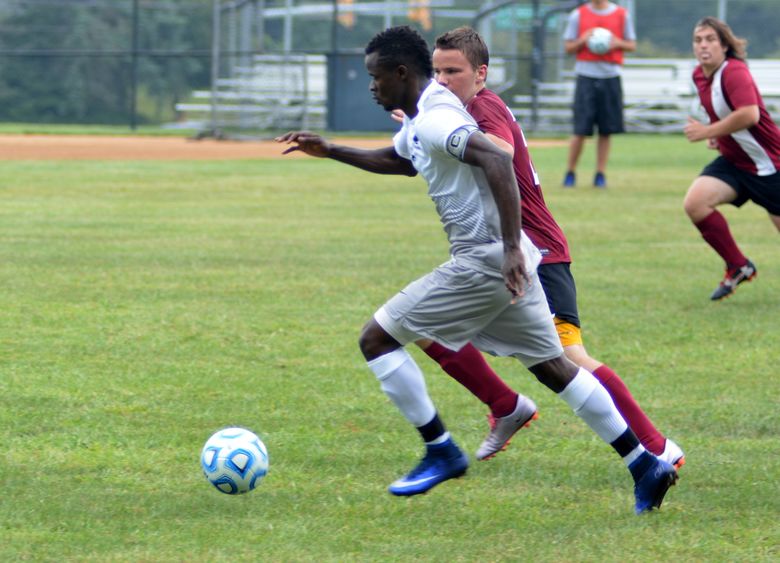 MEDIA, Pa. – The Penn State Brandywine volleyball team closed out league play in second place, while both Brandywine soccer teams moved closer to securing the No. 1 seed in their respective conference tournaments last week.
After dropping a 3-1 decision to Penn State Mont Alto on Senior Night, Brandywine's first home conference loss since Oct. 18, 2011, volleyball swept Penn State Schuylkill and Penn State DuBois on Sunday afternoon, clinching the No. 2 seed in the PSUAC tournament. The team will receive a bye through the quarterfinals and play a semifinal game at Rec Hall in State College on Nov. 1. Brandywine is the defending PSUAC champion after winning all 18 league matches a season ago.
Brandywine will close out its regular season with a home match against Albright on Friday at 6 p.m.
Men's soccer picked up a pair of tightly-contested victories, winning at Penn State York, 5-3, and at Penn State Greater Allegheny, 3-2. The Lions needed three goals from senior Bill Walleekendeh to escape with the win at York and then overcame an early one-goal deficit at Greater Allegheny.
When Brandywine faced a 1-0 hole in its game against Greater Allegheny, it marked the first time the Lions had trailed in a game since Sept. 6 at Gwynedd Mercy. Brandywine also faced a deficit against a PSUAC team for the first time since Oct. 17, 2015. The Lions are 37-2-1 against PSUAC foes during the last four seasons.
Brandywine can clinch its third-straight regular-season title Tuesday with a win at Penn State Hazleton.
Women's soccer had a much easier time with its two PSUAC opponents last week, winning 5-1 at Mont Alto and 6-0 at Greater Allegheny.
Freshman Samantha Bearden recorded a goal and three assists against Mont Alto, while classmates Rachel Weir and Brianna Banks combined for five goals and four assists against Greater Allegheny.
Brandywine, now 8-0 in conference games, has outscored its PSUAC opponents 53-4 in those eight games. The Lions can clinch the PSUAC regular-season title for the second time in as many years with a win or draw at Schuylkill on Thursday.
The cross-country teams competed at Rowan's Inter-Regional Border Battle on Saturday, the largest meet ever hosted in the state of New Jersey with more than 1,400 runners competing.
Freshman Anya Tyler set a school record by 25 seconds in the women's open 6K. Tyler now owns the three fastest times in program history. Sophomore John Li posted the top time for the Brandywine men's team, which finished 21st overall.
Brandywine has one final tune-up prior to the PSUAC championships on Oct. 29 when it races at Haverford on Friday.
Women's tennis finished out its fall slate with a 6-3 setback against Rutgers-Camden on Sunday. The Lions took a 2-1 lead after doubles, but dropped five-of-six singles matches.
Brandywine finished the fall season with one victory in six matches against NCAA Division III competition.
Complete box scores, recaps and updates for Penn State Brandywine athletics are posted at psubrandywineathletics.com.