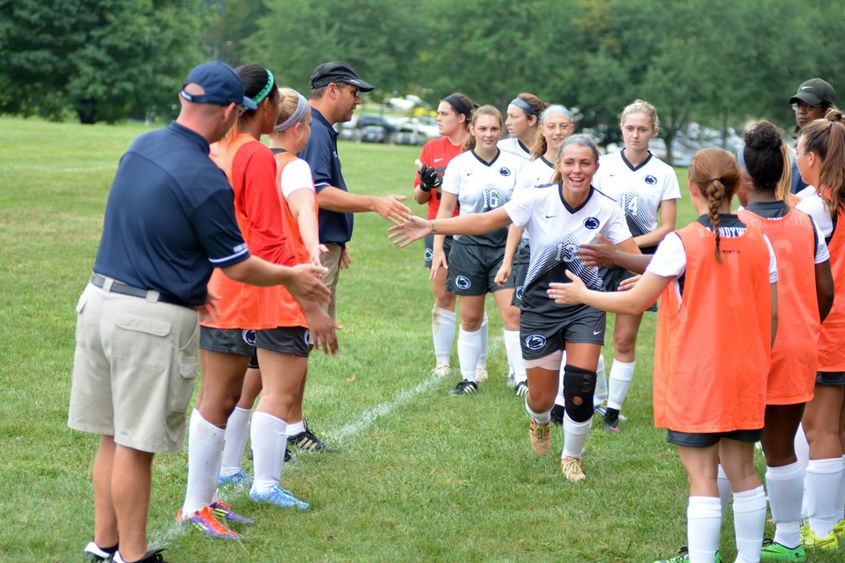 MEDIA, Pa. — As we near the end of the regular season, Penn State Brandywine fall teams are fighting to secure positions in the Penn State University Athletic Conference tournament in men's and women's soccer and volleyball.
The men's and women's soccer teams both remained undefeated in league play after each won a pair of games last week.
The men posted a 7-1 home triumph over Penn State Schuylkill on Tuesday behind a five-goal performance from senior Bill Walleekendeh. Walleekendeh added two more scores in a 3-1 non-conference road win at Williamson on Friday night, upping his season total to 34, the highest total of any college soccer player at any level this fall.
The Lions, who own a 5-0 PSUAC record with four conference matches to play, can push closer to securing the top seed in the PSUAC Tournament with victories on the road this week at Penn State York and Penn State Greater Allegheny. Greater Allegheny is one of three teams with one league defeat.
Brandywine women's soccer is also closing in on clinching the top seed in the tournament as the Lions own a one-game lead over Schuylkill following a 6-0 victory against Schuylkill on Tuesday. Four different players scored, while freshman Brooke Muhlbaier assisted on four goals. Brandywine held a 24-1 edge in shots to hand Schuylkill its first loss of the year.
The Lions played their most closely-contested match of the year on Saturday, defeating Penn State Beaver 3-2 behind a pair of goals from freshman Brianna Banks, who has now scored in all nine games this fall.
Brandywine, now 6-0 in league play, visits Penn State Mont Alto and Greater Allegheny this week looking to complete season sweeps of both opponents. The Lions knocked off Mont Alto 5-0 and bested Greater Allegheny 10-0 in September.
Volleyball has won six of its last seven matches following a pair of victories last week. The Lions topped Penn State Lehigh Valley 3-0 before picking up a 3-1 non-conference win at Bryn Athyn on Thursday. Junior Nikki Poissant totaled 46 digs and 26 kills in the wins.
Brandywine, which sits in second place in the PSUAC with a 10-1 record, completes its league slate this week with a home match against Mont Alto and road games against Schuylkill and Penn State DuBois. The Lions can clinch a top-two seed and spot in the semifinals at Rec Hall with a victory over Mont Alto Wednesday night.
The Brandywine cross-country teams faced some of the top competition in the region at the DeSales Invitational on Saturday. The men placed 35th, besting three NCAA Division III teams, while freshman Anya Tyler broke her own school record, leading a trio of Lion women.
Tyler finished 98th in the 255-runner field with a time of 25:20, besting her previous school-record time by 35 seconds.
Sophomore John Li was the first men's runner to cross the line, placing 142nd in the 251-runner field.
The cross-country teams have a pair of tune-ups remaining before the PSUAC championships on Oct. 29. The Lions compete at the Rowan Inter-Regional Border Battle on Saturday and at the Haverford Invitational on Friday, Oct. 21.
Complete box scores, recaps and updates for Penn State Brandywine athletics are posted at psubrandywineathletics.com.