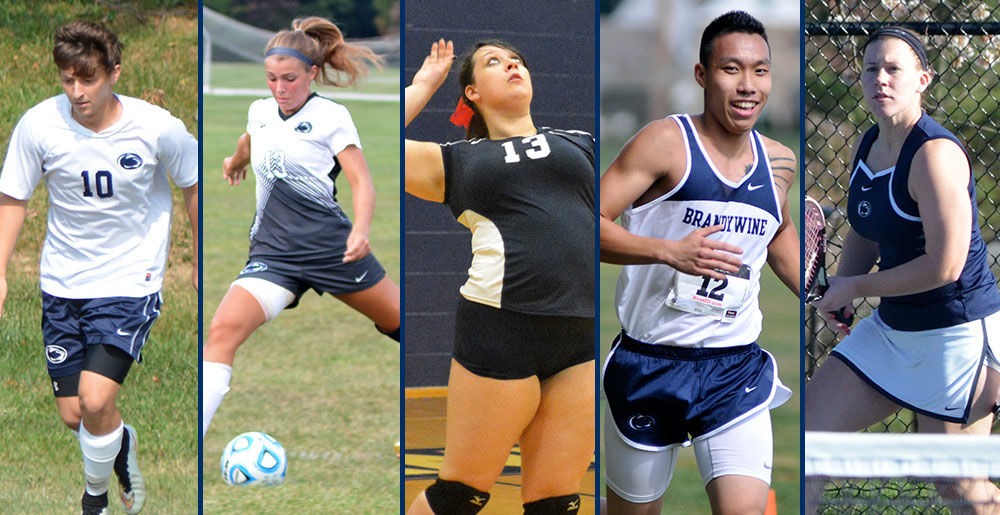 MEDIA, Pa. — Penn State Brandywine will officially get the 2016-17 athletic season underway today (Sept. 1) with five of its six fall sports in action, including three at home.
Men's soccer gets things started with a 1 p.m. home kickoff against Central Penn. The women's soccer team will follow at 4 p.m. against Immaculata, while the volleyball team will face Rosemont in the nightcap of the tripleheader at 7 p.m.
Men's and women's cross-country competes at 5 p.m. Thursday in the Bryn Mawr Invitational at Rose Tree Media Park. The women's tennis team will have to wait one extra day to get started when the Lions travel to Cedar Crest Friday for the first of their eight fall matches.
Men's soccer, which has won two of the last three PSUAC championships, returns a pair of USCAA All-Americans in senior forward Bill Walleekendeh and sophomore defender James Cellucci. Walleekendeh is Brandywine's all-time leading scorer as he enters his senior year with 149 career points. Cellucci, who was also named Second Team All-PSUAC, anchors Brandywine's defense, which allowed just six goals in nine conference games last year.
Women's soccer welcomes 11 newcomers to its second-year varsity program in 2016. Head Coach Sharif Saber led Brandywine to the PSUAC championship game during year one as the Lions bring a six-game (4-0-2) unbeaten streak into the new year. Three of the Lions' four all-conference honorees return, including leading scorer Olivia Encarnacion, who also claimed honorable mention All-American laurels.
Volleyball, coming off its first-ever PSUAC title and unbeaten conference record, has seven players returning from last year's title squad. PSUAC Newcomer of the Year Halee Kusner and first team all-conference selection Nikki Poissant lead the Lions' offense, while seniors Emily Battista and Kelsey Zober are Brandywine's most experienced players on the back line. Brandywine enters 2016 having won 12-straight regular-season matches.
The cross-country teams will be made up almost entirely of new faces with seven of nine runners being freshmen, including the entire women's team. For the first time in program history, the Brandywine women captured the PSUAC championship in 2015, while the men finished second. John Li placed third at the PSUAC championship as a freshman and joins senior Henry Lee as returners to the men's team.
Senior Heather Gartside leads the women's tennis team into 2016 after the Lions posted a 4-3 record against NCAA Division II and Division III competition last year. The Lions will be guided by new Head Coach Tony Clark and appear to have another solid squad with five players back in the fold from 2015.