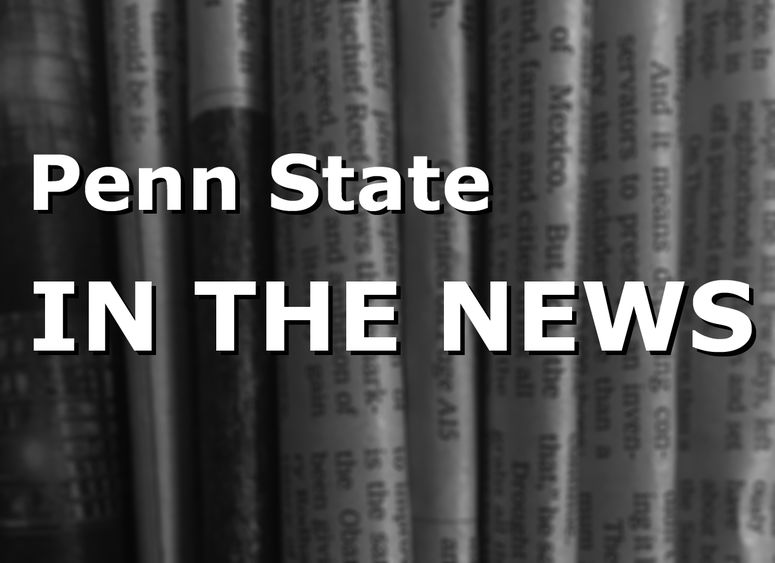 UNIVERSITY PARK, Pa. — Penn State appears in the news hundreds of times every day. Monthly, the University's Office of Strategic Communications features national and international news coverage of the work and expertise of Penn State's faculty, students and staff.
July's highlights:
-- Both the Democrats and the Republicans held their national conventions in July and Penn Staters were at both. Lee Anna Banaszak, professor of political science, led a group of students who were studying the protesters at both conventions. Banaszak and the group wanted to know what people were upset about. "Planning is important, but it is often affected by developing events,'' Banaszak told USA Today. "My expectation was that (the police killings in) Dallas and Baton Rouge would have increased expectations. But maybe it has instead dampened those expectations." The research was also featured in The Washington Post. Another USA Today reporter sought out Nichola Gutgold at the Democratic National Convention for her expertise on women in politics. "It is absolutely progress for women, and specifically women of color, to have a critical mass in key positions of power," said Gutgold, professor of communications and the author of numerous books on women and the presidency. "Research shows that when we see people in power who have not historically held positions of power, it paves the way ... for more."
-- This same month, political unrest took a deadly turn in Turkey when members of the military attempted to take control of the country from President Recep Tayyip Erdogan. The Washington Post published an essay in which doctoral candidate Michael Kenwick offered some answers as to why it happened. "The coup appeared to defy conventional wisdom because appearances suggested that Erdogan's purges were successful," Kenwick said. "Digging deeper, however, suggests that a norm of subjugation in the military had not yet been fully accepted, leading a faction to believe it could succeed in toppling civilian rule." He also said the lessons learned here could be useful in looking at similar countries.
-- Recent conflicts, some with deadly results, between police and minority communities have created a new era of racial tension. Marinda K. Harrell-Levy, assistant professor of human development and family studies at Penn State Brandywine, is researching how transformative social-justice education is affecting black adolescents. "There's a lot of emotion surging through a lot of [youth] right now, who don't have any experience on what to do with it, and how to deal with it," Harrell-Levy said. "There's a mental toll to literally seeing life leave bodies on YouTube, again and again. We've got to give them the tools to process in ways that are healthy and will actually build our democracy."
-- Penn State researchers say they can guess your age by how you post to Instagram. Dongwon Lee, associate professor in the University's College of Information Sciences and Technology, studies how different age groups use social media. "Teens want to be very popular so they're very conscious of the likes they're getting," Lee said. He also said teens comment on other photos more than they post photos themselves. The Atlantic, Yahoo! Finance and The Washington Post all ran stories on Lee's research. He and his team are now setting their sights on Facebook's new reaction buttons.
-- Most people have been licked or outright slobbered on by "man's best friend." For some, it's just part of being around a dog; other people hate it. But Nancy Dreschel from Penn State's Department of Animal Science considers it a wealth of research opportunity. Scientific American wanted to know just what she and her colleagues are learning from a dog's kiss — as it turns out, quite a bit about a dog's health and mood. Understanding your canine companion a little better could benefit us all: "Both high and low cortisol concentrations can be problematic or advantageous to humans, depending on a multitude of individual factors such as personality, timing, context, prior stressors, and life history," said Dreschel.
These are just a few of the highlights. For more of Penn State's experts' appearances in the media, visit http://news.psu.edu/media-highlights.