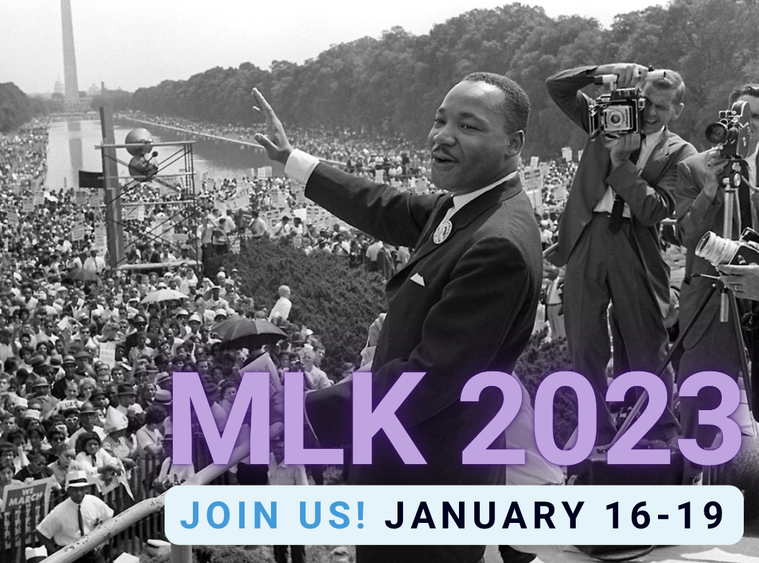 MEDIA, Pa. — The Center for Social Impact at Penn State Brandywine is hosting MLK 2023 from Jan. 16-19 to honor the late Martin Luther King Jr. The week will consist of different volunteering, connecting and learning opportunities for the Penn State community to take part in, both virtually and in person. 
MLK 2023 commemorates the 60th anniversary of the 1963 March on Washington for Jobs and Freedoms, a march in Washington, D.C. that advocated for the civil and economic rights of African Americans, and where Martin Luther King Jr. gave his historic "I Have a Dream" speech.
The following events will take place during MLK 2023 at Penn State Brandywine:
Monday, Jan. 16 — MLK 2023: Day of Service Volunteering (www.mlkdayofservice.org, all day) 
Martin Luther King Jr. Day is now a holiday for all Penn State students, faculty and staff. We encourage you to treat your "day off" as a "day on" for your larger community! Visit mlkdayofservice.org to sign up for a volunteer opportunity near you.
Tuesday, Jan. 17, 4 p.m. — "Till" Movie Screening & Discussion (Student Union 114-117)
Attend a screening and discussion of the 2022 film "Till," inspired by the true story of Mamie Till-Mobley's vow to expose the racism behind the brutal lynching of her son Emmett in 1955 and her work to have those involved brought to justice. Pizza, popcorn and refreshments will be served.
Wednesday, Jan. 18, 12 p.m. — Student Involvement and Resource Fair (Student Union 114-117) and Words of Healing Service Project (Student Union Lion's Den)
Learn how to get involved on campus and access the resources available to help you succeed! While you're there, take time to participate in a simple service project aimed at uniting our campus community. Craft two handmade bracelets featuring a word of healing — keep one for yourself and give one to someone else!
Thursday, Jan. 19, 12:15 p.m. — Town Hall: The REAL (Student Union 114-117)
Christine Brown, interim Rosenberg Director of the Center for Social Impact; Marinda Harrell-Levy, associate professor of human development and family studies; and Eliel Acosta-Solalinde, assistant director of student equity and inclusion programming, will share an update on the REAL (Restorative Justice, Equity, Anti-Racism League), a group of students, staff and faculty working together to create an anti-hate, anti-racism council at Brandywine. Lunch will be provided.