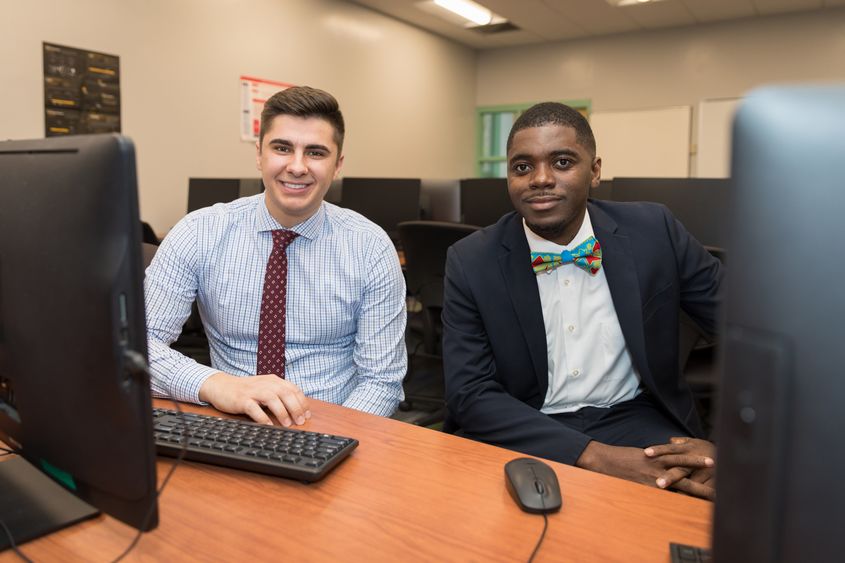 MEDIA, Pa. — Through a partnership with global business software company SAP, Penn State Brandywine's SAP Next-Gen Lab is giving students hands-on opportunities to develop advanced technology applications with an initial focus on defense and security applications. The Next-Gen Lab was established on campus in July 2018 and includes a close partnership with Penn State's Applied Research Lab (ARL).
"This designation really provides our students with innovative and entrepreneurial ways of applying information technologies to solve problems," said Andy Landmesser, assistant teaching professor of information sciences and technology and Next-Gen coordinator. "Solving these emerging problems with SAP software also opens opportunities for internships at SAP. The partnership with Penn State's Applied Research Lab is equally important and gives us a lot of linkages globally and within the defense industry."
Brandywine's Next-Gen Lab, based in the Tomezsko Classroom Building, connects students with companies for both experience and recruitment purposes. Next-Gen projects take on problems for companies well beyond the entrepreneurial stage with an expanded geographic reach enhanced by the collaboration with ARL. Through the Lab, students can develop research-based skills that directly apply course concepts in action.
According to SAP's website, Next-Gen Labs at universities "foster connections between academic thought leaders, researchers and students, and the SAP ecosystem including SAP customers, startups, tech community partners, venture firms, purpose driven partners, and digital innovation experts from SAP and its partners."
Brandywine is the only Penn State campus among the 10 university-based Next-Gen Labs in the United States. During its first year, Brandywine's Next-Gen Lab has collaborated with ARL on four projects. Each had the goal of leveraging SAP advanced analytics software to improve agility and responsiveness across the U.S. Army Logistics Enterprise.
Erdi Elmasllari and Nicolo Stewart were two of the Brandywine students who worked on Next-Gen projects last fall. They both graduated in December and are now completing six-month internships at SAP with prospects for extensions.
Elmasllari was part of the project team that used SAP predictive analytics software to assess U.S. Army ground transportation logistics delivery and optimize route planning. Routes can be affected by traffic, road closures, weather and external threats.
"We used data that was collected previously to predict the safest route to take," he said. "We took into account past accidents in the area and the geography of the area. We looked at which day of the week accidents were most likely to occur and the types of accidents, such as overturned vehicles or collisions. We cross referenced that data with vehicle types to determine which vehicles were most likely to be in an accident."
"We developed a good understanding of the program and had hands-on use of the software that students don't always get," Elmasllari said. "It was great exposure for us to present our findings to the Army and explain the capabilities of the software. They liked it and saw a lot of capabilities with it."
Stewart's project team used SAP predictive analytics to explore how the Army could use real-time data feeds as a potential replacement for the current logistics estimate worksheets in Excel and more fully use its available information resources. Better use of data could lead to improvements in supply chain and transportation logistics.
"We used military data to create scenarios and mock situations," Stewart said. "We looked at the possible constraints involved in moving equipment from the U.S. to overseas. We showed them a live feed to demonstrate how this would help them."
"I definitely learned a lot," he said. "I was used to doing things with ERP (enterprise resource planning) and CRM (customer relationship management) solutions but I had never really focused on analysis using predictive analytics."
"The experience was awesome," Elmasllari said. "It's a great feeling when you can see yourself growing and learning more and that's what happened with this project."
A third project team focused on supporting the Army decision-making process to predict logistics impact from analyzed alternatives, using real-time datasets to generate new insights and make informed decisions.
This semester, a project with three students analyzing use of block chain in the Department of Defense supply chain to secure transactions has received high visibility through ARL and SAP within the defense industry. Landmesser will be traveling with the students to ARL at University Park on April 17 to brief the Defense Logistics Agency's research and development project manager on their work.
More information about Penn State Brandywine's Next-Gen Lab is available at http://sites.psu.edu/bwnextgenlab/.