'SPOT' allows online students to engage in an online environment while remaining anonymous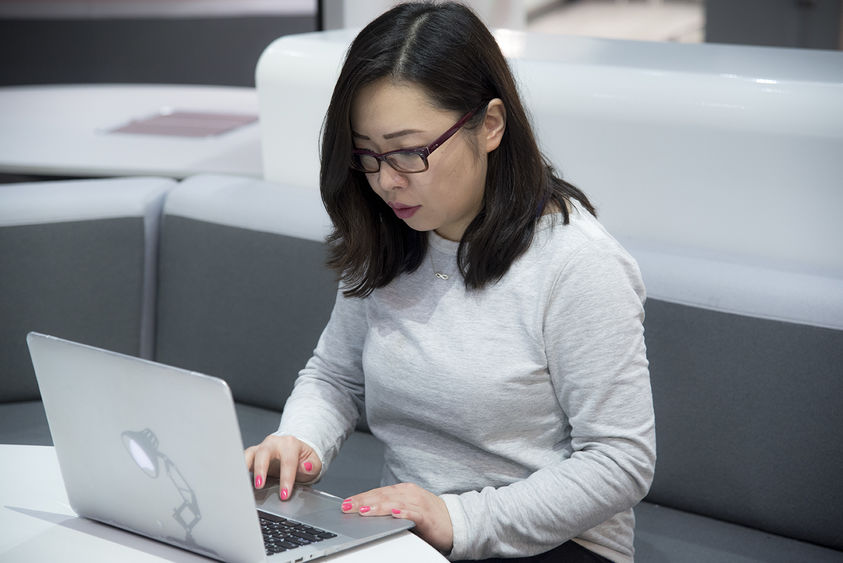 UNIVERSITY PARK, Pa. — Why are course completion rates for online students so low?
That's the question Nicole Wang asked herself five years ago when she was working as a post-graduate researcher with the University of Pennsylvania.
"I was working on a MOOC project and I was part of the first team in the country to actually mine through this type of data," said Wang, who currently is completing her doctorate in learning, design and technology (LDT) through the College of Education at Penn State. "It was the first time online learners were taking courses without paying. To me, that is a wonderful learning opportunity. However, the completion rate during that time was very low — between 2 percent and 4 percent. "
Wang said she couldn't help but wonder why students weren't finishing the free, online courses.
"One of the reasons I was thinking was related to engagement. However, I did not have any further knowledge related to online learning, so that is why I decided to pursue my Ph.D. at Penn State," she said.
When she enrolled in the college's LDT program in 2015, she shared her thoughts with her adviser, Kyle Peck, professor emeritus of education (learning, design and technology). Peck was very supportive, Wang said, and encouraged her to find answers to her questions.
"If a student is struggling and needs to seek out help from another student, he or she can do so without feeling ashamed or embarrassed."

— Nicole Wang, doctoral candidate, College of Education
Later that semester, she applied for a grant through Penn State's Center for Online Innovation and Learning (COIL), which is now part of the Nittany AI Alliance, and was awarded $40,000 in seed funding to create SPOT, a web-based application designed to promote self-motivation and increase peer-to-peer support in online courses.
SPOT, which stands for Social Performance Optimization Tool, is different from platforms such as Canvas, Moodle or Blackboard, which are considered learning management systems. SPOT allows students to anonymously engage in an interactive learning environment and monitor their course performance through different states of an avatar.
"If a student is struggling and needs to seek out help from another student, he or she can do so without feeling ashamed or embarrassed," Wang explained.
But how do the students know who to ask for help? It's simple, Wang said.
"Each student is represented by an avatar that looks like a dog and the dog shows how well each student is doing," she said. "If a student is doing well, the dog is smiling and its tail is wagging. If a student is struggling or not performing well, the dog is sad."
Students enrolled in the online courses piloting SPOT can view the course roster, which lists the screen name and avatar for each student, and see who may be struggling, doing well or anything in between. They then have the option to seek out or provide one-on-one assistance by sending a private message to another student or by posting a comment to a community discussion board.
"The idea is for SPOT to be an avenue of communication for students," Wang said. "If you're in a traditional, residential class, you can talk to your classmates and ask them questions after class, things like 'What did the professor mean by this?' In an online setting, there's no easy way to do that."
SPOT currently is being piloted across 12 online courses at three universities — Penn State, St. Cloud State University in Minnesota, and Tohoku University in Japan.
"An important part of the research is making sure SPOT is applicable across cultures," Wang said. "We don't want it to be useful only to Penn State students. We want it to be useful for all online learners no matter where they are enrolled."
Wang and her team, which includes a multidisciplinary group of researchers and scholars from across the University as well as external partners, also have been approached by the University of Hawaii at Manoa, Oklahoma State University and Massachusetts Institute of Technology (MIT), who are interested in piloting the application.
"We're receiving a lot of interest and that's great," Wang said. "But we also want to make sure that we have all the kinks worked out before it is widely shared. We are applying for an internal grant because even though it is working, it is not perfect. We haven't had a large enough sample size to actually do a true quasi-experiment to prove if it is going to work on a larger scale."
The process of seeing SPOT grow from a seed in her imagination to a functioning application has been a great learning experience, Wang said.
"So much has gone into making this a success and I'm thankful to be at Penn State, to be able to use its resources and partner with so many different talented people."
Wang said she has worked with the staff at Happy Valley LaunchBox and currently is working with the University's Office of Technology Management to make sure all contracts with outside universities meet the appropriate legal requirements. She's also utilized the services of the Teaching and Learning with Technology (TLT) office.
"I never imagined SPOT would come such a long way from starting with my original idea to being a functional app," Wang said. "Before coming to Penn State and getting this grant, I only had an idea and now I am actually starting to transform that idea into something real. There is so much that has gone into this project and it is just surreal sometimes."
And she can't wait to see SPOT continue to grow and make a positive change in online education, she said.
"My goal as a person is to make an impact on people and I believe education is the perfect way to do that."
Penn State-affiliated members of the SPOT research and development team are: William Diehl, assistant professor of education (adult education), College of Education; Amy Garbrick, director of the Office of Learning Design, College of Information Sciences and Technology; Andrea Gregg, associate director of evaluation, outreach analytics and reporting, World Campus; Rebecca Heiser, instructional designer, World Campus; Kyle Peck, professor emeritus of education (learning, design, and technology), College of Education; Bart Pursel, assistant director of TLT and affiliate associate research professor, College of Information Sciences and Technology; Stanley Smith, associate professor of mathematics and director of online instruction, Department of Mathematics, Eberly College of Science; and Martin Yeh, assistant professor of information sciences and technology, Penn State Brandywine. External collaborators are: Mina Mizumatsu, assistant professor, Tohoku University; and Alvin Yu, associate professor, St. Cloud University.
Contact
Jessica Buterbaugh
marketing communications specialist,
College of Education