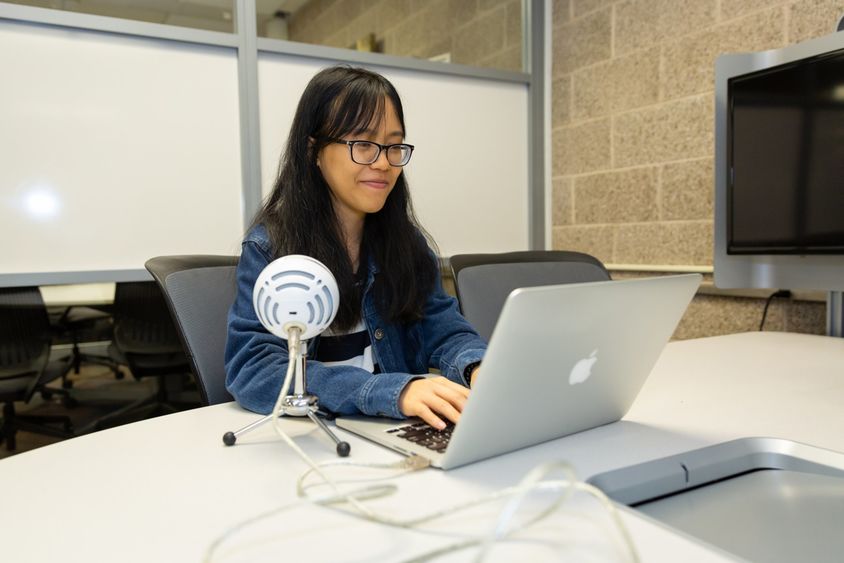 MEDIA, Pa. — What can Pennsylvanians do to reverse global warming?
That's the question Penn State Brandywine student Anna Nguyen is tackling through her podcast series, "Drawing Down in Pennsylvania."
Nguyen, a sophomore food science major and Schreyer Honors Scholar, secured the campus' only spot in Penn State's Drawdown Scholars Research Experience for Undergraduates (REU) program.
The program was the first collaboration between the University and Project Drawdown, the research organization whose mission is to stop global warming by achieving drawdown — the point at which greenhouse gas levels in the atmosphere start to decline.
Over the course of eight weeks, Drawdown Scholars worked with faculty mentors to refine proposed solutions for global warming, assess their viability, and create channels for educational outreach. The program culminated in a symposium where students presented their findings.
"I want to learn more about what's happening around me, what I can do, what other people can do, and how I can help them."

— Anna Nguyen, Penn State Brandywine student
For Nguyen, what began as an interest in undergraduate research quickly became a personal mission. She said that growing up in Vietnam, she received little education about the effects of climate change.
"When I arrived in the U.S., I learned a lot of important information about the environment," she said. "Here, people are so diverse; there are so many groups of people, and they each have different beliefs. It's very mind-opening to listen to them and enrich your understanding."
And it's Nguyen's own "quest for knowledge" that she said drives her work: "I want to learn more about what's happening around me, what I can do, what other people can do, and how I can help them."
With episodes like "Women and Girls" and "Hope," Nguyen is looking at answers for global warming through a unique lens, going beyond what one might expect from the scientific community and making information more accessible, relatable and entertaining. Her guest list is also impressive, featuring subject matter experts like Jane Clements-Smith, executive director of Feeding America, and Katharine Wilkinson, vice president of Project Drawdown.
Laura Guertin, professor of earth science at Penn State Brandywine and Nguyen's adviser, said that she's proud of Nguyen for applying to the Project Drawdown opportunity.
"Most students think that undergraduate research is something you have to wait until your senior year to complete," said Guertin. "As a rising sophomore, Anna's summer engagement with the Drawdown Scholar program and the incredible success of her work demonstrates the talent and passion within our Penn State Brandywine student population."
Seeing her project evolve from an idea to a fully formed podcast series has been a great learning experience, said Nguyen.
"I will say that the me before this research and the me after are quite different. Personally, I have learned how to ask for help and how to be more confident," she said. "Don't be afraid to ask questions and believe in yourself, because you are more capable than what you might think."
Surprisingly, Nguyen had never even heard a podcast before beginning her work with the REU program.
"At first, creating a podcast was overwhelming," she said. "Then Dr. Guertin showed me the ropes of what podcasting is about — how to write stories and how to make a podcast interesting. We even went to Washington, D.C., to visit NPR, as well as the American Geophysical Union, where we met with a podcast producer."
Nguyen's work has already earned her an award for best poster in her session at the REU Research Symposium and has been featured in Penn State's Institutes of Energy and the Environment newsletter — and she's just getting started. She plans to expand her podcast, translating it to different languages to make it accessible globally.
On the heels of her success, Nguyen also recently celebrated becoming a U.S. citizen, giving her the right to vote on the same issues she's addressing through her podcast.
When asked what's next, she said, "I think I have a plan of what I want to do, but as they say, the future is quite uncertain. I am open to every single opportunity that comes to me, and I will continue to look for those opportunities."
Nguyen will speak on a panel and present her research again at the first international conference on drawdown, "Research to Action: The Science of Drawdown," Sept. 16-18 at University Park.
To listen to "Drawing Down in Pennsylvania," visit https://soundcloud.com/drawingdownpa. For more information about Penn State's Drawdown Scholars REU program, visit https://www.engr.psu.edu/drawdown/.