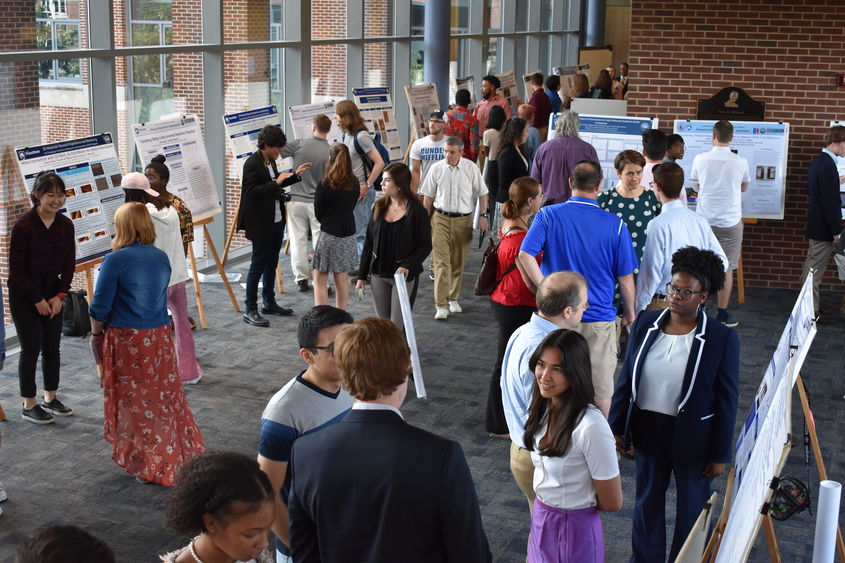 UNIVERSITY PARK, Pa. — Undergraduate students from across Penn State and the world capped off their Research Experiences for Undergraduates (REU) programs with a research symposium on July 30.
There are three REU programs: Drawdown Scholars, which focuses on the science of Project Drawdown; KGSP, an international program sponsored by the Kaust Gifted Student Program; and Multi-Campus REU, which brings students from the Commonwealth Campuses to Penn State University Park. In total, 141 students completed two monthlong research projects under the mentorship of Penn State faculty.
"From studying fruit fly head movements to improving mechanical stabilization in cameras and robots to testing the feasibility of the 100 proposed solutions to reverse global warming — these students are studying big questions while gaining research experience," said Erin Hostetler, director of student research and engagement at the Penn State College of Engineering.
Hostetler coordinates the programs with Cindy Reed, assistant director of student research and graduate equity. According to them, the breadth of projects is also reflected in the wide array of majors and faculty members who participate in the REU programs.
"Many of our students are engineering majors, but the projects are interdisciplinary. We always have nonengineering students and faculty members participate," Reed said. "The students bring different skills and perspectives to the programs. They end up learning how most research can benefit from cross-collaboration."
Drawdown Scholar Christopher Contos, a junior majoring in electrical engineering at Rowan University, said he found the professional development offered to all REU participants helpful.
"This summer was the most productive I have had yet, both personally and academically," Contos said. "I learned a tremendous amount of information and lessons, including the value of communication, whether it be among peers, mentors or faculty."
"The REU program gave me my first research experience, and it has inspired me to pursue research opportunities during the remainder of my time as an undergraduate student."

— Christopher Contos, Drawdown Scholar and junior electrical engineering major at Rowan University
Contos was mentored by Qiming Zhang, distinguished professor of electrical engineering, and Susan Trolier-McKinstry, Steward S. Flaschen Professor of Materials Science and Engineering, and focused on refrigerant management and heat pumps. His poster on the research project earned "Overall Best Poster" out of all of the posters presented at the symposium.
Before participating in the REU program, Contos was not considering the possibility of attending graduate school.
"The REU program gave me my first research experience, and it has inspired me to pursue research opportunities during the remainder of my time as an undergraduate student," Contos said. "I'd definitely participate in Drawdown Scholars REU again. The program attracted the most passionate and optimistic people, and I was very fortunate to have spent my summer exploring academia and nature with them. I would absolutely recommend the Drawdown REU to others looking to make a change in the world."
Mohammed Buhlaigah, a sophomore at the University Park campus who plans to major in mechanical engineering, participated in the KGSP REU. This REU provides research experience for six students from Saudi Arabia who are completing their undergraduate degrees at Penn State.
Buhlaigah, who was mentored by Jean-Michel Mongeau, assistant professor of mechanical engineering, and Susheel Dharmadhikari, a doctoral student in mechanical engineering, initially wanted to participate in the REU for research experience and to build connections with Penn State faculty. He said that he achieved both of those things, and he feels more prepared for his future.
"I am planning to go to graduate school in Saudi Arabia," Buhlaigah said. "The REU helped me set realistic expectations of the work I will be doing while conducting research."
Josh Mathews, a participant in the Multi-Campus REU, also reaped the benefits of the professional development offered by the REU programs. Mathews, a senior at Penn State Behrend majoring in software engineering, was mentored by Omar Ashour, associate professor of industrial engineering, and Conrad Tucker, former associate professor of engineering design and industrial and manufacturing engineering. For his research project, Mathews focused on developing and testing a virtual reality module to teach manufacturing and industrial engineering concepts.
"The REU programs are truly Penn State's hidden treasure. Once you find them, your life will change forever."

— Safinaz Elhadary, Multi-Campus REU participant and senior industrial engineering major at Penn State Behrend
Mathews said the experience helped prepare him for one of the most challenging aspects of his future career by teaching him how to be the communication bridge between developing project goals and translating those aims into actionable, technical tasks.
"As a software engineer, I will be listening to the wants and needs of customers who don't understand the design process," Mathews said. "I need to be able to listen to the customers and communicate those needs into technical requirements for my team."
Safinaz Elhadary, a senior at Penn State Behrend majoring in industrial engineering and minoring in operations and supply chain management, was a second-year participant in the Multi-Campus REU. Mentored by Ashour and Eunhye Song, Harold and Inge Marcus Early Career Assistant Professor of Industrial and Manufacturing Engineering, Elhadary focused on improving the global supply chain for commercial aircraft. Elhadary initially turned to the REU program to gain hands-on experience.
"When I started taking my major-related classes, the work was easier to digest because I had already seen it," Elhadary said. "The Multi-Campus REU also taught me the impact an industrial engineer can have. Before the program, I simply liked industrial engineering, but now I'm deeply in love with this major. I can see the impact in everyday life."
As all of the REU participants did, Elhadary wholeheartedly recommended the programs to others.
"The REU programs are truly Penn State's hidden treasure," Elhadary said. "Once you find them, your life will change forever."