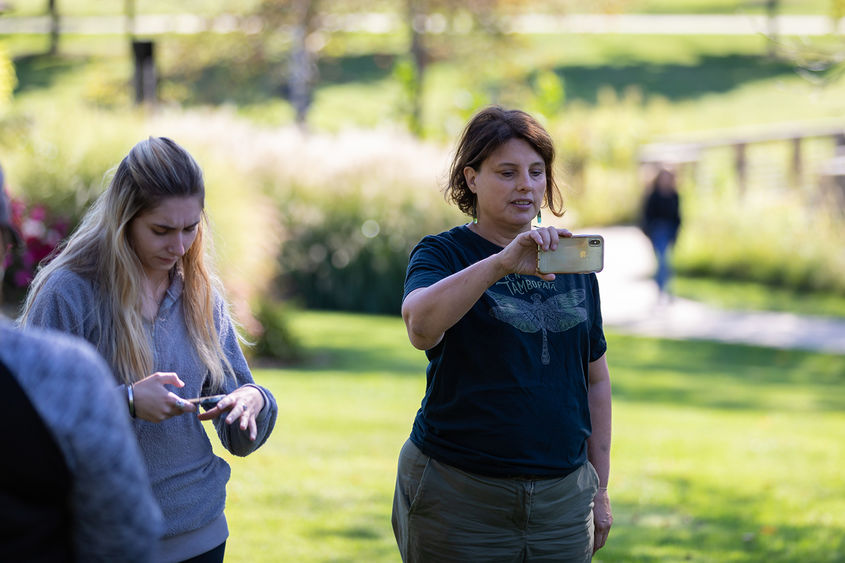 MEDIA, Pa. — Penn State Brandywine hosted its first-ever Climate Impact Teach-In on Sept. 19. The event included a full day of sessions dedicated to educating students, faculty, staff and community members on climate science and how changes in climate impact people and the environment. More than 150 people attended the event throughout the day.
Sessions were led by outside guests and several Brandywine faculty members from a range of academic disciplines. Brandywine faculty who presented at the teach-in were Margaret Signorella, distinguished professor of psychology and women's, gender and sexuality studies; Mark Boudreau, associate teaching professor of biology; Julie Stanton, associate professor of business; and Laura Guertin, professor of earth science, who also organized the event.
"I'm excited that there is a global conversation about what's happening to our planet in terms of our greenhouse gas emissions and the warming temperatures," Guertin said. "People are seeing and feeling the impacts of climate change and they want get involved. The timing of this teach-in was perfect."
A wide variety of topics were covered during the sessions, including climate change's impact on sports, what action consumers can take to reduce greenhouse gas emissions, climate change's effect on pollinators and invasive species, and more.  
"I greatly appreciated the community on campus that came together in leading this event," Guertin said. "Climate isn't just a science issue. Climate is an issue that impacts all disciplines, and the faculty engaged students to demonstrate why having an awareness of climate is important to everyone."
In addition to campus faculty, Russanne Low, senior scientist at the Institute for Global Environmental Strategies, and Adrienne Oakley, associate professor of geology and marine science at Kutztown University, visited Brandywine to lead sessions at the teach-in.
Low's sessions gave attendees an introduction to citizen science using the NASA GLOBE Land Cover tool and the NASA GLOBE Mosquito Habitat Mapper tool. Both features, found on the NASA GLOBE Observer app, allow citizens to assist scientists with data collection for their research. Low was the science lead in developing the mosquito campaign.
"Citizen science provides opportunities for people who don't necessarily work in science to contribute to solving the problems that we're facing as a society. It's empowering," Low said. "This kind of event is important, and I would love to see it replicated. It shows how we can really deal with climate change."