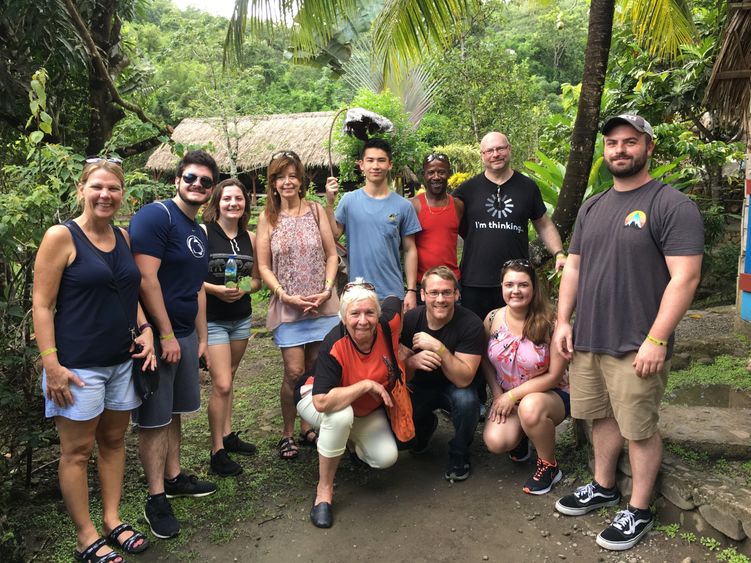 MEDIA, Pa. — Over Thanksgiving break, Penn State Brandywine students and faculty members took their stateside studies overseas for a week of immersive learning on the Caribbean island of Martinique.
The trip was organized through Brandywine Global Programs, a unique study abroad model that uses hybrid courses to allow students to engage in affordable, international travel while earning college credits.
Students on the 2018 Martinique trip could choose from three different courses with the travel component: Introduction to Human Communication; French Culture through Film; and French Fiction, Drama and Film. After completing several weeks of online coursework, the classes flew to Martinique for an immersive, weeklong educational experience.
"Before visiting Martinique, the students were more aware of the tourist things that we associate with sandy beaches and the Caribbean," said Josh Phillips, assistant teaching professor of communication arts and sciences at Brandywine. "But once we arrived, they got to learn about the island's indigenous cultures and its history of slave trade, colonization and the rum trade."
The group toured several museums, the St. Louis Cathedral, a sugar cane factory, a rum distillery, a site dedicated to poet and writer Aimé Césaire, spice markets, and several other attractions of educational value.
"While we were there, we essentially took everything in and made notes about what we were learning," said Payton Flippone, a psychology major graduating in December.
Flippone, who was enrolled in the Introduction to Human Communication course, used her Facebook account to archive her photos and journal entries from her time in Martinique. After the trip, she used the Facebook archive to jog her memory and complete her coursework.
"My project was a paper about the eruption of Mt. Pelée in 1902, a catastrophic event that destroyed the city of St. Pierre," she said. "St. Pierre was the former capital of Martinique."
The short-term study abroad model has many benefits for both students and faculty members. In addition to affordability and the allure of a new experience, it gives professors and students a chance to have extended conversations about what they are learning.
"I love taking students on these trips because I get to learn about how they think outside the classroom," said Philips, who has taught several Global Programs courses. "You have more time to listen to their ideas and perspectives. It makes me a better teacher in the classroom."
And for Flippone, who also traveled to Sicily and Malta with Brandywine Global Programs in March 2018, study abroad has been one of the most life-changing parts of her academic career.
"You learn so much more when you're submerged in the culture," she said. "The trips have done other things for me, too, but I would recommend traveling with Brandywine Global Programs for that reason alone."
To learn more about upcoming Brandywine Global Programs trips, visit the program's webpage.